'Champions will likely have lowest points tally in recent history' - says Derry City boss
RUAIDHRI Higgins reckons the eventual 2023 League of Ireland Premier Division champions will potentially get over the line with the lowest points tally in recent history.
Published 4th May 2023, 22:46 BST

- 2 min read
The Derry City boss believes this year's league campaign is developing into one of the most competitive in recent memory with plenty more twists and turns to come.
After just 13 games in-form Bohemians have surprised most pundits as they lead the way by four points going into Friday's mouth-watering Dublin derby in Tallaght.
Three-in-a-row reigning champions Shamrock Rovers are beginning to click into gear and issued a real statement with a comprehensive 2-0 victory over rivals Derry at Brandywell on Monday night.
However, Stephen Bradley's troops have already dropped a staggering 15 points from the opening third of the season with third placed Derry squandering 17 points so far.
There has been no end to eye-catching results during the opening series of games with Cork City holding Rovers to a 4-4 draw in Tallaght back in March while bottom club UCD secured a 1-1 draw against Bohs at the Belfield Bowl last week. Derry have also been on the wrong end of a shock home defeat to Drogheda last month.
With the exception of the pandemic enforced, truncated 18 game season in 2020, it's taken 78 points or more to secure the league title since the introduction of a 36 game campaign back in 2018.
Rovers won it with 79 points last season, 78 in 2021 while Dundalk registered 86 points to take the title in 2019 and 87 in 2018.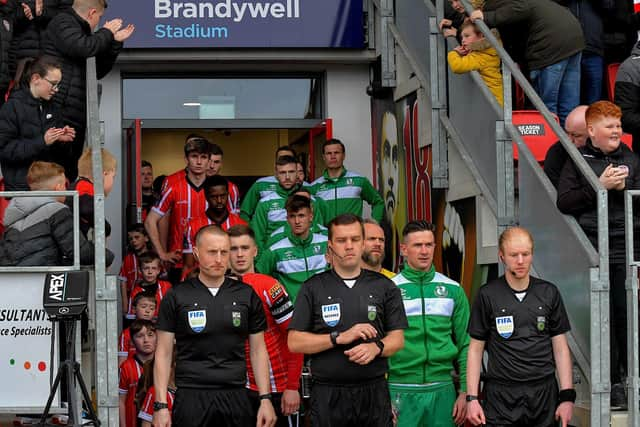 However, City boss Higgins predicts it will be a lot more difficult to accumulate those totals this year given how congested and unpredictable the league is at present. He certainly doesn't see a team 'running away with it'.
"I've read a few other manager's comments about the competitiveness of the league and how they don't see that changing," began Higgins.
"I haven't seen the league like this before where it's so congested. Unless someone goes on an amazing run I don't see anyone running away with it.
"I can't say it with any great certainty but you might find the winners will have the lowest points in recent history unless someone goes on an amazing run. Teams are dropping points all over the place.
"We would like to go on a brilliant run but it's such a competitive league with so many fixtures. Different clubs have injuries and all sorts of different things as well which has contributed to that.
"I don't really see that changing. So I think it's going to be a league we haven't seen for a number of years where there might be a surprise result every week or a couple of shock results. You look every week and there's an interesting result so personally I don't see that changing."
Higgins will be hoping his side get back on the winning trail when they visit Drogheda on Friday night as one of the top two or both are set to drop further points when they meet in south Dublin.
"We can't control what happens elsewhere and just need to focus on what we do," added Higgins.