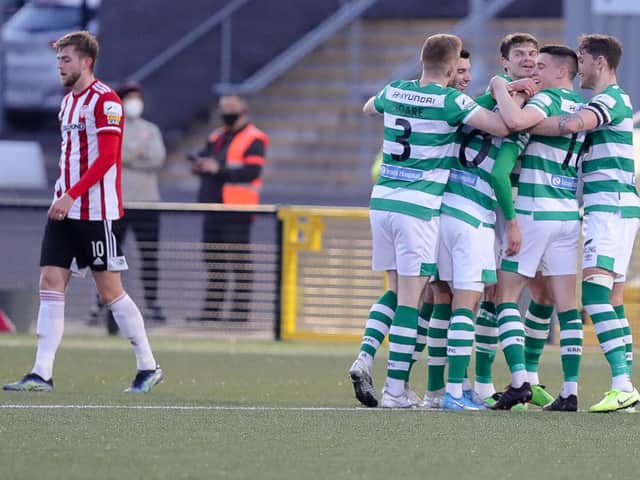 Shamrock Rovers players celebrate with Graham Burke after his goal of the season contender against Derry City. Picture by Kevin Moore.
A 2-0 loss to Shamrock Rovers at Brandywell was Derry's fourth straight defeat and leaves the club rooted to the bottom of the Premier Division table and without a single point.
It's an alarming start and the club's worst since 2003 but Devine is confident his group of players are better than what recent performances and results would suggest.
When asked if he felt his team had enough experience to keep them in the division this season, Devine took exception to the question insisting it's far too early in the new season to be talking about relegation battles.
"Keep us in the division? he retorted. "There's four games played! There's 32 games to play. If you're talking about relegation battles after four games then I don't know where you're coming from."
There have been rumblings of discontent amongst the fans since the tail end of last season as the club have registered just two wins in the last 14 games in all competitions. However, Devine has full belief in his young team to turn around their fortunes soon.
"I, 100 percent understand (the concerns)," he said. "At the end of the day I'm the one who takes the flak and I'm happy to take the flak. But I'm not concerned we're in a relegation battle with four games played and 32 to go.
"I see good players on a daily basis who are struggling a bit over the last couple of games and gave away really poor goals. Things have gone against us in games that over the course of the season you get more of a break than what we're having at the minute.
Derry City fans weren't prepared to miss any of the action at Brandywell. Photograph by Kevin Moore.
"We went down to Longford and were extremely poor. Against Waterford we gave away two horrendous goals. I thought the sending off killed us against St Pat's and tonight two moments of lapses of concentration has punished us against the best team in the country.
"At the same time I believe these boys have more in them than what they're demonstrating. I think it's only a matter of time before we pick up points. "It's going to be a league this year where there will be a lot of ups and downs. At the end of the day, Shamrock Rovers came here and beat us 2-0. That's going to happen to most teams in the country this year.
"We've got to strive to get better with a new group of players. But there's no shying away from it, it hasn't been a good enough start It's poor and we've got to be better."
Brendan Barr (20) and Ronan Boyce (18) were handed their full senior debuts against the champions while youngsters, Caolan McLaughlin, Caoimhin Porter and Patrick Ferry all came off the bench during the final stages of the match.
In contrast, Stephen Bradley introduced Cape Verde international Roberto Lopes and experienced striker Aaron Greene to the fold but Devine claimed Derry can't afford to have players of that ilk in their squad.
"Listen, that's where we have to go. That's where we are. We can't afford to bring in the likes of Aaron Greene, Roberto Lopes and that level of player into our squad, so we have to keep fighting and keep doing what we're doing.
"I thought Brendan (Barr) and Ronan Boyce were our best two players. I thought they were excellent and showed real bravery. Their full debuts against Shamrock Rovers - the champions who haven't lost a game since September 2019. I thought it was two magnificent performances but ultimately we've lost the game and people won't remember how well they've played. From my point of view I was delighted for both of them."
Barr and Boyce certainly didn't look out of place against the top team in the country and Devine admitted he didn't hesitate in giving them the nod.
"I genuinely don't think there's anything in the game. I thought we had a lot of good performances, we had a couple of okay performances and one or two who just weren't at the races.
"I was really happy with the response of the players in the second half. They had a go. They had a go in the first half and got punished. We're just not getting a break at the minute. There's nobody analysing it as much as myself and the staff but I back the young players."
Derry had started well and once against had the best chance of the game just before the breakthrough came on 34 minutes. David Parkhouse nipped in front of Sean Hoare after the defender's attempted backpass fell short and his effort with the outside of his boot struck the outside of the post and went wide.
Rory Gaffney then followed up after Gartside produced an excellent save to deny Burke from 10 yards and it proved a real sucker punch after such a decent start from the Candy Stripes.
When Burke's sensational strike from just inside the Derry half lobbed over the head of the retreating Gartside five minutes before the interval, Derry were left with 'a mountain to climb'.
Devine felt there was little in the game outside 'two moments of magic' although he claimed the two goals were once again preventable.
"We've given ourselves a mountain to climb again but look, I thought there were a lot of good performances in the game. We had as good of chances as they had. The moment of magic from Burke can still be prevented. We conceded a goal from a throw-in which is easily preventable. So again we've got to be better in those two moments we've got punished for."
Did he think Gartside was badly positioned for Burke's long range strike?
"I don't blame Nathan Gartside for it because we've asked Nathan to play higher. We've asked to play a high line today and for Nathan to sweep a bit so I don't have any issues with Nathan's starting position but it's just a moment of magic. There's very few players in this league who play with their head up that much and can see that. It just fell nicely for him. I actually thought we had a better chance to win the ball back but I was disappointed with the two goals, they have to be prevented.
"But I thought there was a lot of bravery about our performance. We asked questions of Shamrock Rovers which a lot of teams don't. A lot of teams defend and try to grind out a nil nil. We tried to hit them on the counter. We tried to be expansive in our way of playing and I thought there were a lot of good performances in the game.
"I thought the two young lads making their first starts tonight were outstanding, Ronan Boyce and Brendan Barr who showed a lot of courage in the way they went about their jobs.
"I think myself and all the rest of the senior players have to look at that and say, 'right well that's the level, that's where we have to be at'. We lost the game 2-0 and I said to the players I can't believe we're 2-0 down after a positive first half performance.
It shows you the difference in class whenever two moments of magic cuts you open.
"It's harsh on us but it's lessons that keep coming around and we've got to stop this. As I said before the game, 'give me a really poor performance and grind out a 1-0 win , I'll take that all day long. What we don't want to be renowned for is being a real soft team. A team that's really good with the ball but not great without it. We've got to be better.
"We've got to manage the moments in the game. Our game management has to be better. Our defensive responsibilities from front to back have to be better. And at the end of the day we talk about good possession, good chances and good play, we had that tonight I thought we had that in spades against the best team in the country.
"But ultimately we've come up short and we have to make sure these defeats are stopped. I really believe in this bunch of players. I thought there were some really good performances tonight but we still leave here with nothing and that's the really concerning aspect."