Derry City inspired by 'Different League' documentary: says Declan Devine after Dundalk battle
DECLAN DEVINE admitted Derry City were galvanised by the magnificent 'Different League' documentary which inspired his troops to produce its best display of the season in the 1-1 draw with Dundalk at Brandywell.
Wednesday, 21st April 2021, 12:29 am
Updated
Wednesday, 21st April 2021, 12:32 am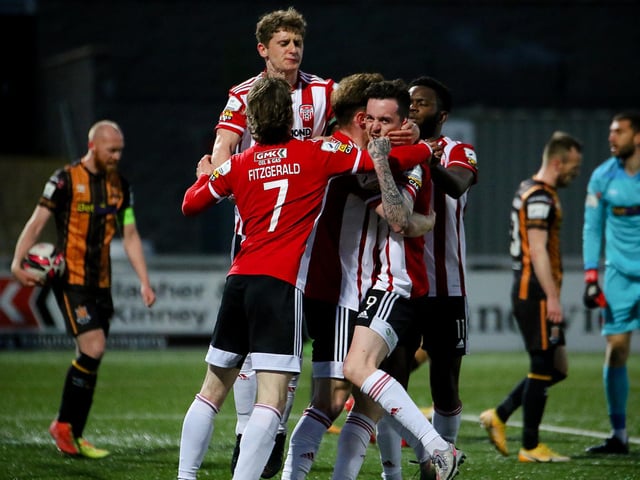 FIGHTING SPIRIT: Derry City players celebrate Cameron McJannet's second half equaliser against Dundalk. (PIcture by Kevin Moore).
Derry born film director Guy King's story of Derry City's rebirth which aired on BBC on Monday night was used as part of Devine's pre-match teamtalk and was referenced throughout the game in a bid to motivate his team to a first victory of the season.
And while they ultimately fell short against the Lilywhites, the character shown to bounce back from David McMillan's 54th minutes strike epitomised the fight and determination shown by the fabled 'Gang of Four' who battled to ensure a return of senior football to the city after 13 years in the wilderness.
Cameron McJannett's second goal of the season eight minutes after McMillan's opener ensured Derry got what their battling display deserved.
Derry's current predicament is a far cry from Jim McLaughlin's all conquering side featured in the popular documentary as they remain rooted to the bottom of the table without a win in six fixtures.
However, Devine was delighted with the progress being made and that his team did justice to the memory of those halcyon days of the late 80s with their hard fought performance against Dundalk
"I think I have to be happy (with the point) having gone a goal behind," said Devine. "At half-time I wouldn't have accepted a point. I thought we could've won the match. But let's call a spade a spade, Dundalk are full of players that have been the best of a generation of League of Ireland football.
"They have players who played in the Europa League last year. They have full internationals and have players that have league titles and FAI cups under their belts. We finished the game with two players over 23 years of age. We played 12 or 13 local based players. So we're delighted, having gone a goal behind, the response from the players was very aggressive and the determination to get something from the game.
TOP SCORER: Derry City centre half Cameron McJannet celebrates after finding the back of the net for a second time this season.
"The documentary last night meant a lot to the players. I think there's no doubt that it helped us. We wanted to put in a performance tonight that was full of character and full of drive and fight and I felt we won our fair share of fights tonight against really strong physical opposition.
"I've been talking about it for two and a half years - what this club means to the people of Derry. The players understand this, we talk about it every week. Every single player watched it, their families throughout Ireland, UK and of course in Derry watched it.
"It was just amazing and I'm emotional thinking about it. It epitomises what the football club is about. Can we get the people back again when this pandemic is over? It doesn't matter who the manager is. It doesn't matter who the teams are. You saw that in the documentary, it doesn't matter how well the team is doing or how bad they're doing. When we get the people behind the football club I think it has a massive future and that's what we've got to be aiming for now."
Those fans who scaled the perimeter wall and those who stood outside the houses at the Brandywell Road end of the ground made an impact and helped drive the players on when Dundalk threw the kitchen sink at them in the final 10 minutes.
Their contribution certainly didn't go unnoticed by the players and those fortunate enough to be in the stadium and Devine 'loved' hearing the fans' voices again.
"I loved it. It was amazing. I saw the pictures last week of the boys sitting on the wall too (against Drogheda). There were even a couple of songs which broke out tonight. We have to do our part. We want people to come watch this football club. The documentary was so good. We spoke about it before the game, we spoke about it during the game and we spoke about it at half-time. We've got to have an identity that we fight for everything. I thought the players deserve huge credit.
"Tonight was a performance and a fight against a really good side. Dundalk will be in the top three again this year, mark my words they will! They have so many talented players but our players took it on.
"I think they had to make sure we weren't beat tonight having gone a goal down. It was important we didn't fester out into a dirty 1-0 defeat where we feel sorry for ourselves. It was important to get right back in the game and spit a bit of fire, a bit of acid. I thought David Parkhouse bullied people tonight and other players got in the faces of people.
"I thought we defended brilliantly and were really unfortunate to go a goal down. Let's not underestimate how good Dundalk are. I think Jim (Magilton) coming in tonight has galvansided that. I watched them on Saturday and they were better tonight."
Keeping with the nostalgic feel of the night, Derry fans will have experienced a longing for the past when Dundalk scored that breakthrough goal - a goal very much made in Derry!
Shantallow man Patrick McEleney showed his class as he took the ball down before turning and sending Michael Duffy racing down the left wing. The Galliagh native found David McMillan who fired into the net to complete a terrific free-flowing move.
Devine remarked Dundalk also had some Candystripes DNA in their make-up!
"What do you say, there's a DNA in Dundalk that's got a lot of red and white right through it. There's players sitting in the stand, players coming off, players on the pitch. There's a DNA there that's certainly got a bit of Candystripes running through it," he smiled.
"Listen, we took care of ourselves tonight and I'm delighted for the young lads tonight. I thought Ciaran Coll was magnificent and I'm delighted to get Brendan Barr more game time and Caolan McLaughlin come on to give us that energy. You forget Jack Malone is only 21 years of age. We have a very young side. I think we had two players in Coll and 'Jackie' (Ciaron Harkin) who are over 23 that finished the game. We maybe used 11 or 12 locally based players and I class Eoin Toal in that. He might as well be a Derry man he's been here that long now.
"Real positive signs. We won't go out celebrating a draw but if that's the benchmark and Dundalk are fancied to go out and win titles and all the rest then we're more than a match on our day."
I'm really happy for the boys because that's our third game in seven days and if you look at our opponents we've had. They were tough games. We had Dundalk and Shamrock Rovers out of three. "We're disappointed we only picked up a point against Drogheda. We played Dundalk and Rovers in the space of seven days and with another game thrown in it's going to be a tough week."
"I haven't seen anything in this league I'm afraid of. I haven't seen anybody so far I wouldn't fancy us to take something from or have a go at. That sounds crazy considering where we're sitting but there's a lot of football to be played.
"I believe in these boys and there's a lot of boys in that changing room tonight that in two or three years time, whoever is manager of this football club then, they will have a serious amount of top players on their hands."