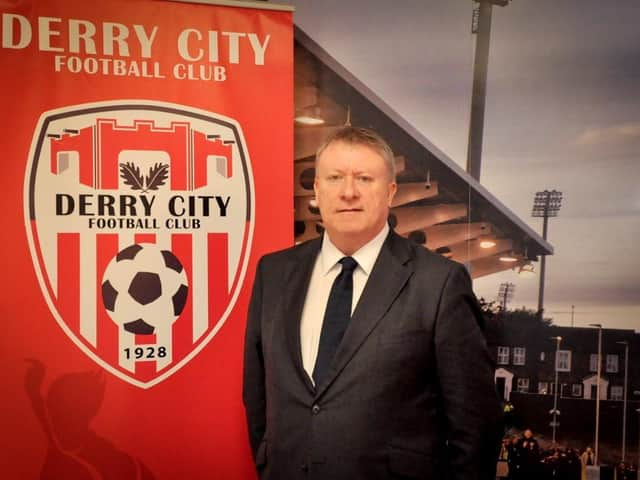 Chairman, Mr Philip O'Doherty insists the club will continue playing its matches at the Ryan McBride Brandywell Stadium.
The chairman revealed the Brandywell club's ambitious plans to build its own training facilities less than a fortnight ago and club officials have wasted no time in identifying potential sites.
While it's hoped the new training base will be in close proximity to the city, Mr O'Doherty insists the club is considering locations in both Derry and Donegal with land availability and cost ultimately the determining factors.
Mr. O'Doherty was keen to stress Derry City who are anchor tenants at the Ryan McBride Brandywell Stadium, will continue to play its matches at the Lone Moor Road ground.
However, he's excited to move forward with plans to build a new top class, all-purpose training facility for the club which develops a strong sense of 'esprit de corps' among Derry supporters, players and staff.
The plans for the training centre will align with the club's vision for its academy which it deems critical to future sustainability, while also catering for the club's first team squad, staff and administration personnel.
"Basically we're looking to build an academy and we need a facility to house the academy," explained the City chairman.
"The same physical infrastructure will be used for the first team and all the underage teams.
"It's going to be somewhere reasonably close to the city. We haven't decided whether it's north or south. It could be in Donegal or Derry, it could be in the Waterside. We don't know.
"We're currently looking at all options. We have a small group of people looking at site location and a small group of people are looking at the funding possibilities for this.
"Just to reiterate, our matches WILL be at the Brandywell but we're going to have an off-site training ground like loads of football clubs have a separate training facility.
"There will be a gym, club offices, medical rooms, meeting rooms and we're hoping for up to three pitches. Possibly two 3G and a grass pitch," he added.
"That's the very early stage plans at the minute but I think it's important to make clear that we are not moving out of the Brandywell!"