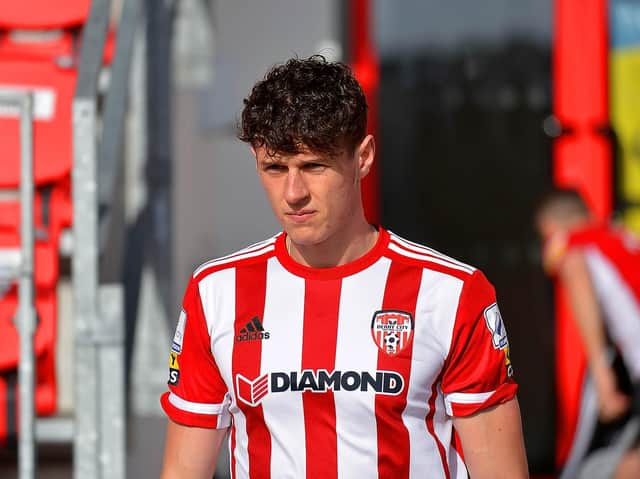 Derry City captain Eoin Toal.
The big Armagh man admits it's an important year personally for him as he looks to continue the progress made since his switch to the Candy Stripes back in 2017.
"It's a big year for me being captain but something I'm looking forward to," he stated. "It's a great challenge and I'm proud to captain this great club.
"This season will be my fifth with the club and I have enjoyed every minute of it. I know I can keep improving because I know the club and the people of Derry so well now. I'm really looking forward to captaining the side."
The 21-year-old, who is looking forward to this weekend's league opener at Longford Town, feels the squad Declan Devine has put together allows the team to play a few different systems.
"We have to be adaptable this season and it's good that we have that versatility within the group. It will stand by us throughout the season," adds Toal.
"If we need to go four or three at the back, at least we have the options within the squad to do that.
"I'm looking forward to the Longford game, everyone in the squad is. We have all been working really hard during pre-season and all the new signings have bought into it very well.
"We are starting to gel together now, starting to get to know each other better and it's looking good."
After what was a disappointing 2020 season, the defender wants the squad to focus one game at a time this year.
"Look, I know it's a cliché but we just have to take it one game at a time," he said.
"Our first game is Longford so we are just focusing on that but, yeah, we are looking forward to the challenge this season.
"I have played in the league for five seasons and although it doesn't seem long to me, if you look at it that way then I suppose it is. Having played close to 100 games for Derry makes me happy.
"I'm at a great stage of my career and I just want to push on. I see my future at Derry. Since coming from Armagh City I have loved every minute and I haven't looked back."