Forgotten Buncrana soccer hero who became Sevilla's first manager: The curious tale of Charlie O'Hagan
Ever heard the one about the Irish man who managed Spanish giants Seville to a league title? And no, it's not a joke . . .
Thursday, 7th January 2021, 3:56 pm
Updated
Thursday, 7th January 2021, 3:58 pm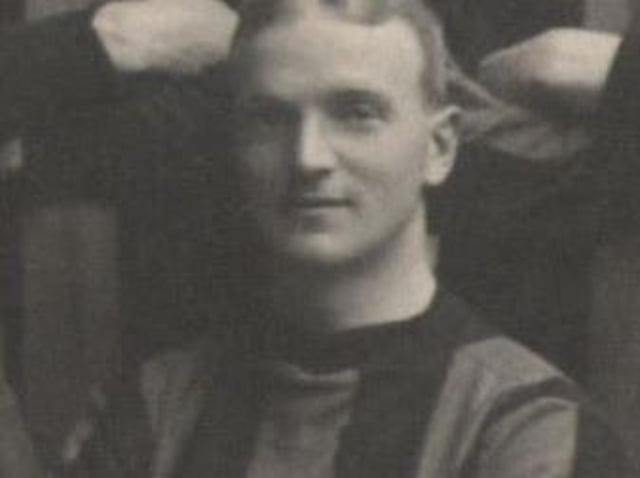 Charlie O'Hagan.
Buncrana born Charlie O'Hagan, a former student at St. Columb's College in Derry, played for some of the Britain's top clubs including Spurs, Everton and Aberdeen and was capped 11 times for Ireland yet remains the greatest Donegal soccer player you've never heard of.
Crana Communications hope to change that with a fascinating podcast broadcast on Highland Radio which looks into the amazing career of the Buncrana native. Several local people
who are connected to Charlie take part in the programme, especially Jim McConnell who is currently working on a permanent memorial for Charlie in the town.
The documentary explores the exciting life and times of one of Ireland's first professional footballers, a man whose life story reads like fiction, after playing professionally, fighting in the First World War, moving into professional management both in Britain and Europe before losing everything and dying penniless in New York after the Wall Street Crash.
Born in 1882, O'Hagan was the son of a local grocer who excelled at football during his time in St. Columb's, so much so that he enjoyed stints with the College's now defunct St. Columb's Court side in their sole Irish League campaign of 1901/02 campaign before switching to Derry Celtic, who replaced them in the division, writes Colin Millar in a 2017 article for 'The Football Times' website.
His prowess on the pitch prompted Everton to sign up the promising Irish star who had uprooted to Liverpool and was playing for local side Old Xaverians but his nomadic nature was already evident when he relocated to London with Spurs, who were not a league team at the time, before ever making a league appearance for the Merseyside team.
It was while with Spurs that the talented inside-left won the first of his 11 Irish caps (2 goals) but even after International recognition, O'Hagan wasn't settled and he eventually arrived at Aberdeen in 1906 via an ill fated stint with Middlesbrough and it was in Scotland where his playing career would reach it's peak. O'Hagan struck up a lethal and productive partnership with Dons winger, Willie Lennie, and went on to register 24 goals in over 100 appearances, becoming the first Aberdeen ever player to be capped during his time at the club.
It wasn't all plain sialing though as in March 1908, the Dons faced Celtic in a Scottish Cup semi-final. The Glasgow side won by a single, late goal but years later O'Hagan would publicly state that nine members of the Aberdeen team accepted £15 bribes to throw the game. Bizarrely, the following month, he then took out an ad in a local newspaper in which he referred to his own comments as 'entirely false, malicious and slanderous'.
O'Hagan was eventually transferred to Morton for the princely sun of £185 in 1910 before brief spell with Third Lanark, before announcing his retirement at only 31.
In 1920 O'Hagan became manager of Norwich City ahead of what would be their first season in the Football League but things didn't work out as O'Hagan managed only four victories in 21 games before resigning in January. It was two years after that resignation that O'Hagan's tale took another extraordinary twist.
Seemingly from nowhere, Seville-based daily newspaper El Liberal, which no longer exists, announced Mr Charles O'Hagan as the new trainer of Sevilla FC.
"We are glad to be able to provide our readers with the following wonderful news," read the El Liberal piece, "After a lengthy search, Sevilla FC have succeeded in signing a new trainer to coach our players. The man in question is Mr. Charles O'Hogan, an experienced Irish footballer who played with such important British clubs as Tottenham Hotspur, Everton and Huddersfield, the first of which he played with in last season's FA Cup final.
"O'Hogan arrives with glowing references and we believe that under the experienced management of this trainer, Sevilla FC will reach the highest standard of football in the shortest time possible now that all these elements have been installed."
The announcement contained a number of errors. As well as getting his surname wrong, O'Hagan had never played with Huddersfield nor appeared in an FA Cup Final but he was nevertheless now the man in charge, the first manager as such with the team's captain previously detailed with much of the work now recognised as . This was also before the time of La Liga, there was no national league with Sevilla playing friendlies and competing in the Andalusian Cup, a competition they had already won five times.
O'Hagan's promptly led them to a sixth time while guiding them to the quarter-finals of the Copa del Rey before losing to eventual winners, Basque side Real Union. Then, as mysterious as he had arrived, O'Hagan was gone again, this time back to north coast and Portrush.
An ill fated offer to coach in Berlin was accepted but quickly turned sour leaving O'Hagan broke. It would prove his final dalliance with the world of football but not his final adventure as he reportedly set sail form Derry bound for New York in 1928 to become a journalist. Whether he achieved his literary goals or not is unknown and there is little record of his life in the States other than his sad demise in 1931.