Former Derry City winger Darren McCauley hopes to reignite his career 'Down Under'
FORMER Derry City and Coleraine winger, Darren McCauley wants to reignite his professional football career 'Down Under' having rediscovered his 'purpose'.
Tuesday, 2nd June 2020, 4:55 pm
Updated
Tuesday, 2nd June 2020, 5:14 pm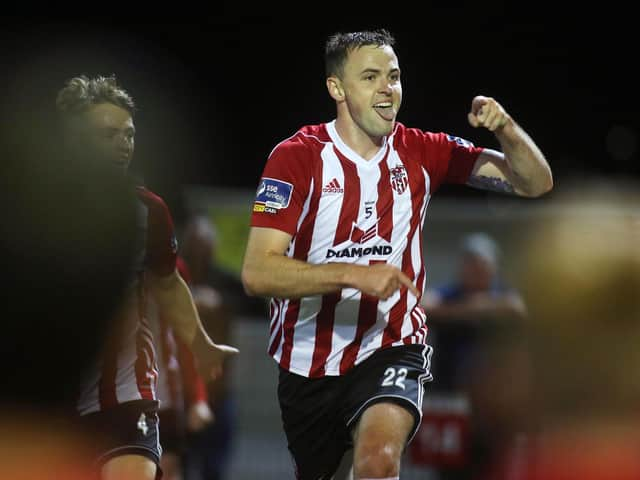 Former Derry City and Coleraine winger, Darren McCauley is hoping to reignite his career in Australia.
When his 18 month contract with the Candy Stripes was cut short after just five frustrating months on Foyleside during the 2019 Airtricity League campaign, McCauley decided to pack his bags and move to Australia.
And while he admits he lost his focus, enthusiasm for the game and 'couldn't see the light anymore' after an argument in the Derry dressing room, the winger has used his free time during the coronavirus lockdown in Melbourne to reflect on his mistakes and address his future.
The Top of the Hill native, now 29 years-old, is prepared to prove himself all over again and wants to eventually follow in the footsteps of ex-Crusaders defender, Bobby Burns and play in the Australian A-League.
For now he's representing Essendon Royals in State League 1 North-West where he is also involved as an underage coach, but he hopes he can make a significant impact and help the club rise through the leagues,
And with his new-found hunger for the game, the ex-Celtic trainee, believes he's better equipped than ever, both mentally and physically, to resurrect his career.
Reflecting back on how his Derry City career came to an abrupt end in 2019, McCauley admits he began 'questioning everything'.
"I wanted to prove to the people in my hometown that I could take the form I had at Coleraine and bring it to my hometown and be successful," said the Waterside man, 12 months on from when he re-signed for Derry.
"Things were going well for a while but I had an argument at training and was really questioning everything. But I thought, 'Listen, arguments happen. It's not a big deal. Get over it!'.
"So I came back with a fresh head and started doing better at training and I scored a goal. Then I had another argument in the changing room.
"After that I think that was the end of it for me. I just couldn't see the light anymore. I didn't have a focus and it wasn't worth it personally or financially for me.
"And so I moved to Australia, which was a very difficult decision to make because I didn't know anybody. No one knows me here.
"When you play football for 10 years in the UK or Ireland and you've built up a reputation and it's your main source of income, if you suddenly jump ship to a completely different place, it's very difficult for people to sign you because they don't know what you've done previously. You've got to prove yourself all over again.
"But it's been a great move because I've been able to have space to look back and reflect and especially with being in isolation, it's given me time to reflect and grow spiritually and physically.
"I needed to keep up my fitness to a high standard for when the games arrive."
Like most footballers, the coronavirus pandemic and the shutdown of football across the globe has been a challenging time as they attempt to keep motivated and fit in the event of a return. However, McCauley insists he's used the time to rediscover his love for the game.
"Any footballer will tell you this has been one of the toughest times. When you're not playing football, your mind is asking 'What is your purpose in your life?' You question everything.
"So if you can get through this I think you can get through anything. The games are set to start on June 29th, hopefully, and that's another thing that is up in the air. That's something I can't control. All I can control is my attitude and my physical condition."
The Football Federation Victoria is poised to return to action later this month and McCauley wants to make an instant impact and forge a successful career in Melbourne having found a new home at Cross Keys with the Essendon Royals under Vitale Ferrante.
And the former Inverness and Coleraine man admits he has high hopes of eventually becoming the first Derry man to play in the A-League.
"I had an agent back home who was the same agent for Bobby Burns. Bobby played for Newcastle Jets (and has since returned to Hearts). We played against each other in the Irish League, we played against each other in Scotland and if Bobby can play in the A-League then I believe I can play in the A-League.
"However, I've signed for Essendon Royals who are in the lower league in Australia and they are a really stable and ambitious team who have signed really good players like Archie Thompson (former Aussie senior international) and Davey Van't Schip - players who have a really good pedigree in Victoria and so it's a really exciting time to be a player in Essendon and try and jump up these leagues and try and take this club to the top league in Victoria and potentially beyond.
"For me it's a rebuilding job to really kick-start my career and maybe do something that someone from Derry hasn't done before and try and forge a really successful career in Melbourne which would be a really good achievement for me.
"I think I was broken to such an extent by not playing games at Inverness and Derry that I lost a bit of purpose and didn't care.
"But a lot of great players and a lot of great athletes get knocked down and get back up again and that's something I have to do for myself and prove to everyone, my teammates, my coach, the fans, that I'm capable of playing at this level and beyond," added the 2017/18 Irish Cup winner.
He claims his experience at both Inverness and Derry has given him plenty of food for thought and he believes he's learned to be patient.
"I've came into a team halfway through the season, twice, which I really underestimated. When you sign for a team midway through a season there's such a big period where you need to adapt and be patient.
"So I've had that experience and now I've had an experience in a completely different country on the other side of the world.
"So it's a time where I need to focus on playing games, getting back playing football and enjoying it and being successful again."