'I'll take nothing for granted anymore' - Josh Daniels opens up about personal tragedy
FIVE YEARS on from the tragic Buncrana pier drowning accident which claimed the lives of five family members including his mother and sister, Josh Daniels has spoken candidly about how his immeasurable loss helped shape his professional football career.
Monday, 5th April 2021, 2:54 pm
Updated
Monday, 5th April 2021, 2:56 pm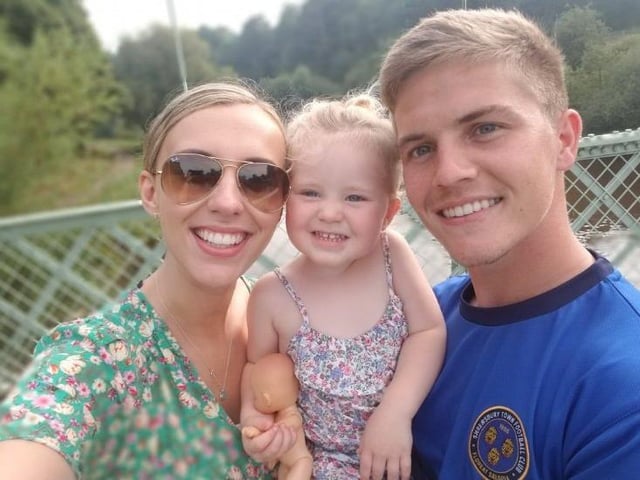 Josh Daniels pictured with his fiancée Hannah and daughter Zahra.
Now with Shrewsbury Town in League One, the former Derry City winger reflected back on the moment he received the news that his mum Ruth (57), sister Jodie-Lee (14), nephews Mark (12) and Evan (8) and their father Sean McGrotty (46) died when their car sank after sliding off an algae-covered slipway and entered the Lough Swilly on March 2016. The only survivor was his four month niece Rionaghac-Ann.
Daniels explains how the tragic accident has given him strength and helped him mature, claiming football has become a form of escapism and a semblance of normality. And he claims the incident gave him the desire to make it in professional football.
Speaking on the LOI Arena podcast, the Galliagh man claimed he gets his strength from his mother and also described his fiancee, Hannah as his 'rock', insisting he 'probably wouldn't have came through that night without her'.
"She (his mum) was a single parent and there's six of us," he explained. "So growing up and having that powerful mother, standard Irish powerful mother who kept our family together all the time and having that influence on my life has rubbed off on me. She would always say I was hot-headed and when I was younger I probably was but it's just that drive to be a footballer.
"And my missus is my support blanket. She probably doesn't get enough praise. But without her I probably couldn't have got through it. She's my rock. She's been through everything with me and I can't thank her enough. Again, it's probably one of my motivations to go as far as I can to give her and my daughter the best life."
Reflecting back on that fateful Sunday evening in 2016 when news of the accident filtered through, Daniels explained how his life changed and described his burning desire to return to football with Derry City.
"I was actually playing a reserve game in Letterkenny that day," he recalled. "I literally just came home and I knew my mother was watching the children at the time and I came home and she just wasn't there. I battered on to my missus' house and at 7p.m. I rang back over and asked my brother if anyone was in yet. He told me they weren't. They had been gone all day and I wanted to see her because I was staying in my missus' house that night.
Josh admits he became emotional when signing a two year deal with Shrewsbury Town
"My sister (Louise) was at a hen do at the time in Liverpool. I just checked Facebook and the news and saw there was an accident in Buncrana A car had went in. There was no vehicle type, there wasn't an amount of people confirmed. I just looked at my missus and said 'I think they were in Buncrana today' because they usually went there for food. I said 'I think this could be them'. I just had a while feeling.
"Two seconds later I had a phone call from my sister in Liverpool who was panicking about them not answering the phone. She just basically confirmed it to me. She didn't know about the accident at this stage, she never knew. She didn't check Facebook. So I just had to say to her 'don't panic'.
"I put my phone down and made sure she wasn't as in the loop as I was and jumped in my car with my missus and drove home. I was shaking. I got to the house and they weren't there. I rang the police in my mother's house and said I think my family was the family that were in the accident. They were like, 'let me take your details'. How many people?" they asked. 'What kind of car?' I explained to them and the police were in my house within two minutes.
"There was a lot of hearsay, even from the police saying there was an extra man in the car or that there were two men in the car. I let my oldest brother know and him and my other brother travelled down to the scene while I was on the phone and I just knew in my heart of hearts.
"I had to let my sister know because she was boarding the plane at the time. I had to keep her sane the whole way home. My brothers were at the scene and confirmed it. And it was a bit crazy from then on. It was just a blur for two or three weeks."
Daniels explained how returning to training and playing with Derry City shortly afterwards had kept his focus.
"Even at the time of the wake, as crazy as it sounds, the only thing I wanted to do was go back to training. I just wanted normality. There wasn't much of a thought process at the time. It was because it was so public and the media were all over it, it was a hard time for my sister.
"For me, Kenny (Shiels) and all the boys at Derry City, the fans, the club, they all really looked after me at the time. It's one thing I will never forget. I just said to Kenny, 'I need to come in. I need to train and get back and don't want you all to treat me any differently than what you did before. I want to come into normality and don't want anyone moping about with me'.
"It's not what I'm about and I didn't want sympathy from anybody. I just wanted to get on with it and try get into the team. I wasn't playing in the team but a few weeks later I scored my first goal which was really special time for me. I was glad to get back as soon as I did because it was a form of escapism."
That first professional goal came against Finn Harps in a televised north west derby at a packed Brandywell and it's a moment which will live long in the memory for Daniels and it gave him the platform to go on to bigger things.
"Even when I scored I was choking up. I got a standing ovation when I scored. It was the biggest crowd I played in at Brandywell, it was completely rammed. I came on in the 82nd minute to try and get a goal and I scored and set one up as well. One of mates, Ryan Curran scored against us with a header from the edge of the box as well so I was raging at that," he laughed.
"But the emotion I felt when I signed here (for Shrewsbury) was quite similar to that. I was just proud I wanted it to do it for my sister and my family. From that day on I was just fully focussed on my football and still am. When you get a bit of a reward like that. It was the most emotional I've been in football.
"It was a massive stage and time to get that goal. Rory Patterson and all the boys ran straight to me and Patterson just grabbed me and pointed up to the cemetery where you could see the grave, so it was so emotional and class by the Finn Harps fans as well who set their rivalries aside. It was class."
As part of his team initiation at Shrewsbury Town, he stood up in front of his teammates to discuss his personal tragedy, an emotional moment he believes gave the players an insight into his determination to make the grade in England.
"It was on an away trip and it was a couple of weeks or months after I signed, maybe two months. Sam Ricketts, who signed me, obviously knew about the story. And Brian Jensen is here as the goalkeeping coach, he's the former Crusaders goalkeeper so he knows me. They knew. None of the players knew. One or two of the players I would be closer to knew as I told them.
"I was just telling my story about my career and personal life and it came up. I don't get choked up but that night I got choked up a bit. It was the same when I signed here. I haven't felt emotional in a long time. The first real time I felt myself break down emotionally was in the hotel here when I signed. I was just so proud to get here, I always wanted to get to England.
"Growing up that's all I said to my mother was; 'I'm going to be a footballer. Nothing's going to stop me, as simple as'. I think football brings out my emotion rather than speaking about it. When I bring out that side, football is my passion so maybe that's why.
"It was hard speaking in front of them all but I think it gives them a but more admiration towards me and my worth ethic. At Derry City before this happened, I was always the flair player, the tricky winger who never really tracked back as much and didn't work as hard off the ball. When I went to Glenavon I completely changed my game and it's the same here. I'm making sure I do everything in my power because I don't want to have any regrets.
"As long as I can look back and say I did everything I could. For me in my head I will always work hard enough, there's no other option."
After the heartbreak of losing his mother, his sister and two young nephews, Daniels believes he's gone on to enjoy the happiest time of his life following the birth of his daughter Zahra, signing a two year deal with Shrewsbury and with a wedding to look forward to this summer.
"There's nothing I can do that's going to change anything. I've said openly in the past, since it's happened I've probably had the best years of my life. I've got engaged. I've moved out to my first house. I've had my daughter. I've now moved here and to be honest if it hadn't of happened I don't know if I would've kicked on with all those things straight away.
"It gave me that extra edge and motivation to do whatever I want in my life. You don't know what's going to happen and that's one thing I'll take from that night. People never really think that things like this could happen to them and I was one of those people.
"It's probably changed me for the best to be honest. It was a crazy time in my life. I've gone on and really matured as a person and a man and as a footballer I just take nothing granted anymore."