St. Columb's Schools U18 Cup dream over as Dungannon win Windsor Park showpiece final
Danske Banks Under 18 Schools' Final
Published 14th Mar 2023, 14:49 GMT

- 4 min read
Updated 14th Mar 2023, 14:53 GMT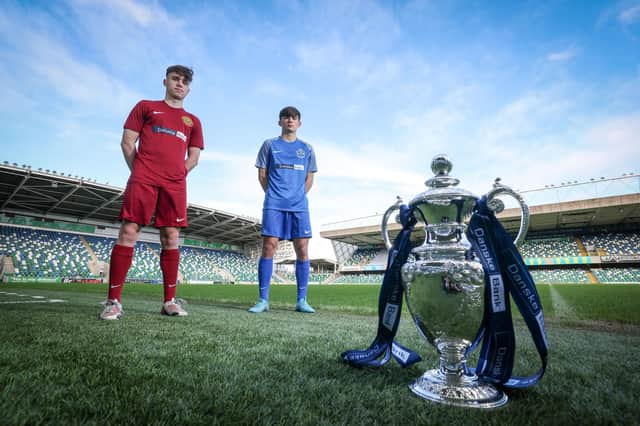 St. Columb's College 1, Integrated College, Dungannon 2
St. Columb's College's bid to retain the Danske Bank Under 18 Cup fell flat as goals from Liam Corr and Kenny Ximenes secured a historic, but deserved first victory for Integrated College, Dungannon at Windsor Park.
A tight opening half saw Dungannon create the better chances and take the lead though a Liam Corr wonder goal, that strike providing the Tyrone boys with a confidence boost they carried into the second period. St. Columb's struggled to match the Dungannon intensity which was perfectly suited to a difficult Windsor Park pitch and when that work rate was allied to the attacking talents of Corr, Kenny Ximenes and Jadon Morgan, Dungannon were worthy winners.
Their display was capped by Ximenes' 69th minute winner, created and finished brilliantly by the wide man who played a one-two, sipped along the right side and in along the by-line before somehow squeezing the perfect finish in off the far post from the most acute of angles.
That goal did stir a late St. Columb's rally which saw Jack McFeely dance through the Dungannon defence three minutes into injury time to offer his side a glimmer of hope but it proved too little, to late.
St. Columb's went into the final as reigning champions and favourites to retain the trophy they won so comprehensively 12 months previously thanks to a 5-1 victory over St. Louis Grammar.
Dungannon were appearing in their first final but you wouldn't have guessed it from an opening half in which the Tyrone school enjoyed the better chances. With dangermen Ximenes and Corr hugging their respective touchlines, Dungannon's counter attacking game appeared better suited to the difficult surface and they probably should have been further ahead than their 1-0 half-time lead.
St. Columb's enjoyed plenty of possession in the opening half with playmaker Sean Carlin drifting deep to link play and McFeely showing glimpses of his ability with some fancy footwork but it was Dungannon who were fashioning the clearer chances.
St. Columb's though had the game's first opportunity when a defence splitting pass form Carlin picked out Shea Feeney coming in off the right wing on 11 minutes. The wide man did well to check back inside and lay off for James Campbell but he saw his effort blocked.
The Derry school were then indebted to full back Conor Barr who got the vital touch on Ethan Nethery's effort following good work from Liam Corr.
The Dungannon threat was growing however as Ximenes sent a shot straight at St. Columb's keeper Joe McConnellogue before Darragh McCluskey had to be sharp to deny Jadon Morgan as the Tyrone men continued to look the more likely.
And the deadlock was finally broken 28 minutes in thanks to Corr's strike which would have graced any final. Nethery did the spade work, threading through a lovely ball but there was still plenty to do as Corr burst on to the inch perfect pass. Corr however had spotted McConnellogue off his line and produced a sublime first time finish, high and wide of the Derry keeper to hand his team the lead.
It was little more than Dungannon deserved and it could have been more with St. Columb's lucky not to concede a 31st minute penalty when McCloskey went to ground to challenge Ximenes and didn't look to get much of the ball.
Yet, if that challenge had Dungannon appealing, Integrated College's keeper Darren Beattie can count himself extremely fortunate to have remained on the pitch seconds later when he caught Barr's clearance outside his area with St. Columb's chasing.
The final opportunity of the half went St. Columb's way thanks to a superb run out from the back by centre half Peter Tracey who broke three tackles before cutting back to McFeely, but a heroic block from Jamie Donnell ensured it was Dunganon who held the advantage going into the interval.
Dungannon could have doubled their lead early in the second half when Ximenes' header sent centre forward Morgan clear but McCloskey was back to make a superb last ditch challenge at the expense of a corner from which Lee McMenemy then sent a header inches wide of the far post.
St. Columb's responded by introducing Noah McHugh for James Campbell but it failed to stem the Dungannon tide. Indeed Nethery should have doubled the Tyrone school's lead on the hour mark but somehow sent his shot the wrong side of the post from only 12 yards.
And the chances kept coming for the underdogs as impressive centre-half Ben Leek robbed Carlin just inside the St. Columb's half before sending Corr clear but the wide man pulled his shot wide of the far post and another chance was lost.
Dungannon needed a second and it was their talisman Ximenes who provided it with a goal al of his own making. It was the cushion Dungannon needed and when St. Columb's responded like the champions they have been, throwing everything forward, Integrated College went into game management mode to take the sting out of the game.
McFeely's superb solo goal offered brief hope of a comeback but it wasn't to be. This was Dungannon's day and they dully deserved it.
St Columb's College: Joe McConnellogue, Conor Barr, Ryan McLaughlin, Peter Tracey, Darragh McCloskey, Riley Fitzpatrick, Shea Feeney, Joshua Callaghan, Jack McFeely, Sean Carlin, James Campbell. (Subs) Noah McHugh for J Campbell, 52mins; Shea Healy for S Feeney, 72mins.
Integrated College, Dungannon: Darren Beattie, Tommy Connolly, Jack McFarland, Ben Leek, Jamie Donnell, Tommy Taggert, Kenny Ximenes, Lee McMenemy, Jadon Morgan, Ethan Nethery, Liam Corr. (Subs) Alex Magee for B Leek, 68mins; Callum McWhirter for J McFarland, 68mins; Anijo Silva for L Corr, 74mins; Elijah Weathered for L McMenemy, 74mins; James McCann for T Connolly, 74mins.