Derry boss Ciaran Meenagh says provincial fate won't count in race for Sam Maguire
​Derry manager Ciaran Meenagh says provincial championship exits will have no bearing on the destination of the 2023 Sam Maguire as the Oak Leafers prepare to welcome "battle hardened" Monaghan to Celtic Park for their opening Group 4 clash on Saturday (7pm).
Published 25th May 2023, 19:09 BST

- 3 min read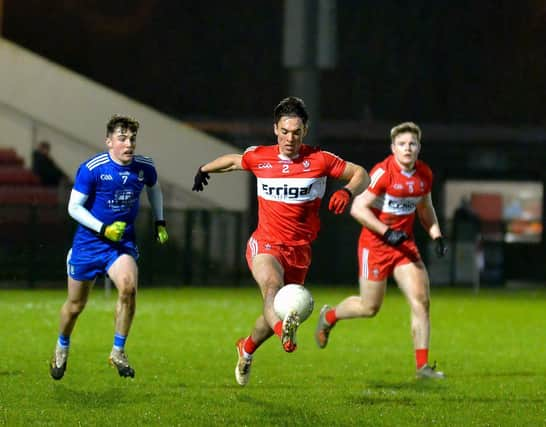 The All Ireland Series got underway last week with Mayo's five point victory in Kerry the eye catching result of week one. It prompted renewed debate over the value of a winning provincial run as Mayo, knocked out in the opening round of Connacht six weeks previous, inflicted a first Championship defeat in Fitzgerald Stadium since 1995 on a Kerry side who lifted the Munster title 13 days beforehand.
Meenagh's Ulster Champions face a similar turnaround time since defeating Armagh in Clones, And while Monaghan have had four weeks to plan since Derry defeated them 1-21 to 2-10 in Healy Park, the Derry manager says it will have no bearing this weekend, or as the summer progresses.
"Nobody will ever be able to win an argument on that one," explained the Loughmacrory club man, "From year to year and game to game, everybody reads in reactively to what happens. Everyone is wise in hindsight.
"I don't think you can ever definitively say there is one way better than the other because there will be teams with a five or six weeks break that it won't work for. For others, like Mayo, it did work but during that time Kerry probably weren't getting the competitive games that other counties were so you're never comparing like with like.
"It is all about getting to that quarter-final stage. How many times have we watched and then said a team was definitely going to be contenders; then they have a poor result and everybody writes them off. There's so much reactionary analysis. The bottom line is the teams that get to the quarter-final weekend will be the teams who have the only momentum worth talking about."
Meenagh revealed he's an ardent fan of the new All Ireland structure which he hopes critics and supporters will give a chance before reaching conclusions.
"There are real incentives with every game," he adds, "Winning the group is a big thing but even finishing second over third has real advantages. I hear plenty of experts asking why is it not only the top two through but the people who make these decisions are clever people and rather than always looking at every decision made and second guessing it, we should give it a chance.
"I have a job to do in managing or coaching a team, so let the people who make the other decisions make them and see how things operate before we write them off. I think the system looks good. There's an incentive for finishing first; there's absolutely an incentive not to finish fourth because you're out but there's also a very real incentive to finish second over third. It looks well thought out overall but let's see how it works out."
Meenagh is expecting to face a Monaghan side with a point to prove after their Ulster semi-final defeat but he stressed Derry still have plenty to prove themselves despite back to back provincial titles.
"Naturally, if you put yourself in Monaghan's shoes that would be the one of the emotions and it makes them very dangerous. We are acutely aware of that so it's up to us to make sure we are well prepared to bring our best.
"If the shoe was on the other foot it might be a motivating factor but I'm not convinced how much impact outside factors have. There's a game of football to be played and, for us, the best motivating factor is getting our own performance right.
"In 2013 I was in Clones the day Monaghan won an Ulster double, minor and senior, and you had the likes of Ryan McAnespie and Dessie Ward on a minor team. You had the Hughes, Wylies and the likes of Ciaran Duffy, Conor McManus and Jack McCarron on a senior team; this Monaghan squad has had years as one of the teams who carried the flag for Ulster football while Derry were in the doldrums.
"This is a battled hardened, experienced Monaghan side who have a decade of Division One football behind them so we have to make sure we are ready for that challenge but I don't think Derry will lack motivation in terms of still having plenty to prove."