Derry boss Rory Gallagher says Longford game crucial as Oaks prepare for National League opener
Rory Gallagher is no doubt his Derry squad possess the ability to compete in a higher division but says the players must prove it on the pitch, starting with Saturday's league opener at Longford's Pearse Park (5pm).
Friday, 14th May 2021, 6:40 pm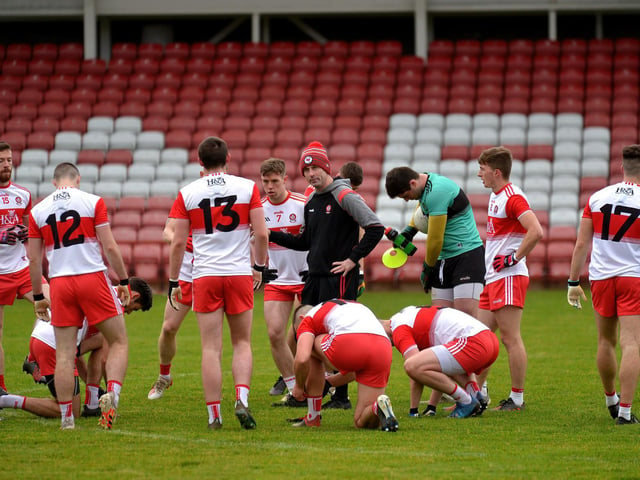 Derry manager Rory Gallagher talks to his players during last season's league game against Longford in Celtic Park.
Gallagher, who will have Karl McKaigue available after overcoming the ankle and Achilles injuries which ruled him out of last season, has added Ballinderry's Gareth McKinless to his panel while both Conleth McShane and Ronan McFaul have stepped up from the the U20s.
Conor McCluskey is Derry's only doubt after taking a bang to the knee in training but otherwise Gallagher has been delighted with the attitude and application of the players, both individually and since the resumption of collective training. Now, however, he wants to see that translated into results.
"I have seen significant improvement and a better bonding, a better chemistry among everyone but now is the time to prove that," said the Derry boss, "We have to start going and getting the results we expect of ourselves.
"If you have any ideas of getting promoted then the first game is crucial and that is something we will be aiming for but for now, all we can do is focus on preparing as well as we possibly can to produce a good performance. However, I'm confident with what I've seen from the lads that we are in a good place. Despite all the time we've had away from each other as a group, I'm very happy with the squad and the quality of players we have."
Derry are one quarter of the four team Division Three North, alongside Fermanagh, Cavan and this weekend's opponents, Longford with the top two sides in each section moving forward to promotion semi-finals and the bottom two into relegation play-offs. Facing trips to Longford and Cavan, there is little room for error but Gallagher is confident the Derry players can cope.
"Statistically the northern division is perhaps a bit stronger," he added, "You have Cavan and Fermanagh who got relegated from Division Two and ourselves and Longford who finished third and fourth last year. It is actually quite similar in Division Four as well.
"It is what it is and we've known about it for a long time. There is no doubt it is a very tough, four team section for every team involved but we have to get on with it.
"Of course, having two away games from three isn't ideal, and those games are not just over the road either, but this is something the players should be well able to deal with. In fact, it is something we should all be able to deal with.
"With a number of last season's 'walking wounded', including Chrissy McKaigue, Brendan Rogers and Padraig Cassidy, having successfully overcome close season surgery and already back to full fitness, Gallagher is delighted with how the squad is shaping up for what will be an intense league programme.
"We have a very fit squad regarding the availability of players. With the exception of Conor (McCluskey), every other players is available for this weekend. They are all fit and are all training including Karl (McKaigue).
"It is great to have them all back but it's now time to focus on the competitive action and I think there's a good focus for that among the players."