Derry manager Johnny McGarvey calls for fans backing in 'league decider' against Down
​Derry senior hurling manager Johnny McGarvey is hoping Oak Leaf fans will turn out to support his side in a game he believes will decide the county's Division 2A fate.
Published 9th Mar 2023, 17:23 GMT

- 3 min read
Updated 9th Mar 2023, 17:28 GMT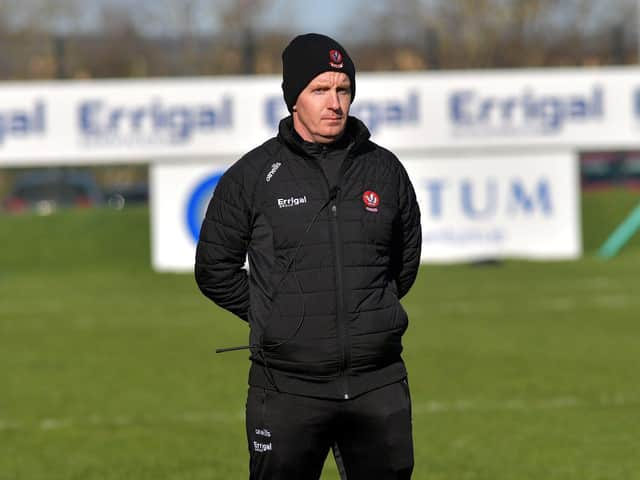 With two round of fixtures remaining, Derry and Down are still looking for their first points of the season and meet this Sunday in Ballycran (3pm) for a game McGarvey believes is tantamount to a league play-off, so he's hoping the Oak Leaf get behind their county!
"This is a big one, it could be definitive," admitted the Derry boss, "I think it will come down to head to head results so this game is massive. It's very, very important so it would be great to see the supporters come out and back the boys. That would be a great boost in a crucial game."
Reese McSorley is the only injury concern for a game that comes 24 hours after Derry's Under 20s meet Antrim in the Ulster final at Owenbeg. With Derry travelling to Carlow to finish and Down facing a tough task away in Kerry for their last game, a win this weekend for either will see them safe if it goes to the head to head record.
Derry come into the game off the back of an unfortunate defeat against Kildare in Owenbeg two weeks ago, the same day as Down were falling to a 5-24 to 1-19 defeat in Carlow. McGarevy though, says Derry are placing no relevance of that 'freak' result and is expecting a championship style encounter on Sunday.
"I think the Down U20s, a bit like ourselves, played the night before so they had a couple of ads missing but for Down it was a very strange result," he added, "I watched it but I told the boys not to watch it because it was a very un-Down like performance. They just never got going and you can have days like that.
"We've put absolutely no relevance on that result at all. Look at the other results and you see just how competitive they've been so that's where we have been concentrating. We left the Carlow match out purposely because I don't think it is reflective.
"There is no relevance to it but I don't think any of the games we've played this season, either theirs or ours, will have any great relevance on Sunday. It will be a game of its own. It will probably be championship pace because it is every bit as important to them as it is to us."
Having come into the job only days before the start of the league season, the Derry manager said he was glad of the fixture free weekend last week so he could work with his team on the training ground.
"It was a help to clear up a few wee niggles that you get after these games. You need a few days just to recover so no, the two weeks' break has been a help to us.
"We have a fair idea of where we are at. We are probably a few weeks behind where we'd like to be but we know we have been competitive and played reasonably well in spells. As I say, the two weeks have been good to us in terms of getting a bit more work done so I'm expecting Sunday to be very, very competitive."