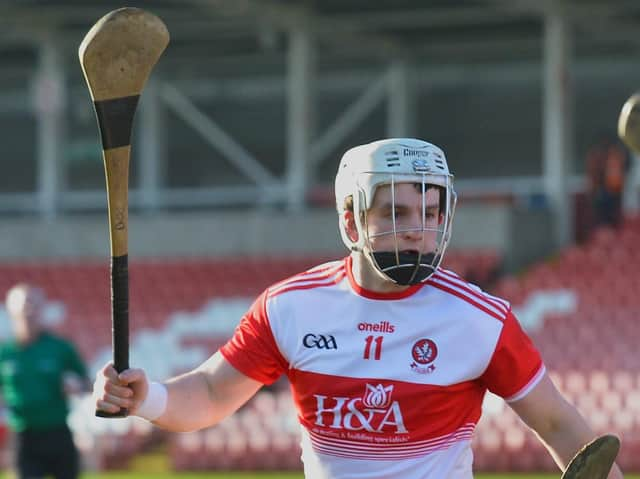 New Derry hurling captain Cormac O'Doherty.
The Slaughtneil star was confirmed as Derry captain last week and led his club to a record eighth successive county title last season but O'Doherty is not the archetypal chest thumping captain of yesteryear. The Emmet's forward prefers to let his hurl do the talking and few can argue with his statistics for either club or county.
O'Doherty admits he's honoured to be leading the Oak Leaf men into their Division 2B opener against Mayo on Sunday, a game that will go some way to defining their promotion chances this season, but what can we expect from O'Doherty the Derry captain?
"We'll son find out," laughs the Slaughtneil player, "No, we have a fairly experienced group of players and I think the days of shouting and roaring or banging doors are over. We have plenty of boys who have played in plenty of big games, boys who have experienced big victories and big defeats. Captaincy has to be a group effort more than being about any one man but I will do what I can.
"We have a good, core group of players involved over the past three or four years, players who know what county hurling is about. We have a few new faces in this year but those same players have experience themselves and this year will be about a collective rather than any one individual.
"It is a big privilege to be asked to captain your county. It's something to look forward to and relish and hopefully it can be a successful one.
"To be honest, though, it doesn't change much. I've had a bit of experience last year when I was captain at Slaughtneil for the first time. You try to prepare yourself for every match as best you can and hope to perform but that has to go for every player in every game. The hard work is all ahead of us and it starts next Sunday in Mayo."
That work is being over seen by a new management team led by joint managers, Dominic 'Woody' McKinley and Cormac Donnelly, and O'Doherty revealed the players fully endorsed the duo's appointment in the wake of John McEvoy's departure last season.
"Once John and the boys had left, the County Board talked about who they might be interested in or who they may be looking at," he added. "There were a couple of names mentioned but Dominic and Cormac have been about. Cormac is new on to it in term of county management but he was involved with us at Slaughtneil and he was a brilliant coach who helped us immensely.
"The players know what Cormac brings to the table and Dominic has been a coach for a long, long time. He has been involved with Derry before and again, he has been highly successful. That's something players relish, to play under good coaches, good managers, especially ones who have been successful before and hopefully we can continue that."
So will having joint managers be a different dynamic for the Oak Leaf players? Not according to O'Doherty
"There is always a collective. The two boys will be supported by Kevin (Hinphey) and Conor (Murray) along with the rest of the backroom team. There is no one manager in any team any more, not even at club level but especially not at county level. There is so much involved with it now.
"Dominic and Cormac have put a great management in place for this year. It is a challenge we are all relishing."
With little time for pre-season, no challenge games and the most difficult start possible with trips to Mayo and Kildare, Derry will be outsiders for that one automatic promotion spot for the league winners but O'Doherty says they will meet the challenge head on.
"With there being no league final, the first game is massive. Realistically, if you want to get promoted you have to win all your games and that starts against Mayo on Sunday.
"It is a big challenge for us but as players you always want to face these challenges. Again, it is one to look forward to and one to test ourselves against. There's no doubt it is a tough start and huge challenge. We will go and give it out best and seen how things plays out.
"If you are the best team you will get promoted, regardless of whether that is through a league final or topping the table, the best team goes up and that is something we are aiming for but we can only look at Mayo and take it from there."