League final is perfect Ulster Championship preparation says Derry manager Rory Gallagher
​Rory Gallagher believes the Division Two final against Dublin or Louth will provide the perfect preparation for Derry's Ulster Championship opener against Fermanagh on April 15th.
Published 21st Mar 2023, 12:12 BST

- 2 min read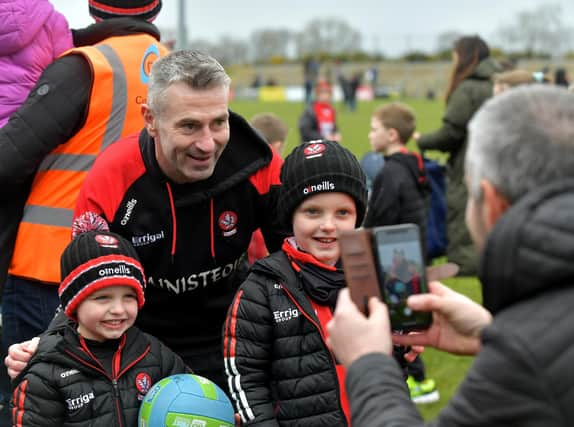 The season's new format means the divisional finals fall only two weeks before the onset of the provincial championships and some have questioned the close proximity, but Gallagher says the Croke Park decider will be an ideal fixture ahead of their Brewster Park test.
"We start looking at Ulster," explained Gallagher after watching his team secure promotion with Sunday's 0-14 to 0-4 victory over Clare in Owenbeg.
"We will use Dublin or Louth as part of that, there's no doubt about that. We have the experience of Croke Park in a National League final and we will try to show up because I don't believe in not wanting to win, or not wanting to prove yourself on any given day.
"If us and Dublin or Louth played in a challenge game we would both want to win so we'll go at it and they will go at it and we will see what happens.
"I think it is perfect preparation (for the Ulster Championship). Whatever way it goes we will take huge learnings from it. I'd be very clear, with that Dublin league game, we learned more from it than the other 12 or 13 league games over the last 18 months to two years. Playing against those teams tests you in every way.
"Listen, there were setbacks but everybody stuck together and we learned together. No matter what, you always want to go and prove yourself and we have proved ourselves to an extent.
Sunday's victory, which also saw Clare relegated to Division Three, means Derry can relax for their final day trip to Cork having secured a first return to Division One since 2015.
"It was very important to get the job done before Cork," he added, "We're playing Clare at home and we wanted to win at home. I suppose against Galway last year we didn't show up so it was important to take control of the game today and we did and we won unbelievably comfortably.
"All along it is about April 15th and Fermanagh and you use all these games as preparation so you want to get up the divisions to play the top ranked teams. We are in the final so there's no point not looking forward to that."