Rory Gallagher delighted to give Derry fans a new generation of Oak 'heroes'
The final whistle in Derry matches has become the signal for young Derry fans to pour on to the Celtic Park or Owenbeg pitches, and Rory Gallagher couldn't be happier about it.
Published 19th Mar 2023, 20:32 BST

- 3 min read
Updated 19th Mar 2023, 20:32 BST
Gallagher says his own young kids were raised on the sight of players like Michael Murphy and Colm McFadden raising the bar with Donegal during his time there, but revealed those names are now being replaced by some of the new Oak Leaf generation of stars.
"I think it's great," laughed the Derry happily posing for numerous photos following Derry 0-14 to 0-4 victory over Clare which secured promotion to Division One.
"I saw that same thing with Donegal with the way the young ones ran to the players and stuff like that. Would I want that for these players? Absolutely, yes.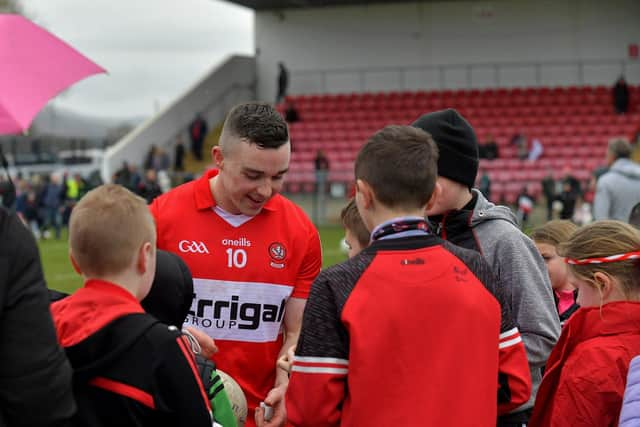 "My own three are over there and the first thing my son said to me was, "I met Michael' meaning Michael Murphy who was here at the game today. He grew up watching Michael but now they talk about Ethan (Doherty), they talk about Conor (Glass), they talk about Chrissy (McKaigue), Brendan Rogers) or 'Clucky' (Conor McCluskey) and it's great to see. I would imagine that's what kids in Derry are talking about as well and sure, why not? They all want heroes."
Sunday's comfortable victory Derry's 18th league win from their last 20 matches across Divisions Two and Three, a run that brought only one defeat and Gallagher believes it highlights why they have earned their place in the top flight for next season.
"It is a phenomenal achievement from the boys in the sense that they went about their business so diligently," added Gallagher, "They took the set back from last year on the chin and just ground it out. To win and win every game so comfortably with the exception of Louth and Dublin, and in the Louth game I felt we were the better team, we just didn't play well, but no, I'm delighted with the boys. They are a credit to themselves.
"If you want to become a real heavyweight in our sport you have to be playing in Division One, that's the reality. I know Dublin are probably the exception at the minute, the second favourites for the All Ireland and playing in Division Two, but that's not normal.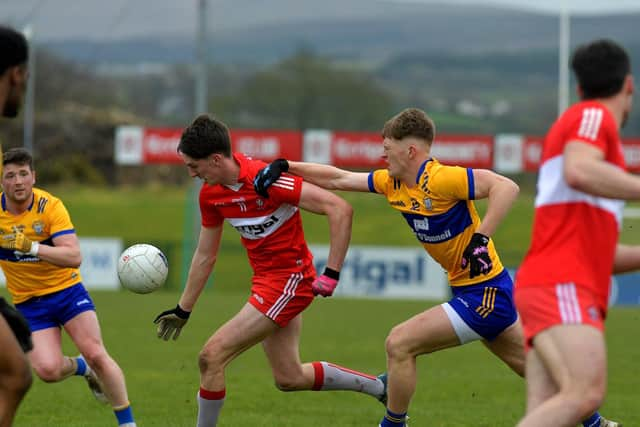 "We want to get up. We want to play the top teams and I think we have earned the right. We came back in September 2020, after Covid, and we had the addition of Conor (Glass), Ethan (Doherty) and Paul (Cassidy) into our squad and today was the 20th league game since then. We have won 18, drawn one and lost one. We are clearly a lot better than the majority of those teams but ultimately the Dublins, the Galways, the Roscommons, there's not much between any of us so we want to play against those teams all the time."
Despite having a trip to Cork and the Division Two final to round off their league fixtures, the Derry manager will give his players a break off this week as attention turns to the Ulster Championship opener against Fermanagh on April 15th.
"We start looking at Ulster now," he explained, "We will use the final as part of that, there's no doubt about that. We have the experience of Croke Park in a National League final and we will try to show up because I don't believe in not wanting to win , or not wanting to prove yourself on any given day.
"We had planned to take a week off after the league but we will be taking that week off this week," he added, "We will get ready for Cork but boys need down time, they need time to go and live and get away, some might go out of the country, whatever they want.
"We said with the way it was shaping up that if we could get promoted today then they could go and everybody just take a bit of down time and then get ready because the season, once we come back, it is going to be hell for leather."