McDaid claims victory after superb 2023 Michael Doherty Spanish Tour
GREENCASTLE Golf Club member, Peter McDaid, emerged the winner of the 2023 Michael Doherty Spanish Tour, the 25 handicapper claiming the prestigious Silver Salver in Majorca last week when carding a superb total of 156 points, an average of 39 points over the four rounds.
Published 24th May 2023, 10:15 BST

- 3 min read
Peter finished three points ahead of previous twice winner, Mark O'Doherty, (9), also a member of the Greencastle club.
The winner opened with a 40 points total at Santa Ponsa and remained in contention when returning 37 points at the T-Club in Poniente. Another total of 40 points at Santa Ponsa put him in the driving seat and 39 points on the final day at Santa Ponsa ensured a great victory.
Runner-up, Mark O'Doherty highlighted his class with commendable scores of 39, 41, 35 and 38 points which would have presented him with the top prize on many other occasions. In third place was the tournament organiser, Andy Meenagh, from the City of Derry club, with a 72 holes return of 150 points and that proved to be a very popular result for someone who has done so much to keep this remarkable tournament alive.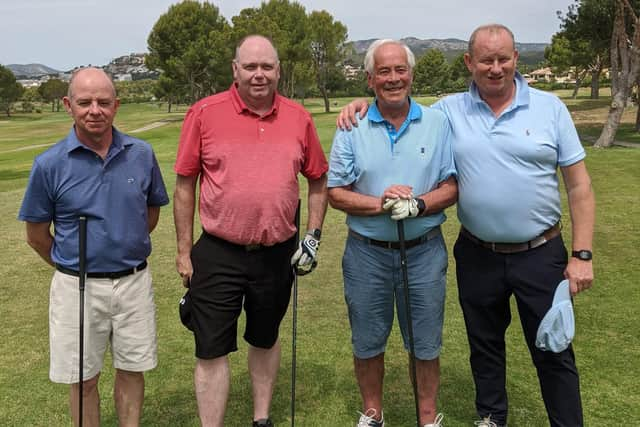 The overall leading scores were - 1, Peter McDaid (Greencastle), 156 points; 2, Mark O'Doherty (Greencastle), 153; 3, Andy Meenagh (City of Derry), 150; 4, Ciaran O'Neill (Greencastle), 149; 5, Joe Doherty (Cruit Island), 145; 6, George Pearson (City of Derry), 139; 7, Gary Leckey (City of Derry) 138; 8, Eugene Dunbar (North West), 137; 9, Peter Villa (City of Derry), 136; 10, John Hasson (City of Derry), 134.
The WHS system was put in place for this event and, it has to be said, it worked out very well with handicaps adjusted to suit individual courses and thus giving players a chance to score well - so congratulations to Michael McCullough, ably assisted by Brian Long, who did a great job of handling the onerous task of scorekeeping.
Peter McDaid served notice of his intentions with a superb opening 40 points at Santa Ponsa with current holder, Ciaran O'Neill finishing second following a break of tie with Mark O'Doherty, both players returning scores of 39 points.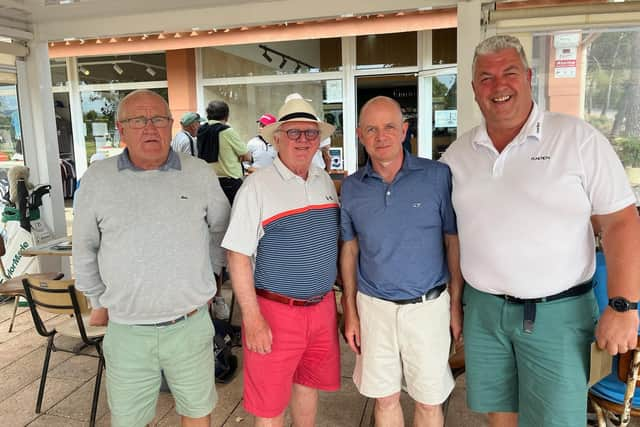 On to the magnificent T-Club, the venue for the second round and there could not have been a more popular winner than City of Derry 20 handicapper, Tommy McDermott who powered his way to 45 points to win by four from O'Doherty (9) and tournament organiser, Meenagh, third with a fine 39 points.
On day three Andy Meenagh moved into contention with a fine score of 41 points at Santa Ponsa. Leading results were - 1, Andy Meenagh, 41 pts.; 2, Peter McDaid, 40 pts; 3, Gary Leckey, 38.
And the fourth and final round at Santa Ponsa saw Tommy O'Neill record a very popular victory with 45 pts. Results - 1, Tommy O'Neill, City of Derry, 45 pts.; 2, Eugene Dunbar (North West) 43; 3, Peter McDaid (Greencastle), 39 pts.
The traditional teams of four event was dominated by the quartet of Mark O'Doherty, Gary Leckey, Phelim O'Neill and George Pearson with a combined 355 points, one of the best team scores in the history of the tour.
Other leading team scorers were - 2, Brian Long, Peter Villa, Karl Doherty and John Hasson, 345 pts. and 3, Peter Doherty, Joe Doherty, Tommy McDermott and John Bradley, 243 pts.
It's hard to believe that this tournament has been in existence for close on half a century, dating back to the opening tournaments in Scotland in 1976 and 1977 when the late, great Michael Doherty introduced the tour to quality courses such as St. Andrews, Carnoustie and Muirfield. In fact, the tour was eventually switched to Spain due to unpredictable weather conditions and it has been played there since.