Derry basketball coach Ronan O'Leary makes history with a Connecticut State Championship win
​It's the State Championship final. Your school's first. You're seven points down to the reigning champions in front of over 6,000 and seconds away from the buzzer at the end of the third quarter.
Published 26th Mar 2023, 19:09 BST

- 5 min read
Updated 27th Mar 2023, 19:20 BST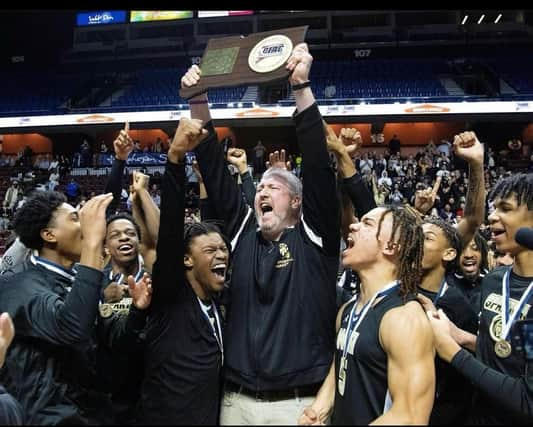 We've all seen the movies, this is where a basketball coach earns his corn and the coach all Waterbury Career Academy (WCA) eyes are focused on right now has a distinctly Derry brogue in this most american of arenas. Wisdom is despatched, high fives are handed out and it's game on again against Bloomfield High School.
With the fourth quarter playing out like something from a Hollywood script, WCA fight back and turn things around in emphatic fashion, creating history along the way as the school's first Connecticut State championship and first Nene Valley League (NVL) winners. Cue celebrations the like of which Connecticut will not forget in a hurry and front and centre is the victorious WCA coach, Ronan O'Leary. Derry's Ronan O'Leary.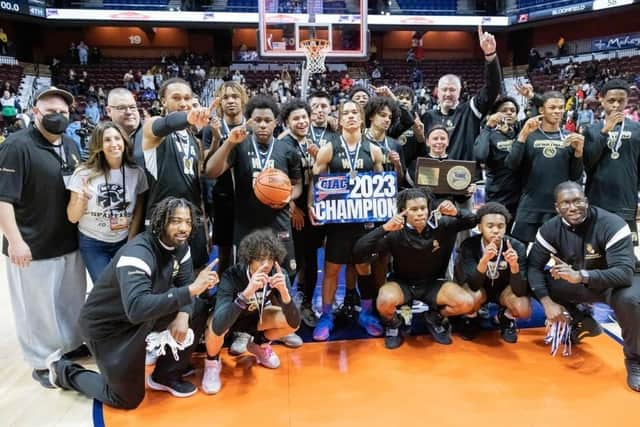 "Just reaching a State final is so hard and such an achievement," explains O'Leary, "Then we got there and we beat a really good team, it was an amazing experience for everyone involved, the players, the coaches and the entire school community.
"The State Championship was one of our targets because we knew we had a strong returning team. You don't want to ever write it down but we had lofty goals without wanting to say it out loud.
"And every goal we set out this year, we achieved. We won the regular championship, the League tournament championship and then the State Championship so we won everything we could possibly have won which is remarkable. It was a perfect season. We've had so many 'firsts'."
US State Championship winning coach is a long way off twice weekly training session in St. Columb's in the early '90s. In those days it was Strabane's Jim McCloskey who agreed to nurture the basketball talents of a group of College boys who had found an unexpected love for the sport. That same group of friends also formed the basis of St. Columb's 1996 All Ireland Schools' Championship winning team as well as playing key roles in the formation of local club North Star. And now they can boast a US State winning coach among their numbers!
"High school sports are massive over here," adds O'Leary from his home in Waterbury, "It is a massive thing for the community. The city of Waterbury is about the same size as Derry, There's about a 110,000 population but basketball is thee No. 1 sport, hands down. There's a lot of history and a lot of outstanding basketball players who have come from here so it has a big, big following
"The final saw us playing against the number one seeds, Bloomfield High School who have been to the State Championship final 13 times. They've won it six times in their history and were the reigning champions so they were favourites but we were number two seeds.
"We were right behind them but we'd never experienced it before. We'd never played in the State Championship game before. There were all these firsts for us even by making it that far but our fans really packed the arena and it felt like it was a home game for us.
"The game itself was very close. We were up two at half-time but then in the third quarter, Bloomfield broke away and were ahead by seven points so it looked like they were going to come out on top. We called a time out and rallied the players and then we went on an absolute tear which Bloomfield couldn't live with.
"We have one player, he's one of our best, a kid called Andrew Williams, and he ended up having 36 points and 18 rebounds - just amazing stats. He took over the game, our defense stepped up and Bloomfield were rattled.
"They just couldn't fend us off and we ended up winning by 16 points. It was a huge turnaround and a bit of a fairy-tale finish. Since then it's been absolutely surreal."
O'Leary's own stateside adventure began with the offer of a scholarship after he was spotted playing for Ireland Under 18s in European qualifiers in the early noughties. Well, when we say 'spotted', at 6' 9" the Derry native is difficult to miss on the court but it was an offer that would change his life. A teaching post with Sacred Heart HS in Waterbury followed where he was also assistant coach for seven years. Now settled with an American wife and three kids, when the new WCA was being established and needed someone to head up their new basketball programme, the Derry man was the ideal choice. That was nine years ago and Ronan hasn't looked back.
"I became a teacher first and then fell in love with coaching. I was teaching and coaching at the same school and I've stayed on that career path since. It's something I love to do, I'm very passionate about it. Of course teaching is my main job, coaching a high school is not one of these high paid roles. You're a teacher first but school coaches are some of the most passionate about because they don't do it for money, they do it because they love the sport.
"That's what makes this State Championship so great. We had never even reached a final before but to see the efforts of so many people get its reward was fantastic. It's a season none of those players will forget.
"We played 27 games in total and while we didn't win them all - we lost three games - but the three games we lost were crucially important for us because we learned from them. We knew what we had to focus on and what we had to work on in practise and we did that which put us on this run to the end of the season. The way we did it was just fantastic."
Still in contact with his good friend and current North Star Chairman, Colm O'Neill, Ronan says he was delighted to see the Derry club crowned N.I. Division 1 League champions recently, a sign he believes shows the potential of basketball within the city. The news capped what he says has been a remarkable few weeks.
"For a High School coach, the State Championship the pinnacle of what you can achieve. You can't win anything better. It is the peak of the mountain for me and I'm absolutely delighted but it's not just me. I have a great team of coaches around me and the players are just tremendous but, as a coach, it's so,so satisfying. I'm over the moon."