Eamon Deane shines as Real Fighting Championship back in Derry with a bang!
After several years absence, Real Fighting Championship returned on Saturday to Templemore Sports Complex and it definitely did not disappoint!
Published 28th Mar 2023, 14:30 BST

- 4 min read
Updated 28th Mar 2023, 18:31 BST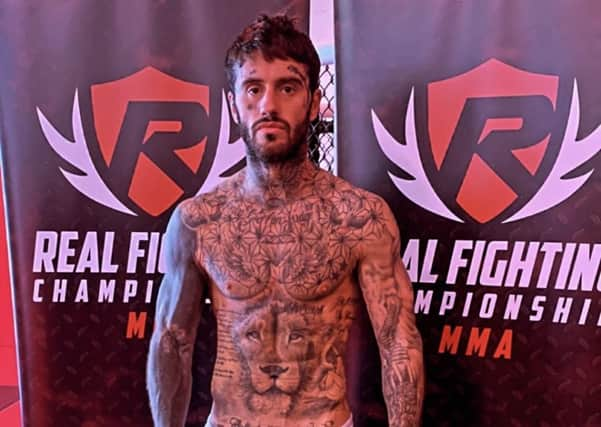 ​With a fight card beginning with No-Gi grappling matches, it then moved on to MMA bouts with a large roster of some of the best amateur fighters in the country.
On top of this, a professional fight topped the bill. With Derry man Steve Owens' fight with Troy Gibson cancelled at short notice, it left the chance for former K1 world champion Eamon Deane to step into professional MMA against Gibson.
The main event lived up to the hype, and Deane showed what he was made of with a first round technical knockout on his MMA debut. For many this was more than they expected simply due to a long lay-off for Eamon who has been out of competition for several years.
Following the fight Eamon told us he wasn't shocked by the result and that he is loving the chance he's got to get into the professional MMA scene.
"I'm not surprised, I'm not a K1 fighter, I'm everything. I just saw his eyes roll, so I just let the hands go. That's who I am."
When talking about where he goes from here with his professional career he showed he is not short of ambition and wants to keep active.
"[I'm aiming for] The moon. Anybody and everybody, let's go."
The co-main event saw two Derry men, Blaine McGill and Sean Kelly, battle it out for the RFC Amateur Welterweight Title. This fight was highly anticipated with both fighters having a substantial fan base within the city. The fight ended mid-way through the third round when McGill TKO'd (technical knockout) Kelly.
This was striker vs grappler and the level of Blaine's kickboxing proved too big a challenge for Kelly. Despite the rivalry there was mutual respect between the two fighters, so much so that Kelly himself put the belt around McGill's waist following the announcement of the result. Here is what Blaine had to say following the win:
"It's unbelievable, hard work pays off, just listening to my coach and working everyday. It was tough but I went in there and got the job done. I've been dreaming of this [winning titles] for years, even seeing the likes of Eamon [Deane] fight years ago and asking for pictures, now people are doing the same to me. It's a dream."
This win now makes him a champion in of both local organisations, Chaos and RFC, but Blaine says there won't be much downtime and he'll be back in the gym next week.
"Just going to take a week off, then get back into the gym. I listen to my coach Ciaran McFadden and I'll be improving my game and we'll just see what happens. Anything that comes."
Full results: Main Card; Pro Main Event: Eamon Deane vs Troy Gibson - Deane wins by 1st round TKO; Welterweight Title Fight: Blaine McGill vs Sean Kelly - McGill wins by 3rd round TKO; Matthew Friel vs Ciaran Coogan - draw; James Slavin vs Ryan Kelly - Slavin wins via decision after 3 rounds: Lawrence Moran vs Dale Sheridan - Sheridan wins by 1st round submission.
Preliminary Card: Jordan O'Neill vs Ben Crawford (Nogi grappling) - O'Neill wins by submission after 2 minutes of grappling; Dominick Rhodes vs Louis Paulie - Rhodes wins by stoppage in the 2nd round.
Sam McGowan vs Jacob Leonard - Leonard wins by first round TKO.
Brennain Bradley vs Trevor Leigh - Bradley wins via unanimous decision; Rachel McIlhagga vs Dolores Gallagher - Gallagher wins via doctor stoppage at the end of the 2nd round; Caoilan Keaney vs Darren Kirwin - Keaney wins via decision following 3 rounds.
Nogi Grappling Matches; Niall Hargan vs Rory Bateson - Draw after 10 minutes without a submission; Leon Davies vs KT Wells - Davies wins by submission via Kimura 40 seconds into the contest; Seamus McCrudden vs Tim McAllister - McCrudden wins via decision after 10 minutes of grappling.
Fight of the Night - Matthew Friel vs Ciaran Coogan.
This was an absolute war, both men put on a show. Friel was unlucky not to win the fight, but following a point deduction it was an uphill battle. Coogan on the other hand deserves a lot of credit, he put up a great fight and showed what he is all about.
Performance of the Night - Eamon Deane vs Troy Gibson.
Deane made a statement in his first ever MMA fight. Despite not having an amateur MMA career, and having been inactive in K1 for several years, he stepped flawlessly into professional MMA.
Troy Gibson, who himself was a world champion at amateur level, is certainly no walk over and to take him out in the first shows the level of competitor Eamon is.