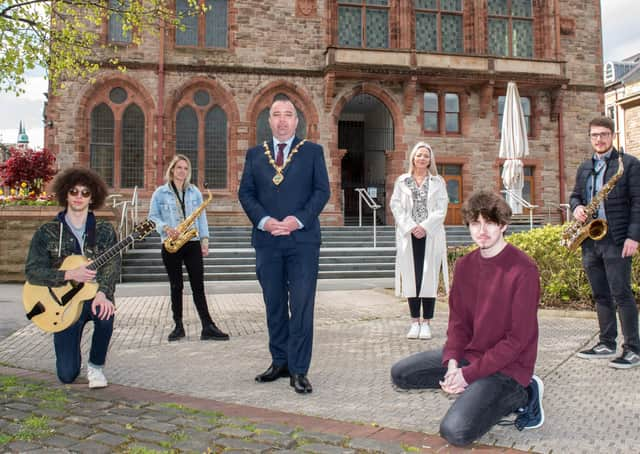 The bursaries were open to any musicians of a jazz inspired discipline in the Council area aged between 16 and 30 who required financial support to enhance and further their musical careers.
Funding for the bursaries was provided by Derry City and Strabane District Council and Council worked in conjunction with North West Regional College and Ulster University's School of Music in the final selection process.
Joseph Leighton, Callum Feeney, Kitija Ernstone, Diarmuid O'Kane and Mark McLaughlin were all chosen to receive the £1,000 bursaries to help them take the next step in their music journey.
23-year-old guitarist Joseph has toured as a sideman to many exciting countries in the world including Vietnam, Singapore, Lebanon and Jamaica, while 21-year-old Callum is a singer-songwriter who incorporates a number of different styles into his writing including, jazz, soul, folk and pop.
Kitija is a multi-instrumentalist specialising on alto saxophone and is currently a second-year undergraduate music student at Ulster University's Magee Campus. The 28-year-old is a music artist and upcoming producer.
25-year-old Diarmuid is a performing musician and composer/arranger, and his career to date is varied and covers many genres of music and types of performances, while Mark is an aspiring singer/songwriter with a unique style and blending of genres such as jazz, rock and pop. Mark will soon be releasing his debut album at just 18.
Mayor of Derry and Strabane, Colr. Brian Tierney, said it was a real pleasure to congratulate the five young musicians on their success.
"I am truly delighted to award these bursaries to Joseph, Callum, Kitija, Diarmuid and Mark who all have such incredible talent.
"We were really pleased at the number of entries we received, and the standard was so high that it made it very tough to select just five out of the bunch," explained Mayor Tierney.
"As part of the City of Derry Jazz & Big Band Festival, this year we are really focused on celebrating local talent and nobody typifies that more than this group of young people.
"As a Council we are delighted to supply this funding which will go a long way in helping them make the next steps in their career. It was also great to work alongside NWRC and Ulster University on this project."
The 20th edition of the City of Derry Jazz & Big Band Festival takes place from Friday, April 30 to Sunday, May 2, with a busy weekend of virtual performances and events.
To see the schedule, visit https://cityofderryjazzfestival.com/