Inishowen's Glashedy Island is focus of new online exhibition in Derry
An online exhibition centred around Inishowen's Glashedy Island will be launched by Derry's Eden Place Arts Centre next week.
Saturday, 6th February 2021, 9:32 am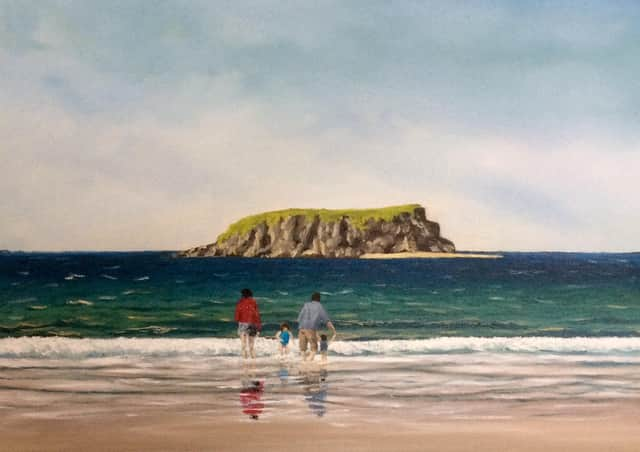 Detail from the painting Family Day Out by Lee Doherty.
A spokesperson said: "Whist all us Derry ones are missing days out in Donegal why not visit our online exhibition of paintings by Eden Place Art Centre's Wednesday Evening Painting Class?
"While enjoying the craic at the Wednesday evening painting class some time ago, one of the ladies vocalised it would be a good idea to put on a Glashedy exhibition as three of four students were painting different versions of that scene. And so the idea was born!"
Glashedy is an uninhabited island one mile off Pollan Bay. The island is mostly rock with an expanse of green on top hence the name: Glashedy or Gláis éidigh which means green garment or cloak.The sea surrounding it is quite shallow giving rise to the impressive waves which crash ashore and giving it a very appealing painterly view.
Family Day Out by Lee Doherty.
The class tutor David Fahy said: "One of the big draws for artists is the vast variety of views which are constantly changing, be there a storm or a calm day, but what ties the island to the canvas is the amazing light and of course, the dramatic Donegal sky.
"We hope the viewer enjoys the many works in a variety of mediums and styles in this thought-provoking, eye opening exhibition."
The exhibition will be available to view on the 'Current Exhibitions' page of the website www.edenplaceartscentre.com from February 12 to 26. For more information contact Judi: [email protected]