Ireland's premier electronic music festival Celtronic returns for 23rd tonight
Ireland's longest running electronic music festival, Celtronic, returns for the 23rd year, opening tonight and running until Easter Monday.
Published 21st Mar 2023, 11:27 BST

- 3 min read
Updated 6th Apr 2023, 09:31 BST
Some of the best international electronic music artists will converge on the city of Derry over the Easter weekend from Thursday, April 6 to April 10 to play alongside the best local and national DJs, producers and live acts.
Headline artists at the festival will include one of the most widely-recognised and revered talents in electronic music, DANIEL AVERY, Detroit techno legend DJ BONE, Celtronic favourite and one of dance music's most beloved souls, MOVE D, while A LOVE FROM OUTER SPACE will bring their hypnotic groove to the city for the first time in 10 years.
Returning home for the festival will be Derry's OR:LA, the most successful electronic music artist to emerge from the region and now established as one of the finest selectors in the game with a packed schedule at the world's best clubs and festivals.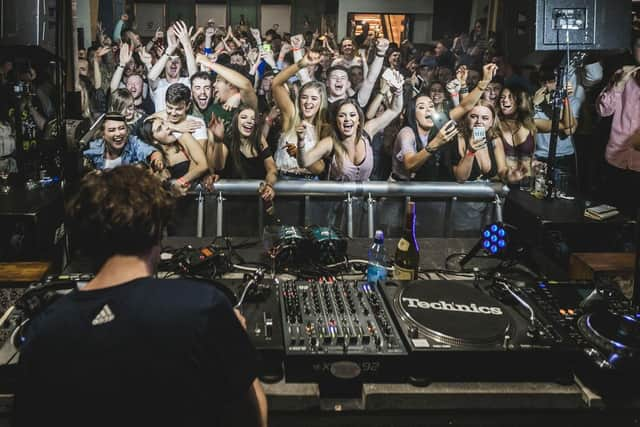 Making her Celtronic debut will be KERRIE, the Irish born, Manchester based techno artist who has been wowing crowds at Berghain-Berlin, Shelter-Amsterdam, Warehouse Project with her distinct raw analog sound.
The Irish electronic music scene continues to go from strength to strength and is well represented at Celtronic 2023.
Some of the Irish scene's key artists featured at the festival will include PHIL KIERAN, DAITHI, AUTUMNS, MOUNT PALOMAR, AUTUMNS, OPTMST and THE CYCLIST while local heroes CARTIN, AARON THOMAS, THE FULLY AUTOMATIC MODEL, QUEEN & DISCO and SHAY WHELAN fresh from tours of India will perform across the weekend.
Venues at the festival include The Nerve Centre, Cultúrlann Uí Chanáin, VoidGallery, The Guildhall Taphouse and Sandinos. Expect the top quality sound and mind blowing lighting installations from Visual Spectrum throughout the festival.
The daily lineup at the festival is outlined below.
The Guildhall Taphouse, Guildhall Street
The Stephen McCauley Show
featuring Live Performances & DJ Sets from Special Guests
Followed byQueen & Disco & Niall Gray
The Guildhall Taphouse, Guildhall Street
Cultúrlann Uí Chanáin, Great James St, Derry
9.30pm – late Advance Tickets: £10/12A Love From Outer Space (4 hour set)
The Fully Automatic Model (Live)
The Guildhall Taphouse, Guildhall St, Derry
Sets (Live)Aaron Sweeney & Emmet Gallagher
The Nerve Centre, Magazine St, Derry
9pm – late. Advance tickets: £12/15
Daniel AveryDaithi (Live)
Cartin (Live)Stephen McCauley
Sandinos, Water St, Derry
8.30pm – late Advance tickets: £12/15
Move D (Workshop-Smallville)Or:la (Céad – La Potion)The Cyclist
The Nerve Centre, Magazine St, Derry
8.30pm - late Advance Tickets: £12/15/18
DJ Bone (FURTHER / Subject Detroit)
Kerrie (DMF - Blueprint - Live)
Tickets for all Celtronic 2023 events including a limited number of Early Bird Access All Events tickets priced £40 + B/fee are on sale now at Eventbrite.com