Magnificent Seven raise £10,000 for Derry's Foyle Foodbank
A group of talented performers have raised £10,000 for the Foyle Foodbank as a result of their online performances during lockdown.
Monday, 13th July 2020, 6:05 pm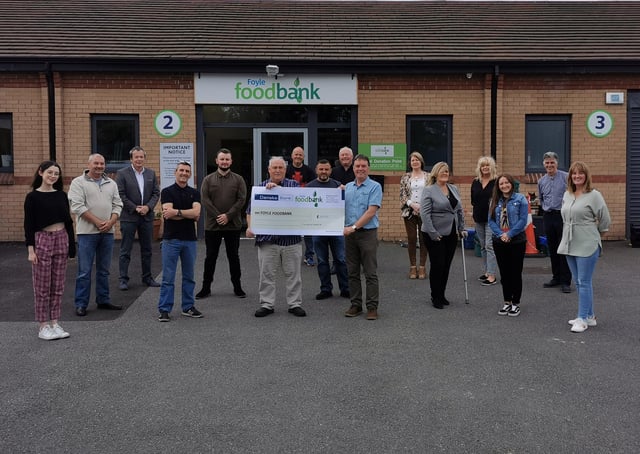 ABOVE: Artists and performers from the Magnificent Seven crew handing over the cheque for £10,000 to staff from the Foyle Foodbank.
The Magnificent Seven Crew is a project made up of singers and musicians from Derry, Dungiven and Sligo who have come together to help Foyle Foodbank with their role of providing food for those who are experiencing food poverty.
Damien McAdams, director of the Foyle Food Bank said: "The project was coordinated by local musician Leo Fitzpatrick who through his vision, enthusiasm, talent and commitment managed to achieve its target of £10,000 for the foodbank.
"It saw up to 20 entertainers perform from home and encourage donations from those who tuned in nightly to see them.
Leo Fitzpatrick handing over the cheque to Damien McAdams.
"The Magnificent Seven Crew project went live on Facebook on Friday May 1 and within eight weeks achieved its target. Night after night, the entertainers gave freely of their time and talent to produce a series of excellent performances.
"Some of the performers it should be noted have lost their main source of income as a result of this pandemic, and some are dealing with their own difficult health issues yet they have been determined in their willingness to help those most in need.
"The generosity of the Derry public and further afield has been amazing.
"It's important to point out that all of the performers performed free of charge and all donations went to the Foyle Foodbank."
Mr. McAdams, on behalf of the board of directors and volunteers at the Foyle Foodbank, said he would like to take this opportunity to thank all those singers, musicians and Leo Fitzpatrick for their magnificent achievement.
"We also wish to acknowledge the great generosity of all those who donated in any way to the Foyle Foodbank," he added.
The Foyle Foodbank is there to support those in food poverty throughout the year, and if anyone finds themselves in the situation were they need help they can private message the Foodbank via Facebook or [email protected]
The performers included Brian McFadden, Andrew Monk, Joanna Harkin, Felix Healy, Paul Mason, Martin McColgan & Marty Jnr, Conor McGinty, William & Caitlin, Lana Campbell, Legacy - Chris & Mickey, Two of a Kind - Paddy & Deirdre, Erin Carlin & Isobel Caldwell, Stephanie Carlin, Atomic Band - Rob & Colette with guest star Jodie, Graham Monaghan, Linda Doherty, Dominique McCool, Colum McLaughlin, Tim Glenn, Paul Mason with guest Brian McDevitt, Paul Sexton, and Stanza- Gabriel and Paul.