BBC documentary asks is Stephen Frears a 'Director for Hire'?
Imagine: Stephen Frears – Director for Hire (BBC1, 10.40pm)
Published 19th Mar 2023, 17:00 BST

- 2 min read
Leicester-born director Stephen Frears is a very remarkable filmmaker.
He earned widespread acclaim during the 1980s with his films including My Beautiful Laundrette, Prick Up Your Ears, and Dangerous Liaisons; received two Academy Award nominations for directing The Grifters and The Queen; and more recently directed the BBC's excellent Jeremy Thorpe biography miniseries A Very English Scandal, for which he earned a Primetime Emmy Award nomination.
Frears is well known for his works exploring class and social structures, all of them keenly observed and incisive. His style is unique, and evident in everything from period costume drama Dangerous Liaisons to contemporary romcom Tamara Drewe; from the British thriller Dirty Pretty Things to the American horror Mary Reilly.
Indeed, as a filmmaker Frears seems unpreoccupied by such things as genres – rather, he has tendencies, techniques, themes and subjects.
For example, the Frears oeuvre includes many works based on very real people, from documentaries (The Program, about disgraced cyclist Lance Armstrong), to the TV drama The Deal, which starred Michael Sheen as Tony Blair.
Yet as an individual, despite his great success, Frears seems to fly somewhat under the radar. He lives by the great director Billy Wilder's maxim: "the best director is one you don't see".
Here, though, he invites Alan Yentob – and by extension, us – to join him in Vienna on the set of his forthcoming drama The Palace.
The city has a rich cinematic heritage, as the place where The Third Man was filmed, and the pair follow in the footsteps of Orson Welles' character Harry Lime on the famous Ferris wheel, and go down into the sewers…
We also hear from some of the people who have worked with Frears over the many, many years he has been making movies – a list which reads like a who's who of Hollywood royalty.
Among them are the legends Dames Judi Dench and Helen Mirren as well as Glenn Close, Hugh Grant, John Malkovich, Jack Black and Steve Coogan.
His upcoming project, the aforementioned The Palace, will only serve to add to that list of names of professional admirers: as well as previous collaborator Hugh Grant, the HBO mini-series stars Kate Winslet, Andrea Riseborough and Matthias Schoenaerts.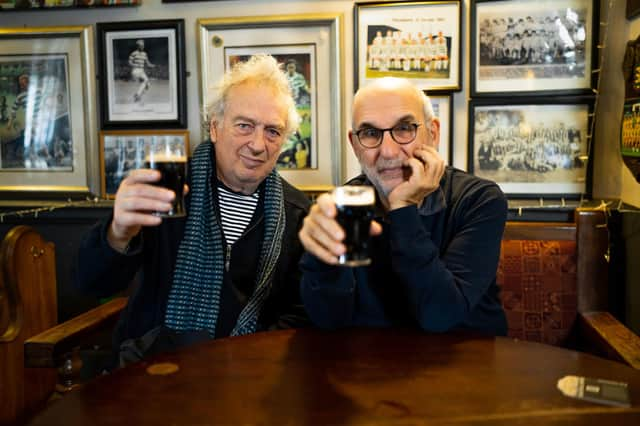 The release of the new series is eagerly anticipated, and this profile and rare extended interview from the show's setting will only serve to heighten the excitement.
We learn Frear's next cinematic release will be, fittingly, a film about none other than fellow director Wilder – with whom, as mentioned, he shares some great similarities. It will chart the Hollywood legend as he struggled to complete his penultimate film, Fedora.
There are also contributions from the screenwriter Hanif Kureishi, who wrote the screenplays for Frears' My Beautiful Laundrette and Sammy and Rosie Get Laid (earning an Academy Award nomination for Best Screenplay for the former); the Oscar-winning Dangerous Liaisons writer Christopher Hampton, and the consistently engaging film critic Ellen E Jones.