Evacuation: Inside story of what really happened in Kabul
Sunday: Evacuation (Channel 4, 9pm)
Watch more of our videos on Shots! 
and live on Freeview channel 276
Visit Shots! now
The evacuation of Kabul was Britain's biggest airlift since the Second World War.
Two years on, this documentary series, which is airing on three consecutive nights, sets out to bring us the inside story of what really happened.
It may initially seem strange that Channel 4 has described Evacuation as a military thriller, but the events it depicts would not be out of place in any blockbuster. However, with real lives at stake, it has much more impact.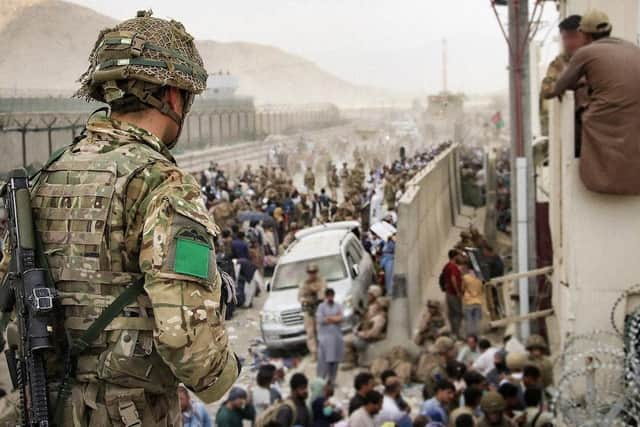 Alisa Pomeroy, Head of Documentaries at Channel 4 and Commissioning Editor, Sacha Mirzoeff said: "This series allows us to see the human evacuation of Kabul through a brand-new lens. Wonderhood Studios have forged such a strong relationship with the British Armed Forces that the interviewees, almost all of whom are still serving, are able to talk in an honest, sensitive way rarely seen on TV. The resulting series plays out like an emotional drama complete with revelation and nail-biting suspense."
Major General Eldon Millar MBE added: "We are excited to be working with Channel 4 and Wonderhood Studios on this important project that will, in a compelling and compassionate manner, bring to light the first-hand accounts of both the people of Afghanistan and those from across Defence and the British Armed Forces who worked round the clock to evacuate them in such challenging conditions during the historic summer of 2021."
Drawing on never-seen-before MoD footage shot by combat camera teams and personal video, it goes beyond the headlines and parliamentary debates to tell the stories of the British servicemen and women who found themselves faced with a humanitarian crisis on a scale they had never encountered.
The documentary also explores how the military's work affected the people on the ground, including British nationals and the Afghan citizens who were desperately trying to flee their homeland.
Ultimately, some 15,000 British nationals and eligible Afghans were flown out of Afghanistan in a matter of days, but as Evacuation reminds us, the people involved in faced some impossible dilemmas.
The first episode helps to set the scene as allied forces begin to return home from Afghanistan – and the Taliban start taking back parts of the country.
The British military are aware they may need to evacuate at some point, and a small team is charged with preparing for that eventuality, while a group of elite soldiers are put on standby.
However, no one knows quite what to expect, and when the Taliban shock the world by taking Kabul, the airport runway and surrounding airspace are thrown into chaos. The military are left scrambling to clear the airfield of thousands of panicked civilians and take control.
In tomorrow's second episode, British soldiers are forced to put old hostilities aside when Taliban fighters breach the airfield, and work together to try to control the crowds.
Young privates find themselves making life-and-death decisions about who is eligible to leave, while the RAF face difficult dilemmas about whether they should overload aircraft to get more evacuees out of the country.