Gripping new crime series 'A Murder in the Family'
Thursday: A Murder in the Family (ITV1, 9pm)
Watch more of our videos on Shots! 
and live on Freeview channel 276
Visit Shots! now
In January 2018, dental surgery manager Cheryl Hooper was shot dead outside her Shropshire family home in front of her 14-year-old daughter.
The shooter was her abusive partner Andrew, who pulled the trigger after her daughter tried to calm him down during a chilling recorded phone call.
The first part of this series reliving three shocking murders where the victim and perpetrator are family members, begins with a look at how, after enduring years of abuse, Cheryl, became the victim of a shocking tragedy.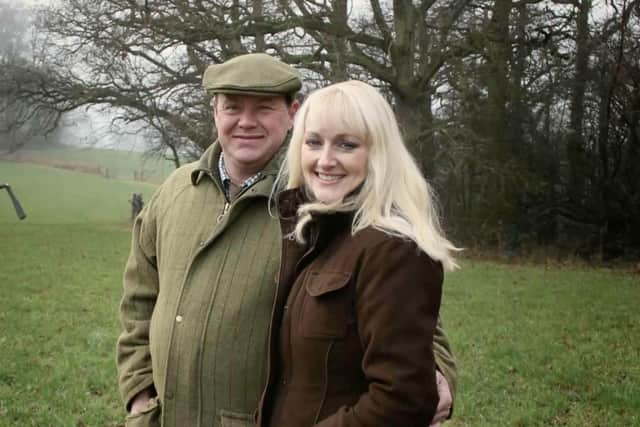 Six weeks earlier, she had split from Andrew after suffering years of abuse. Georgia, Cheryl's daughter, said: "I used to say to my mum, our family is different. My mum would say 'You need to put on a show for other people.' and we did."
Andrew stalked Cheryl and Georgia for six weeks, having stolen Cheryl's car and attached a tracker.
Following his wife to her friends' houses, he would sit outside her work and her family's home.
Cheryl sent text messages and made phone calls to various members of her family, saying things like: "Fearing your loved one is not right," or "I feel fear when I go in the farmhouse. It was my home and now I feel scared of it."
Andrew suspected his wife had been having an affair and tracked her to a pub where she was having drinks with friends and her 'suspected lover'.
CCTV captured outside of the pub shows Cheryl and Andrew talking to one another on the night of her death, after he followed her there.
She messaged after he left the pub, telling him she was not having an affair. In response, Andrew warned Cheryl that he would burn her belongings.
After leaving the pub, Andrew got into his car and headed 15 miles back along the A41 to their farmhouse where security camera footage shows him arriving and quickly leaving with an object, believed to be the 12 bore double-barrelled side by side shotgun, hidden under some cloth.
Once home, he shot Cheryl in front of Georgia.
Andrew fled the scene, returning to his farm where he turned the shotgun on himself, in a failed attempt to commit suicide. He was later found by police next to a suicide note.
He now has severe facial injuries that mean he has lost the ability to speak. He was allowed to type his answers during the trial.
"I live every day knowing I am responsible for her death. It is not a good feeling. I am not guilty of murder though."
After being found guilty by a jury at Birmingham Crown Court, Andrew was ordered to serve a minimum of 31 years – a whole life sentence.
Following the verdict, it emerged that Hooper was given a suspended sentence in 2004 after breaking into his first wife's home and threatening to kill her.
It also transpired that Andrew had been controlling Cheryl's social life – deciding when and if she could socialise with friends, and dictating when Cheryl could spend money.
He also had a 'temper' – smashing objects in their home and becoming increasingly aggressive.
Using CCTV, family archive, text messages, police body cam footage and intimate interviews with friends and family, this film tells the story of one family's descent from a happy life on a farm to a horrific murder.