Noel Fitzpatrick returns for The Supervet: Safari Special
The Supervet: Safari Special (Channel 4, 9pm)
Published 22nd Feb 2023, 17:00 BST

- 3 min read
For some people, their pets are their lives.
They adore the animals who share their homes, dote on them and try to make sure their lives are as fulfilling as their own.
So, when such a treasured creature falls ill or is injured, it's a painful experience for them, too.
Those of us who have had beloved pets know the horror of visiting the vet and hearing those dreaded words: "It would be kinder to put them to sleep…"
However, euthanasia tends not to be an option for Noel Fitzpatrick. He's at the cutting edge of veterinary science – in fact, he probably IS the cutting edge, pushing boundaries to keep animals living longer in a pain-free existence.
For those who haven't seen his show, it follows the pioneering work of Fitzpatrick and his staff, charting their efforts to find ways to treat creatures, usually by technological advances, that until fairly recently would have otherwise had to be put down.
"We are in the midst of great change in medicine," says Fitzpatrick. "It is ever more apparent in the world of medicine that surgery involving bionics and regenerative medicine should be shared among animals and humans for the greater good of all."
He claims that technology is, perhaps, moving faster than our ability to process its implications.
"The main challenge nowadays is not so much the technology because pretty much everything is possible, it is the moral and ethical implications of moving forward," he explains. "Many people both within and outside the veterinary profession believe that we should not move forward with custom joint replacements and bionic limbs or spinal disc replacements and regenerative medicine in pet dogs and cats because the current options of full limb amputation or euthanasia may, in their view, be kinder for the animal.
"Meanwhile all of these technologies will be tried out in experimental animals for the benefit of humans. How is this fair? Should veterinary medicine move forward or stay still? The decisions we make must always be in the best interests of the patient and it is not enough to be able to do something, it has to be the right thing to do for that patient in that moment in time."
The regular Supervet series takes place at Fitzpatrick's own clinic in Eashing, Surrey, but this special programme is a little different – it sees him out in the wild, literally.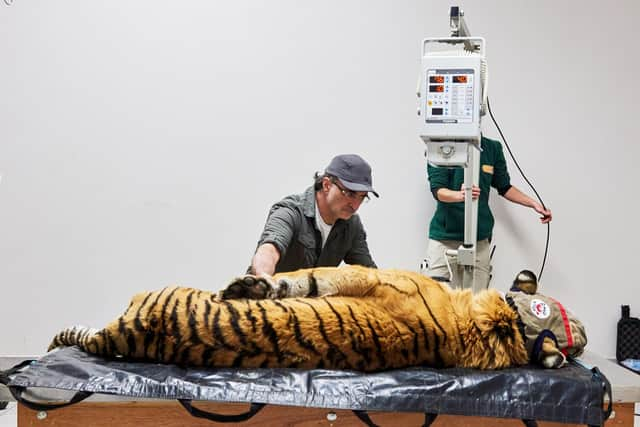 Fitzpatrick is journeying to the savannahs of South Africa, where he gets to use his pioneering techniques on two very big cats. He claims to be out of his comfort zone, but surely one feline is rather like any other, just smaller or larger in scale?
He also learns more about the kind of injuries and problems the local wildlife has to deal with.
If you've shed a tear at the regular programme, expect a few more to fall while watching this too – not just because of the animals, but because of the stories from those who have selflessly dedicated their lives to caring for them. They might not share they home, but these creatures are just as beloved as your own mutt or moggie.