Whoopi Goldberg discusses her biggest cultural turning points with John Wilson
Thursday: Whoopi Goldberg: This Cultural Life (BBC Four, 9pm)
Published 24th May 2023, 17:00 BST

- 3 min read
Whoopi Goldberg is one of few people who can claim to be an EGOT, having won all four of America's big awards – Emmy, Grammy Oscar and Tony – for her work in film, theatre and television.
In this revealing interview, she discusses her biggest cultural turning points with John Wilson, whether it be her unusual education, performing for Steven Spielberg and why she regrets nothing she has done.
Goldberg grew up in New York City, raised by her mother, Emma, a teacher. She had no obvious path into acting but credits her mother for never discouraging her unlikely ambition. "She was just odd enough to recognise the oddity in her child," she says.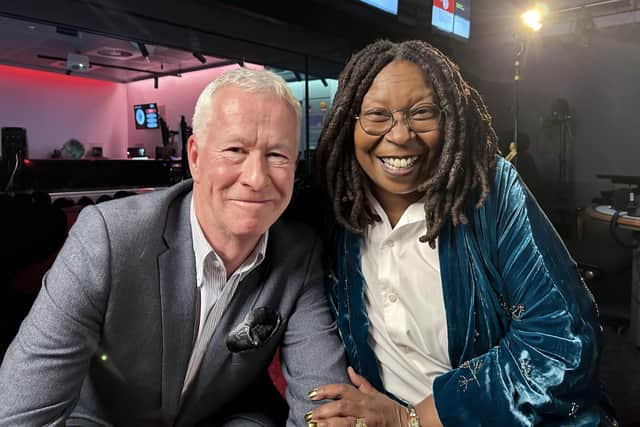 Whoopi left school before graduating and made her own education, discovering theatre, and watching free community productions of Shakespeare.
Eventually, as a young adult, she staged her own one-woman show in a small venue, which received a rave review in the New York Times.
One night she was visited by Mike Nichols, the Oscar-winning director of The Graduate who asked if she wanted to do the show for Broadway?
"I thought he was kidding," she says.
Nichols wasn't kidding and the Broadway transfer became a hit.
Goldberg's big film break was in Spielberg's 1985 drama The Color Purple – which is being shown at 9.30pm after this programme.
It saw her play a woman, Celie, who suffers horrible abuse throughout her life but eventually finds a sense of self-worth.
"I wrote a letter to Alice Walker [the author of The Color Purple]," she recalls. "I thought the book was magnificent and I said, 'If they ever make a movie I would like to play dirt on the floor'."
Unbeknown to Goldberg, Walker had seen Goldberg's Broadway show, was impressed, and sent that letter to Spielberg.
As part of the audition process, Spielberg wanted to see Goldberg's show, but he couldn't make it to New York, so had her come perform it for him in Hollywood. Spielberg loved it and the rest is history.
Goldberg's work has sometimes been controversial. Her one-woman show was a series of monologues about people from many different walks of life, including a drug addict and a teenager who's just self-administered an abortion.
"The things I've done, there's always been a reason," she says. "Just because someone looks physically different doesn't mean they're not entitled to the same loves, the same heartbreak, the same everything as the rest of us."
Goldberg has also had a hugely successful film career, receiving an Oscar nomination for The Color Purple and winning one for Ghost. She has also hosted the Academy Awards ceremony four times.
Once upon a time, she was also the best paid female star in the world – for the first Sister Act film she was paid $7million and for the sequel, $12million.
"For about 10 minutes, I was the highest paid woman in Hollywood," she says.
Here, Goldberg also discusses her latest film, and passion project, Till, which was released in January and chronicles the brutal 1955 murder of 14-year-old Emmett Till and his mother Mamie's quest for justice.
Goldberg, also a producer, plays Till's grandmother.
"We've been trying to do it for 18 years," she says. "It's taken forever, but I suspect now it's happening at the right time."
Finally, looking to the future, Whoopi, reveals she wants to keep working and even has ambitions to make a scary movie.
"I love horror," she says. "No-one will let me [be in one]. I keep saying to people, 'Who better than me?'"