Wrighty is back with Moneyball
Saturday: Moneyball (ITV1, 8pm)
Watch more of our videos on Shots! 
and live on Freeview channel 276
Visit Shots! now
Millions of children (and adults) dream of becoming professional sportspeople: playing at elite levels of football, rugby, tennis, cycling or boxing, reaching the highest highs and winning the shiniest trophies.
What the dreamers don't often talk about is what happens afterward. Some major sports stars choose to step away from the spotlight and enjoy a private life, others go into coaching to remain in the discipline they love.
Others are scooped up by the entertainment industry and become expert pundits in their chosen field. For years, former Crystal Palace and Arsenal forward Ian Wright delighted football fans weekend in and weekend out on the pitch, and won 33 caps for England.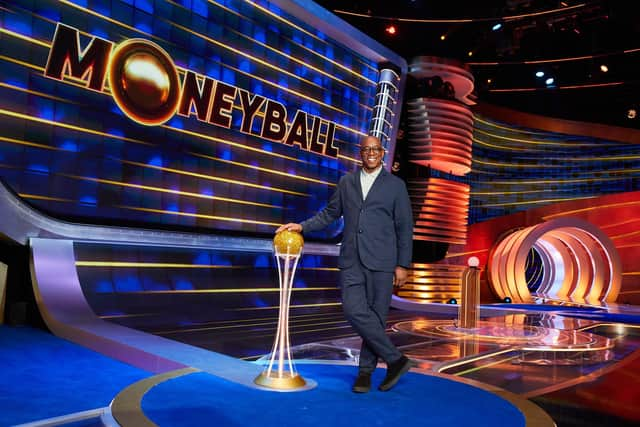 Ian retired from football in 2000, two years after he launched a new career on the small screen, hosting Friday Night's All Wright.
He has gone on to rack up an impressive CV of television appearances, including BBC game show They Think It's All Over and Sky docuseries Football Behind Bars, alongside his regular punditry for Match of the Day.
In February 2021, he was unveiled as the host of this prime time game show, and won acclaim from critics and viewers alike.
For the uninitiated, the premise can be summed up in a neat nutshell: the roll of a ball determines whether players win a life-changing sum of money or go home with nothing. Wrighty is back for this second series and contestants will participate in pairs – double the tension.
Wright is clearly delighted at the programme's return, saying: "It's great that the show is back, and I'm so happy people loved it as much as I do. I think I get more nervous than the contestants because I want them to win so badly."
Wrighty's authenticity and inability to keep his composure is part of the reason the show has gone down a storm with viewers.
When asked what he likes most about hosting Moneyball, he says: "meeting all the lovely people that come on the show, seeing how gracious they are when they lose and how overwhelmed they are when they win. It's an honour to be part of a once-in-a-lifetime experience for people. This season everyone is coming up in pairs, so they have some help but also someone to share the experience with."
As someone who is used to the pressure of competition, he has solid advice for anyone thinking of taking part.
"Most people won't get to go on a game show in their lifetime, so enjoy the whole experience and don't be afraid to show your emotions and trust your gut," he says.
"The pressure changes things so you have to trust yourself."
Wrighty reckons that, if he was in their place, he'd end up getting somewhere in the middle. "I'd get nervous and want to make sure I win something so I probably wouldn't risk it all," he said. "Questions-wise, sport, history and films would probably be my strongest categories."
As for who would fare well out of his celebrity friends, Wrighty says John Barnes would be "brilliant", Roy Keane would also be "great", but Gary Lineker would beat fellow MOTD pundit Alan Shearer.
"He hosts a general knowledge quiz show, so he's got an advantage," quips Wrighty.