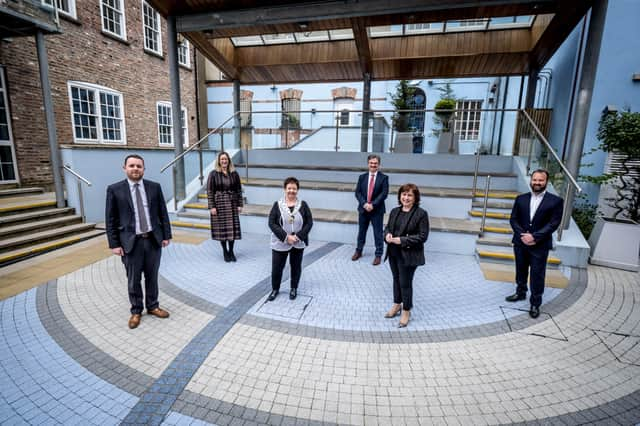 From left are Gary Middleton, MLA, Selina Horshi, Managing Director, White Horse Hotel, Dawn McLaughlin, Paul Clancy, Chief Executive, Derry Chamber, Diane Dodds, and Paul Curtis, Curtis Opticians.
Dawn McLaughlin president of the local Chamber, says it is promising to see the economy begin to reopen and "inch closer towards normality once again".
She made her comments during Economy Minister Diana Dodds' visit to the city this week.
Mrs McLaughlin added: "We welcomed the opportunity to host the Minister in the North West. We discussed a range of issues affecting the regional economy here in the North West, in particular the lifting of further Covid restrictions this week, ongoing Executive support for our hardest-hit businesses, and the recovery of the economy post-lockdown."
The Chamber president said she urged the Minister to continue financially supporting local businesses as they get back on their feet and until such time as they are able to trade freely and fully.
"We welcomed the Minister's commitment to keep open the financial support schemes for hospitality businesses until they can fully reopen, especially as only a small percentage of our pubs and restaurants will be able to serve outdoors," she added. "We urged the Minister and the Executive to remain focused on the May 24 date of the full reopening of the hospitality and tourism sectors and we hope that everything is done to ensure that we can stick to this date.
"The Minister's Economic Recovery Action Plan, which includes the High Street Stimulus Scheme and the Tourism Voucher Scheme as well as boosting Northern Ireland's skills capacity and delivering a greener and more sustainable economy, will go some way to rebuilding our economy. The voucher schemes will provide a much-needed stimulus to our retail and tourism sectors, two vital areas of the North West's economy, and we look forward to their roll-out later this summer.
"I thank Minister Dodds again for visiting the NW and I look forward to further engagements with her and her department over the coming months as we recover and rebuild."