Apprenticeships key to filling roles for both employers and job seekers - Derry Mayor
Apprenticeship and upskilling are key to filling roles for both employers and job seekers, according to a new campaign by the Derry and Strabane Labour Market Partnership (DSLMP).
Published 3rd Feb 2023, 10:36 BST

- 3 min read
Updated 3rd Feb 2023, 10:37 BST
The DSLMP, who are working alongside Derry City and Strabane Council as well as several local partners, today appealed to both business owners and potential employees to get involved in the run up to NI Apprenticeship Week. This runs from February 6 – 10.
The programme is funded by the Department for Communities through their Labour Market Partnership initiative. It offers individuals the opportunity to earn while they learn, gaining recognised qualifications within a wide range of sectors. Some of the apprenticeships available are: construction, engineering, hospitality, healthcare, food and drink, youth work and more.
Apprentices can gain qualifications from level 2 (GCSE level) to level 4 or 5 (Foundation Degree level), boosting their career prospects. No matter what qualifications participants currently have, pathways are available for an apprenticeship suited to them. They will be given the chance to complete their qualifications through either onsite delivery or day release, with a recognised training provider. This model will help participants pick up the skills that employers actually need.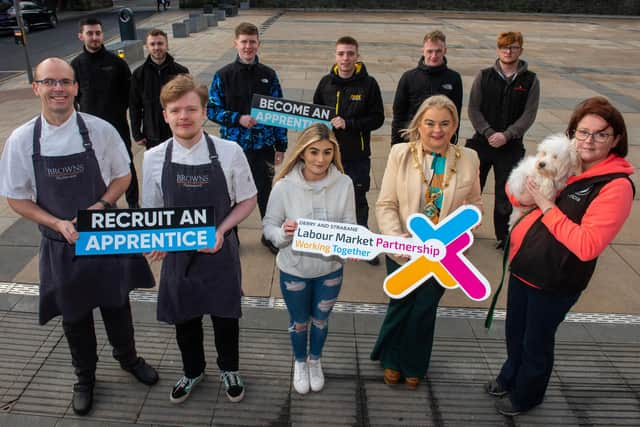 Launching the campaign this week, Mayor Sandra Duffy said apprenticeships offered a pragmatic approach to learning and employment.
"I am really impressed by the range of areas which now offer paid for opportunities for people seeking to learn new skills.
"The Apprenticeship Programme is ideal in that it caters to the demands of employers as well as the needs of anyone looking for a new career in today's challenging times. Not everyone can take on the financial burden of full time education and this is the perfect solution, offering support and a clear pathway into employment. I would really like to see more local businesses signing up for the programme and availing of the many benefits." she added.
Local restaurant Browns are among the first to have joined the scheme. Chef patron, Ian Orr, who co-owns Browns has lauded the benefits of the scheme,
"Anyone working in the hospitality industry would definitely benefit from the apprenticeship programme. As an employer we can ensure we are gaining the skilled staff we need who are learning within a workplace environment where they can gain the knowledge and experience to make them a real asset to the business. I would really recommend the programme to any employer struggling to find the right people to join their team."
Whether you are a start-up, micro-business, large corporation or an SME, looking to increase productivity or fill skills gaps, employing apprentices can have a positive impact on your business. For many it's the obvious choice when it comes to building a skilled and sustainable workforce, where new-starts are more equipped to remain with a supportive and encouraging employer.
DSLMP spokesperson Nicky Gilleece has highlighted the importance of apprenticeships to both young people and employers locally.
"Council is working proactively with a number of education providers, private training organisations and companies to encourage people to avail of apprenticeship opportunities across the Council area," she explained.
"The benefits for young people and employers are significant, but don't take our word for it, take the word of the young people and employers who have and are going through the apprenticeship system on www.getapprenticeships.me."