Late-night Foyle Metro, Derry - Belfast bus and train services over Christmas and New Year
Translink is calling on festive shoppers and party goers to make use of the new late-night bus and train services operating on Friday and Saturday nights in Derry.
Watch more of our videos on Shots! 
and live on Freeview channel 276
Visit Shots! now
The recent introduction of late-night services coincides with the city centre entering a traditionally bustling festive trading period.
Translink Group Chief Executive, Chris Conway said: "The night-time economy plays an essential role in boosting tourism, jobs and in keeping people better connected, particularly during the festive season and we want to play our part in helping more people enjoy the fantastic hospitality on offer.
"People can come into the city and enjoy all the Christmas craic and festivities knowing they have a safe and reliable route home."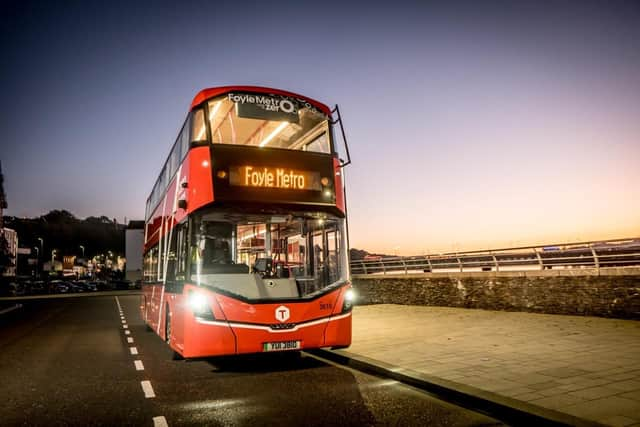 "We know there has been strong public interest in the new Foyle Metro fleet and we are expecting them to be busy as more people make the most of the festive season. We look forward to working with our partners to create a more connected, sustainable, and liveable city for all."
Jim Roddy, City Centre, Manager and Chief Executive of City Centre Initiative said: "This is great news for the city as we enter an extremely busy period for our city centre traders including pubs, restaurants and retail providers."
"We hope that this announcement will encourage more people to travel to the city centre during the festive season, knowing these late-night services are available to transport them home."
Derry now has a full zero emissions urban bus service, and people can now use the on-board contactless payment facility.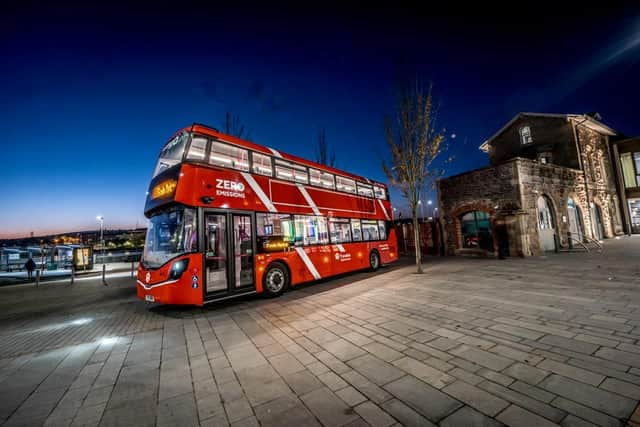 SDLP MLA Mark H Durkan said he hopes the service will help to promote the local night-time economy as well as ensuring that people get home safely during the festive period.
The Foyle MLA said: "This service will be a great addition to the evening economy whether people are buying in the Christmas shopping or joining friends and workmates for a night out."
"Getting home after a night out in Derry city centre is notoriously difficult. Not only is this off-putting for revellers but it has wider implications for local businesses.
"The Nightmovers scheme was been piloted over the last couple of years but perhaps anxiety around COVID during its first year and lack of awareness last year, the potential of this provision wasn't fully realised.
"We need to see more of these type of initiatives, which I believe will help bolster the viability of public transport despite the many challenges it currently faces."
"Increasing flexibility and accessibility around public transport will encourage its usage, getting people out of their cars and into more sustainable modes of transport."
Foyle Metro late-night services operate on Friday and Saturday nights as follows: 12n - Circular route covering Carnhill, Galliagh, Clon Elagh, Culmore, 11pm from Foyle Street Buscentre; 3n - Circular route covering the Waterside, 11pm from Foyle Street Buscentre; 145n – Covering Eglinton and Strathfoyle ex Foyle Street Buscentre, Friday 10.30pm and Saturday 10.00pm ex Foyle Street.
There will also be a new late circular route covering Brandywell, Creggan, Ballymagroarty and Nelson Drive from Monday to Saturday ex Foyle Street Buscentre at 10.37pm.
There will be a 10:32pm train from Derry to Coleraine.
Belfast to Derry Friday / Saturday night services include the 10:40pm train from Belfast, which runs as far as Coleraine, now having a connection on to Derry at 12.15am. The 212 Goldliner meanwhile will operate at 12.15am and 1.15am from Belfast to Derry.
Other timetable enhancements include:
Culmore – One additional Saturday morning trip at 9am ex Foyle Street and 9.15am ex Culmore.
Nelson Drive/ Knightsbridge – one additional Monday – Friday trip at 9.10pm ex Foyle Street, 9.30 return. Saturday one additional at 8.50pm ex Foyle Street, 9.10pm return. In addition, service 7n will run Monday – Saturday at 11.05pm ex Foyle Street to Nelson Drive.
Newbuildings – two additional trips Monday – Friday 8.30pm and 10.20pm ex Foyle Street, returning at 8.45pm and 10.35pm. Saturday one at 9.20pm, returning at 9.35pm.
Creggan –additional trip at 8.50pm Monday – Friday and 8.30pm on a Saturday.
Additional trip for Ballymagroarty via Rosemount and Glenowen at 7.10pm ex Foyle Street Monday to Friday.
One additional bus per hour Monday – Saturday to Clon Elagh via Shantallow and Fernabbey, with an extra evening trip. On Friday and Saturday service 12n will cover this area.
Woodbrook –additional trips at 8.40pm ex Foyle Street Monday to Friday, and at 10.00pm ex Foyle Street Monday – Saturday.
Full timetable and fares information is available at www.translink.co.uk, on Translink's Journey Planner or by calling into Foyle Street Bus Station.