Muff mum expands 'Four Sisters' from online to open new store in village
Muff mum and entrepreneur Barbara Lynch is living her 'dream' after expanding her popular online homeware and gift business to open a shop in the village.
By Laura Glenn
Published 28th Mar 2023, 14:51 BST- 4 min read
Updated 28th Mar 2023, 14:51 BST
Watch more of our videos on Shots!
and live on Freeview channel 276
Visit Shots! now
'Four Sisters' is named after Barbara and her husband Karol's four daughters, Annie (9), Orla (8), Sinead (6) and Aoife (4).
Initially launched online in October 2021, Barbara (nee McLaughlin) recently opened a 'Four Sisters' store in a unit located in the bustling border village of Muff, with the universe seemingly giving her a huge sign that it was the right time to do so.
In fact, Barbara had the shop space on her 'vision board', with a hope to locate there in three years time, but, as luck would have it, the opportunity to acquire it came up much sooner than she thought.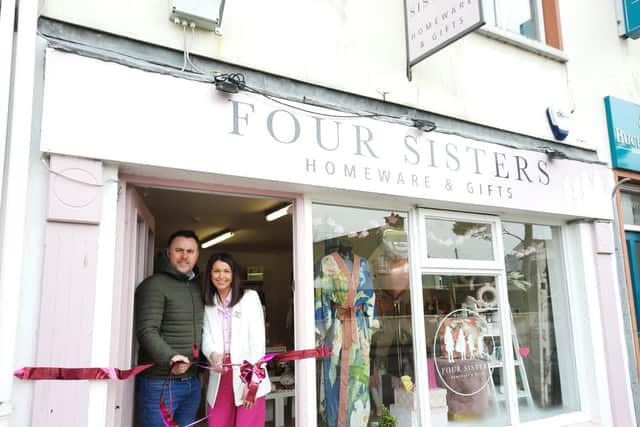 She told the Journal: "I'm big into manifesting and all that and from I started the business, I had all my vision boards and goals. I had this shop front pinned on my board for three years time. I knew the girls who were in here previously and we had been chatting. I had my Pinterest all done with ideas for the shop and I had it in my head for a couple of years from now. Then, the unit came up and I thought: 'This is the Universe telling me it's a sign'. So I did it and the support so far has been unbelievable."
While the Universe may have played a part in the opening of the shop, Barbara has wanted to own her own business for a very long time.
She initially studied geography in Coleraine, with a plan to go into teaching like her parents, who taught in Limavady. However, she 'always loved numbers' (her father was a maths teacher) and she started working in Ulster Bank, beginning with a temporary contract before finishing her 12-year career there as a Corporate Manager in Business Banking in Dublin.
One of the parts of that job she loved the most was working with business owners and seeing the 'passion they had for whatever business they were in'.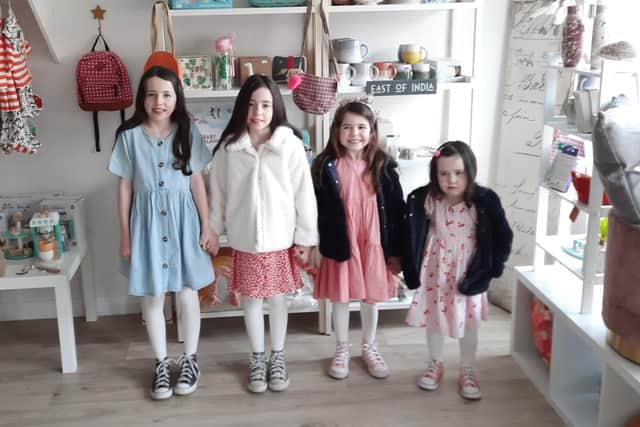 A lot of the businesses were family-owned and this is something Barbara knew all about, as her grandfather used to own a butchers in Muff.
While the bank job was 'great experience,' Barbara always had it in the 'back' of her head that she'd 'love' to own her own business. When her third daughter was on the way, she and Karol moved back from Dublin to Donegal and she became a stay-at-home mammy. While she loved this life, she was also 'toying with ideas' for her own business but 'did not have the confidence to go for it'.
Then, Covid 19 hit the world and with lockdown in place, many people turned online to buy goods.
"I thought that maybe I could set up a website and I started plotting away. I hit 40 in October 2021 and that was my trigger to do it."
'Foursisters.ie' was launched over 18 months ago and has been a real success. Offering homeware and gifts, Barbara wanted to ensure she stocked products that were 'a bit different and quirky' and loves knowing the stories behind the brands she sells. She stocks a mix of Irish and UK/International brands, including East of India, Rockabilly Babies and much, much more. As the shop expands, she also hopes to stock more local brands and crafts, while celebrating all that is great about the North West.
"I'm trying to do things that are a wee bit quirky and different and that are good quality. Stuff that you wouldn't necessarily get on the high street. I try to stock a bit of everything, I did interior design for a while and while I realised I didn't want to be an interior designer, I loved having the pops of colour, so I have lots of items like bright cushions, pyjamas and different bits and pieces."
After she began to sell online, Barbara also started to sell at local markets, including the Mullan HOPE market in Moville and found that she loved to interact with customers and vice versa.
"I found that, from being a stay-at-home mum, I missed that interaction. I also realised that people also do want to come in and pick up that candle, touch the pyjamas etc. Online is really convenient, but the shop is still a nice environment too."
As a busy mum herself, Barbara wants to also provide convenience for her customers and also operates a 'click and collect' service from the website, She has been bowled over by the support from customers on both sides of the border and from other businesses in Muff. She also has strong relationships with her suppliers, which she really values.
Barbara told how she is fully living her passion and feels like this is what she is meant to be doing.
"I remember getting on the Lough Swill bus on a Saturday and going into Pauline's Patch in Derry, buying wee incense sticks and moon chimes. I've always had a love for this. I have three older brothers and my nickname at home is the 'Personal Shopper.' I love buying gifts for people and thinking about what they'd like, so this is the dream."
Four Sisters is open in Muff from 9.30am-4pm Wednesday and Thursday; 9.30am- 5pm Friday; 10am to 5pm on Saturday and 1 to 4pm on a Sunday. Click and collect is also available. See www.foursisters.ie