Diane Dodds announces extension of COVID-19 business support payments
Economy Minister Diane Dodds has announced that payments will be extended under two COVID-19 business support schemes.
Thursday, 25th March 2021, 6:20 pm
Updated
Thursday, 25th March 2021, 6:24 pm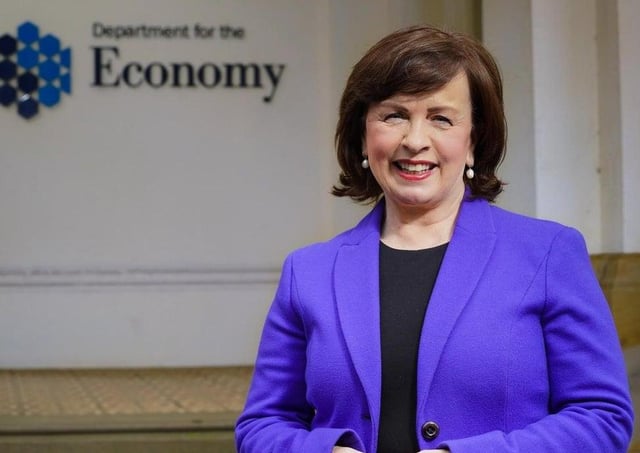 Diane Dodds
Payments to eligible businesses under the Covid Restrictions Business Support Scheme (CRBSS), Part A and Part B, and the Large Hospitality and Tourism Business Support Scheme (LHTBSS) will continue beyond March 31.
The CRBSS will close to new applications at 6pm on Wednesday, March 31. Businesses that have already applied need not submit another application.
Businesses that are eligible for support under the LHTBSS have already been identified and invited to apply, and also need take no action if they have returned their application.
A top-up payment will automatically be issued to eligible businesses under both schemes in line with ongoing restrictions. Further top-up payments will be made as appropriate.
The Minister said: "Throughout the pandemic I have been committed to doing everything I can to support the local business community through this most difficult time.
"I am pleased, therefore, to confirm that payments to eligible businesses under the CRBSS and LHTBSS will continue while restrictions remain in place.
"Businesses that have been deemed eligible for support under these schemes need take no action – further payments will issue automatically."
Regarding the closure of the CRBSS to new applications on March 31, the Minister added: "New applications to the CRBSS have tailed off significantly and I am therefore satisfied that the vast majority of eligible businesses have accessed the scheme.
"I urge any remaining business owners who have not applied, and believe their business may be eligible for support under the CRBSS, to check the criteria and submit an application via the nibusinessinfo website before the deadline."
The Minister concluded: "We will continue to focus our efforts on processing outstanding applications and payments to eligible businesses as quickly as possible."
The hospitality industry welcomed the move.
Chief Executive, Hospitality Ulster, Colin Neill said: "The announcement of the extension of these two vital schemes today is a welcome relief to many within the hospitality sector who have come to rely on these support schemes to survive. However, it costs £1m a day to keep the hospitality industry closed and businesses are hanging on by their fingernails as they are running out of options to borrow more money to cover the shortfall."
"Support such as the Covid Restrictions Business Support Scheme and the Large Hospitality and Tourism Business Support Schemes and massive borrowings by individual businesses are what are helping to keep businesses going while we await reopening, plugging some of the major gaps in overheads that still need to be paid."
"Hospitality was the first and hardest hit over the past twelve months and without financial assistance the hospitality sector would be even more devastated. We would encourage the Minister to keep these pivotal support schemes available to businesses, even after reopening, as they try to pay down the debts and reach a level of sustainability."
"Our continued call is for The Executive to provide clarity on the reopening criteria, give us indicative dates, and engage with us on the best and safest way for the industry to move forward and recover."