Housing associations criticised in Derry for rent increases
A Derry Councillor has accused the decision makers at a number housing associations who increased their rent of 'being out of touch'.
Published 14th Apr 2023, 11:37 BST

- 2 min read
Updated 14th Apr 2023, 11:37 BST
People Before Profit Councillor Maeve O'Neill expressed her disappointment at the rent increases during a recent Council meeting.
At the time local elected representatives expressed concern about the impact on already struggling households. Despite these concerns, rent increases went ahead.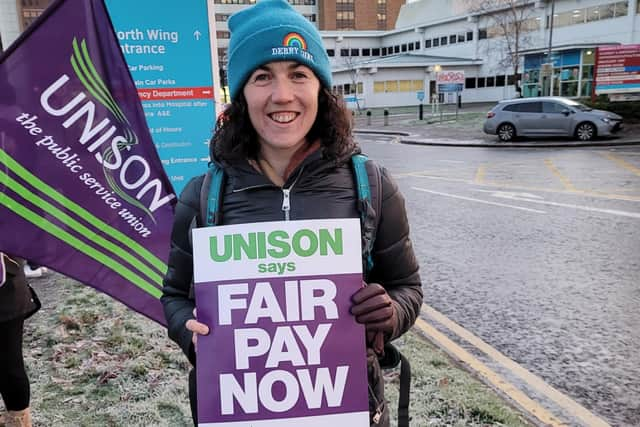 Speaking about the situation, Councillor O'Neill said: "We are disappointed that the rent increases have gone ahead and we're also disappointed at the responses from the housing associations that did respond following the proposal around their rationale for having to increase rents for these social housing units."
Colr O'Neill said the increased cost of renting came at a time when many were struggling to make ends meet.
"The difficulty is that there's a lot of people in social housing who are seriously struggling to pay their rent," she said. "One example is someone who moved into their house a year ago and this is the second time that their rent has been increased. It's gone from £563 per month to £613 per month and the thing for this person, like for many other people, is that they don't get any help towards paying the rent because they're working."
Seamus Leheny, Chief Executive of the Northern Ireland Federation of Housing Associations had responded to the Council that "no organisation or sector has been immune to rising costs over the past 18 months and this includes housing associations".
He added that rents remained competitive against the private sector and said that an association's income must meet the cost of paying staff, maintenance, community investment and repairs among other costs.
Mr Leheny said 42 pence in every £1 collected in rent is spent on maintenance, repairs and refurbishment of homes, with the cost of materials and construction rising significantly.
Housing associations have, he added, committed to and set up numerous initiatives to support people during the cost of living crisis.
Derry & Strabane Council's own rates increase of just shy of 8%, he said, showed that it too was acutely aware of the financial pressures being 'borne by all'.
Councillor O'Neill however criticised the response from the Chief Executive of the Northern Ireland Federation of Housing Associations.
She stated: "I think, particularly in the response from the Chief Executive of the NIFHA (Northern Ireland Federation of Housing Associations), it's ironic that he pointed out that our council's rate increased, using that as a justification for them increasing their rates.
"This decision by our council to increase the rates has undermined our council's ability to actually challenge others who are putting in these great price hikes. By us implementing Tory austerity at the council level, I think it's undermined the council's ability to call on others to avoid hikes and cuts."