Invest NI responds to 'abysmal failure' claims
Invest NI has responded to claims from Derry politicians that its job creation record for the north west has been an 'abysmal failure'.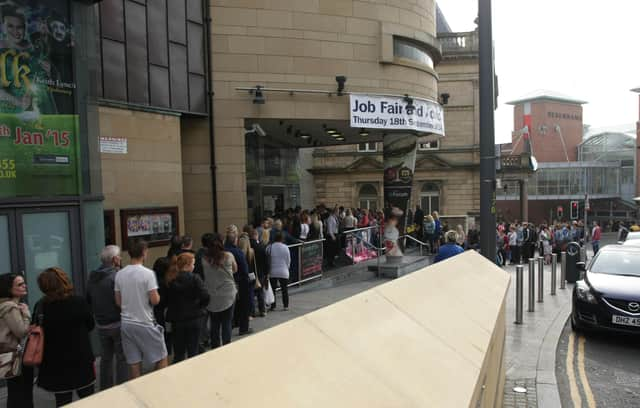 Local politicians expressed deep concerns after Economy Minister, Diane Dodds, recently released statistics showing that since January Invest NI has announced only 29 jobs in Derry compared to 1,176 jobs in Belfast.
Sinn Féin MLA Martina Anderson claimed that Invest NI and the Economy Minister need to help deliver investment and jobs to Derry in line with their responsibilities to citizens and to redressing regional inequalities.
The party's spokesperson on promoting regional equality claimed: "Invest NI's continued abysmal failure in job creation in the north west is laid bare in the response I have received from the DUP Economy Minister Diane Dodds. Her answer confirmed that just 29 jobs have been created in the Foyle constituency since January. And while we all understand the pressures of the Covid-19 pandemic, almost 1,200 jobs were created in Belfast during the same period.
"That is simply unacceptable from a public organisation in receipt of hundreds of millions of public money every year and which has had a sub-regional group in place for five years to supposedly drive investment into Derry.
"The Executive is committed under its New Decade New Approach to delivering economic growth inclusively and based on objective need. I will be seeking urgent discussions with the Invest NI International team who arrange visits by Foreign Direct Investors to ensure that the Foyle constituency is being promoted properly in international markets."
SDLP Councillor Rory Farrell also spoke out against what he claimed was Invest NI's 'dismal performance' in creating jobs in Derry this year.
The Ballyarnett representative said; "These are shocking figures. Urgent action is required from Invest NI and the Department for the Economy to increase support for North West and to promote the region. We need to see a detailed plan to boost economic performance, attract investors and create wealth and employment."
In response to the criticism, a spokesperson for Invest NI said: "Firstly, to clarify the figures quoted. These are only for projects formally announced, and only for those within the Foyle Parliamentary Constituency. It is not reflective of the support we have provided to businesses throughout the Derry City & Strabane District Council area.
"When we look at the broader picture, in 2019 our support helped to create almost 600 jobs in the Derry City & Strabane District Council area. We also offered over £16m to support the growth of businesses which secured a total investment of £99m.
"Recent investments in Derry City & Strabane District Council area include 70 jobs being created by Metacompliance in a £4.5m investment, a new software development centre in the city by ROI technology firm Deveire, and a new manufacturing facility by Gallagher and McKinney.
"Invest NI is actively working in partnership with Derry City & Strabane District Council to help grow investment and the economy in the local area. Helping businesses to create jobs is only one element of the support we provide which ranges from expert advice and guidance to a wide portfolio of financial support towards productivity improvement, skills development, strategic planning, job creation, Research & Development, technical capability and exporting."
Invest NI said it tracks the number of additional jobs created each year from KPI data collected from businesses it works with. At this stage they are unable to release the number of jobs they have 'supported' in 2020 as this information is due for release at the end of the 2020-21 financial year, once it has been collated and validated.