New £70m investment fund to be launched for small businesses in Derry and across NI
A new £70m fund is to launched this Autumn to help small local businesses in Derry and across Northern Ireland survive, thrive and grow.
Watch more of our videos on Shots! 
and live on Freeview channel 276
Visit Shots! now
Louis Taylor, chief executive of the British Business Bank, announced the new Investment Fund for Northern Ireland during a recent visit to The Amp at Ebrington alongside other representatives of the state owned bank.
Speaking after the visit, Mr Taylor stressed that this new investment pot would not be Belfast centred, with a focus in the city and the wider north west, as well as rural and urban businesses in other areas across the north.
The new British Business Bank fund will increase the supply and diversity of early-stage finance for smaller businesses, providing funds to firms to help them become resilient, expand and ultimately create more jobs.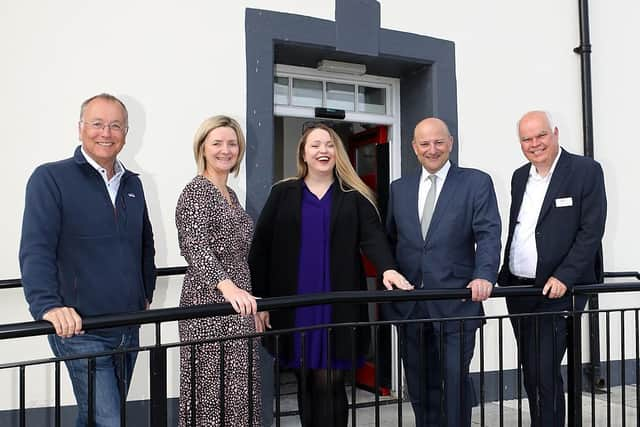 Speaking to the Journal, Mr Taylor said: "The British Business Bank is owned by the British government and we are there to help make sure the markets for small businesses actually do more than they do, and we make sure the small businesses get fair access to finance wherever they are."
He said that this can take the form of small loans from £5,000 to £25,000, and beyond that support for scaling up businesses with equity investment that can run into millions of pounds.
"Some of our programmes are on a subsidised basis and a lot of them are on a purely commercial basis. The important thing is that the businesses we support have longevity and so it is about helping them to stand on their own two feet rather than always giving them subsidy," the bank boss said.
"When we put money into a business we are hoping to attract more private sector money in alongside us to encourage the market to do what it should do. There is a lot in the press at the moment about a lack of risk appetite among institutional investors, particularly for venture capital and what we are trying to do is to lead the path for them, put a little bit of government money in and try and magnetise private sector money alongside.
"So we have this fund that we are launching, £70m and this will attract private sector investment alongside us and the impact of that we believe will be much larger, running into hundreds of millions.
"This is not about £70 million going into Belfast at all. This is about £70m being available across the park. We have been in Derry-Londonderry and seen the vibrancy of the start up community there and there is real opportunity there."
Mr Taylor said in the Foyle constituency alone, the British Finance Bank has already supported numerous small to medium enterprises and are determined to support more through this new fund.
"It is there to help boost productivity. Small businesses are really, really important for the economy. They employ a huge number of people, 60% of the UK working population are employed in small businesses.
"Small businesses innovate, they are more agile and they help bind communities together as well.
"They have a huge social value as well as an economic value. This is also bringing people into contact with other businesses and all the other things that small companies need in order to thrive. Its not just the money, they need mentors, a network of people to be able to talk to and get advice from, all of those things."
The new fund is expected to be up and running by the early Autumn 2023, Louis said, with fund managers now being appointed.
"The fund managers' job will be to go out and find businesses. And there will be all the details at the launch of how people can get in touch. But there will be plenty of representation in the north west and they will be looking for businesses up there."