Prestigious Dfe award for O'Neills
O'Neills Irish International Sports Co Ltd has been officially recognised by the Department for the Economy (DfE) for its innovation strategy which was widely showcased during the COVID-19 crisis.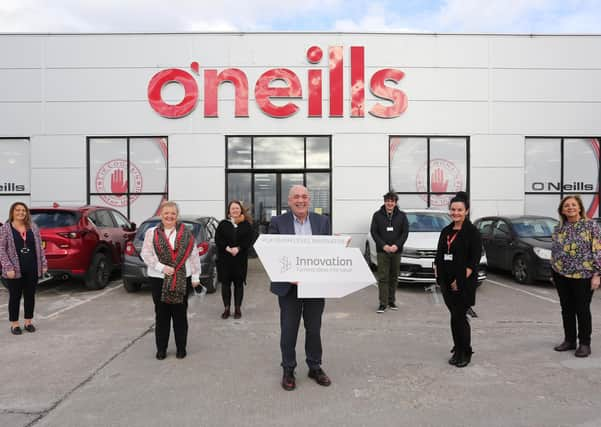 The sportswear company was awarded Platinum Level Innovator status in the Innovate NI Innovation Accreditation Programme, the highest accolade available in the assessment process. Innovate NI is a Department for the Economy programme, helping local businesses innovate successfully. It is delivered by Invest Northern Ireland, local councils and further education colleges.
In March 2020, O'Neills transformed its production line to manufacture scrubs and gowns for frontline healthcare staff in response to COVID-19. The company has continued to focus on innovation, developing its range of healthcare products to supply health authorities across Ireland.
The Strabane based company, which is Ireland's largest sportswear manufacturer, was widely acclaimed for its rapid response to the urgent need for PPE supplies to help protect frontline healthcare staff at the height of the global pandemic. O'Neills also announced that it is working in partnership with a leading UK supplier to manufacture high-quality reusable isolation gowns.
Established in 1918, the firm, which employs over 800 staff, has been recognised by the Department for the Economy for "demonstrating innovation by creating value from their idea". O'Neills was previously a recipient of the Bronze Level Innovator certificate, however following a recent assessment through the Innovation Accreditation process, this has now been elevated to Platinum Level.
Kieran Kennedy, Managing Director of O'Neills, said he was delighted the company had set the standard for local business innovation. "Our business is based on over 100 years of innovative thinking, entrepreneurial spirit and empowering athletes to achieve their best. We are constantly innovating, thinking ahead, responding and improving. The innovation and drive of indigenous SMEs is inspiring despite the many new challenges facing businesses as a result of COVID-19. O'Neills are extremely appreciative of the immense loyalty and support from both our highly skilled workforce and our customers in helping us continually strive for success."
Economy Minister Diane Dodds said: "Innovation must be the cornerstone of Northern Ireland's economic recovery. I believe the Innovation Accreditation Programme assists recovery by supporting businesses to invest in innovation and improve their global competitiveness. It underlines the importance of innovation for business growth and increases awareness of its value. It's clear that O'Neills have understood this when it diversified in response to the demand for PPE. My congratulations to them on achieving this award."