Save money on your property fees today
A property management group based in Dungannon, and covering the whole of Northern Ireland, is promising a better way for landlords to profit from their investment.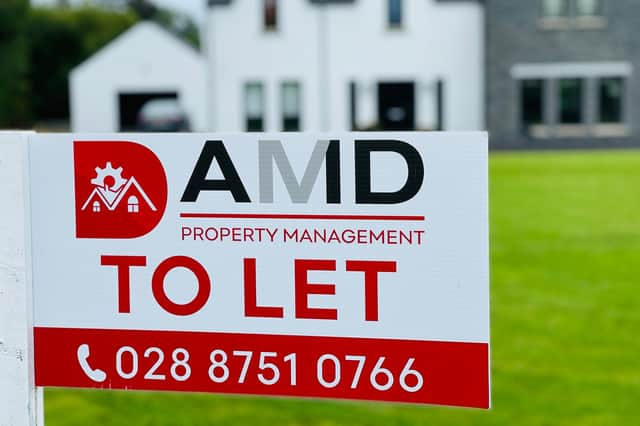 AMD Property Management is "cutting out the middleman"
Originally formed as AMD Construction, Fit Out and Maintenance, the company was launched in 2015, but recently expanded to include AMD Property Management while unveiling a new initiative that means that instead of landlords and property owners shelling out eight to ten per cent in property management fees every year, the cost to them would be a flat fee of only £348* including VAT.
"For landlords and property owners, what we are offering is huge savings for exactly the same service," says AMD property and lettings manager Danielle Mac Nia. "This is roughly a 50 per cent saving on yearly property management fees, which means more money in our clients' pockets at the end of the day.
"For £348 per annum, including VAT, we offer full property management services, plus we have our own in-house maintenance team, so an investment in us as your property management company allows your investment property to maximise it's earning potential."
In its time in business, AMD has quickly established a reputation for attentive service, competitive rates and attention to detail in the commercial and residential property sectors. The company has experience in working with both private and public sector clients, acting as the principal contractor to deliver all stages of the construction and fit-out process. AMD directly employ a skilled workforce, with support from specialist partners when necessary in order to complete all projects.
"This is a huge shake-up to the market," explains Danielle. "We're cutting out the middleman and a lot of unnecessary cost, and passing on the savings to our clients, with whom we share a direct and transparent approach. Landlords entrust us to keep their portfolios up to our high standards, and the competitive fees that we charge then allow them to be competitive in the market, too.
"Even more than that, AMD Property Management delivers peace of mind for everyone, from the property owners themselves to the tenants, who continue to enjoy wonderful places to live, play and work."
AMD Property Management can show you property ownership as it should be. To list your property with them or to discuss your potential investment, visit www.amdproperty.co or call 028 875 10766. You can also e-mail [email protected]
* Property Management fee & tenant finding fees excludes HMO properties.