Sentiment in Derry market is excellent despite COVID-19, says local estate agent Stephen McCarron
The Derry housing market will bounce back quickly once the ongoing COVID-19 lockdown is lifted, according to a local estate agent.
By Kevin Mullan
Published 29th May 2020, 15:00 BST- 2 min read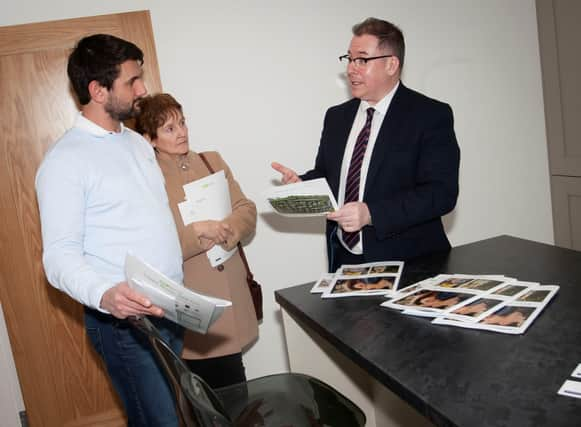 Stephen McCarron, of the Donnybrook estate agency, said local brokers were reporting strong interest in properties notwithstanding the public health emergency.
Mr. McCarron, a member of the advisory board for the National Association of Estate Agents in the north (NAEA Propertymark), said sentiment in the Derry market was excellent.
He said Propertymark members are available for business and preparing for a return to normality following the lockdown.
He said: "Across the board local estate agents are registering high levels of interest in both sales and lettings and it's fair to say that prior to the lockdown the property market was buoyant.
"Current evidence suggests that the same demand is there and will be quickly unlocked after restrictions are relaxed.
"Interest rates are low and banks have the liquidity to fund suitable borrowers."
Last week results from the Northern Ireland House Price Index for the first quarter of 2020 showed that there were 303 verified residential property sales in the Derry City and Strabane District Council area in the months January to March.
The average price of a house in Derry and Strabane is now £125,616 - the second lowest in the north despite a 3.3 per cent increase year-on-year.
The Department of Finance's Land & Property Services said that the "COVID-19 pandemic had essentially paused the housing market" and projected that "the number of sales recorded for April - June 2020 will be greatly reduced (by as much as 80%)".
But Mr. McCarron is sanguine about future prospects. He believes things will get back to normal fairly quickly.
"Some reports suggest a fall in prices is possible, however whilst this may have potential in London or the Home Counties [of England] where prices are in the millions it cannot be said of Northern Ireland where prices have increased at moderate, affordable levels.
"Whilst media headlines talked about an 80 per cent fall in sales the reality was the market was having an extended break where is wasn't physically possible to buy any home.
"We are confident of a swift return to normality due to the government reacting quickly by putting in place the required financial assistance that bolstered the economy and in turn gave peace of mind to families.
"Anecdotally our member offices are reporting buyers are beginning to complete on sales that had been paused due to Government advice and, pent up demand where members are registering high numbers of potential buyers who are keen to purchase as soon as possible."
Mr. McCarron also pointed to increased levels of housebuilding in the Derry area over recent years which were meeting local demand.
"Overall the message is one of positivity and continued demand in the city," said the local housing expert.