Top civil servant Dr. Denis McMahon says DAERA has no plans for new Brexit infrastructure for physical checks at Foyle Port
No new infrastructure is being put in place by the Department of Agriculture, Environment and Rural Affairs at Foyle Port in order to prepare for the looming end of the Brexit transition period.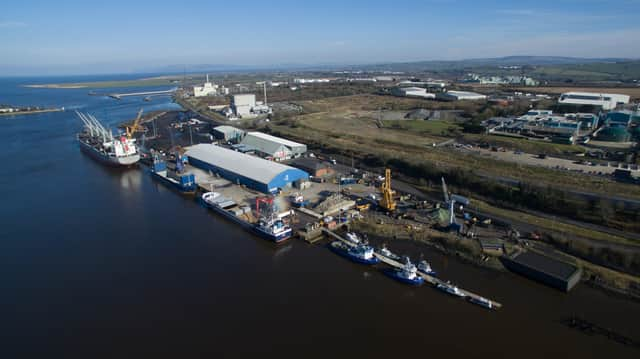 Dr. Denis McMahon, the permanent secretary at the department, said that a structure used by the DAERA fisheries team will be kitted out with temporary inspection equipment.
There are, however, plans for a new modular build.
Dr. McMahon outlined details of DAERA's Brexit sanitary and phytosanitary (SPS) operational delivery programme at a recent briefing of the Stormont Agriculture, Environment and Rural Affairs Committee.
He said there were more extensive proposals for new facilities for potential ID and physical checks at the ports at Larne, Warrenpoint and Belfast.
However, he said specific sites have been identified for point-of-entry facilities at all four ports in the north, including Foyle.
The top civil servant said applications for certificates of lawful use or development at the harbours were submitted to the local councils in September.
"That ensures that the councils determine the technical planning aspects for accuracy but also ensures that there are no adverse environmental impacts from the proposed facilities.
"We have received a formal decision from Belfast City Council indicating that it agrees with our determination that the facilities planned for Belfast port are considered permitted development.
"We also have notifications that Foyle and Larne ports have been agreed and are waiting for certificates, but, obviously, until we have the certificates, we do not have the certificates," he explained.
Dr. McMahon said that, if necessary 'DAERA-authorised staff will be located at Cairnryan, Liverpool and Heysham' to carry out checks on roll-on, roll-off traffic before it event gets to the north.
Derry, being a lift-on, lift-off, port is considered less-exposed to disruption than the three eastern ports. Nonetheless plans are in place to carry out inspections in Lisahally as well if needed.
"Three sites have been identified in Belfast for physical checks. They include the existing facilities at Corry Place and Dufferin shed. The project team is working well with the Belfast City Council team and the harbour authorities.
"An external area within Warrenpoint harbour has been identified.
"A temporary product inspection facility can be constructed at that site. No new infrastructure is proposed at Foyle. DAERA has an existing structure that is utilised by the DAERA fisheries team.
"It will be fitted with temporary inspection equipment and utilised until a new modular build is in place.
"Detailed arrangements on contingency are being put in place with the contractors, and it is our intention to have those finalised very soon," said Dr. McMahon.