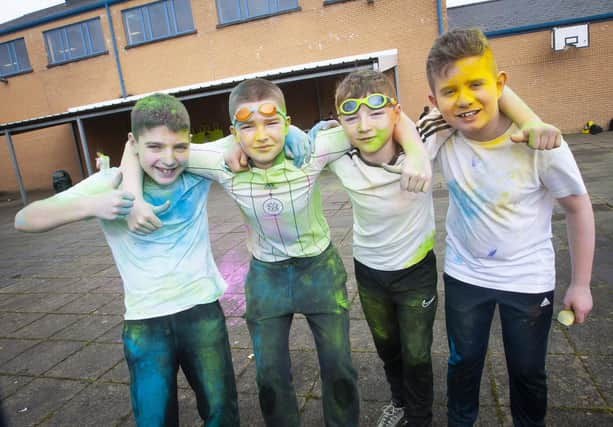 17 great pictures of St Joseph's pupils clattered on the Colour Run for autism acceptance in Derry
Autism Acceptance Week 2023 was celebrated at St. Joseph's Boys School recently with a rainbow of colour as over 150 boys took part in a 'Colour Run' around the school grounds.
Published 4th Apr 2023, 10:57 BST
Updated 4th Apr 2023, 10:58 BST
The school's Year 8, 9 and 10 boys donned white sports t-shirts that bore no resemblance to that colour after completing the course which included running, crawling and being pelted with a rainbow of colourful dust as they made their way to the finish line.
Speaking after Wednesday's event, organiser Fiona Page said it was a wonderful fun way to mark the occasion.
School Principal, Ciara Deane said: "At St Joseph's Boys' School, inclusivity is at the heart of all we do and we recognise and celebrate that every child is unique, a reflection of our school motto 'Achievement for all'. Our building hosts two Autism Specific Classrooms: one at Key Stage 3 and one at Key Stage 4, so as a school community, we feel it's so important to raise awareness of Autism with our pupils, ensuring that our pupils understand and celebrate Autism in equal measure."
Photos by Jim McCafferty Photography (Please note: Not for resale here).