Caution urged over 10,000 student aim for Derry's Magee campus
Ulster University Vice-Chancellor Professor Paul Bartholomew has told councillors that under current funding models it will not be possible to deliver the long-promised 10,000 students at Magee as set out in the New Decade, New Approach document.
Published 9th Feb 2021, 11:59 GMT

- 4 min read
Speaking after the University confirmed the relocation of the School of Health Sciences undergraduate programmes to the Magee campus from September 2022, Professor Bartholomew explained that the upper limit for students at the campus is 6,000.
Currently, as of this year, there are 4,498 students, and there will be an additional 70 medical students and 40 Paramedic Practice students for the next academic year with 850 Health Sciences students coming to the Magee campus for the 2022/23 academic year. The Vice-Chancellor said that growth to 6,000 students at Magee is 'broadly achievable' by 2022/23 but going beyond that will require a 'different operating environment' as it has different 'governmental and political parameters to it'.
He said it was his aim to be 'fully transparent' and explained to Members that the maximum student number (MaSN) cap limits the number of young people who can study at NI universities and therefore the cap would need to be lifted to allow for further expansion. "Lifting the cap would require either more block grant to fund more students or for the student contribution to be higher," he said. "Without a change to the system, Northern Ireland won't be able to afford more students in Northern Irish universities and the percentage of Northern Ireland students going to Northern Ireland institutions will decrease. Inevitably those students who still want to get a degree will progressively go south of the border or over the water and given that two thirds of those who go across the water don't return, Northern Ireland's access to graduates will diminish as a share of potential graduates."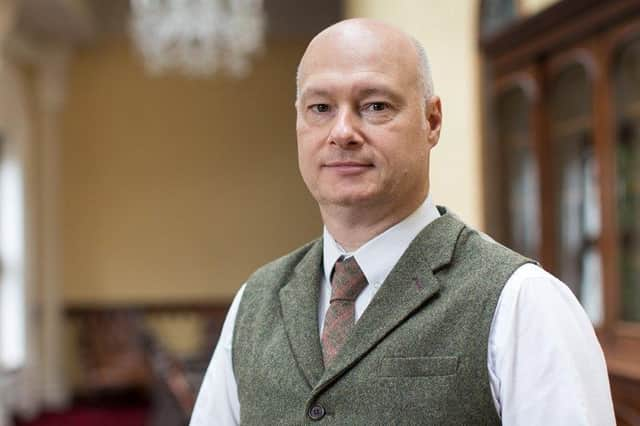 Moving on to the City and Growth Deals opportunity, of which the university will receive around £85m from the public pot for the digital, technology and research centres as well as the new Medical School, the Vice-Chancellor said the money isn't for the UU, it's for the project for the city. "Indeed it costs us to participate," he said. "There is an expectation of 10% of capital funds which we would have to contribute and we are committed to making those funds available. The City deals proposition and subsequent growth should help us grow additional local demand for skills and make the Magee proposition even more attractive for students."
SDLP Colr. Rory Farrell welcomed the relocation of 850 students but said "the 10,000 target remains unmet. The One Plan envisaged 10,000 students by 2020. It's 2021 and we don't have 10,000 students. What's the timescale for expansion and how is it all going to be financed and resourced. And I am mindful that a lot of your focus in the presentation was about the Maximum Student Numbers cap. And obviously that presents a massive difficulty and that's going to be a decision that needs to be made by the Executive in consultation with university providers in the North. And I am conscious that our corporate position in Council is that there should be an increase in the MaSN cap, for exclusive use in Derry, to allow expansion to happen. We wrote to Diane Dodds and her response was 'I set the cap but it's up to the university providers to decide where they put those students'."
Responding, Prof. Bartholomew said any additional numbers beyond 7,000 would have to come from other universities and postgraduate study.
Sinn Féin Colr. Michael Cooper said the 10,000 figure has been 'bandied about' and 'has to be met'. "Compared to where we were a year, year and a half ago we are now on a far better trajectory. There has to be a specific approach to Derry and the New Decade, New Approach was very explicit and very clear on that and if there is a bid going into a Minister for additional MaSN places it has to be framed on that perspective."
Independent Colr. Paul Gallagher brought up the subject of Magee being described as a 'not a neutral space' in the University's public consultation on the relocation of Health Science courses. "That gives rise to historical issues that this city has faced," he said. "A get out of jail card for the unwillingness to invest in Magee is to just label it as 'not a neutral space.'"
Referring to the City Deals, Colr Gallagher said there were 'suspicions' around the Ulster University 'talking very nicely' but failing to deliver and it was all about them getting investment from City Deals.
Professor Bartholomew said: "Hopefully the track record of what we are trying to do speaks for itself. Things will have to change within the model to grow the numbers. If they don't change and we are asked to grow the numbers without the safeguards, what we are going to see, if there is a lag between how the funding model works and the student numbers, with the best will in the world it might take some time to grow that. If in that dip it costs us millions of pounds to be able to sustain that, that is something that is clearly a disincentive. I don't need incentivising to grow Magee, I am well motivated to have that better campus balance."
He added: "I'm motivated to grow Ulster across all its campuses but I probably do need something to change to ensure that I'm not perversely disincentivised to do things through the financial model."