Derry students are winners of the Rotary Youth Leadership Competition
Three Derry students Hannah McDonald, Caitlyn Bullock and Aoife Campbell were among a group of just 24 teenagers from all over the island of Ireland to be presented with Rotary Youth Leadership Development certificates at the European Parliament's offices in Dublin recently.
Published 14th Mar 2023, 11:16 GMT

- 3 min read
Updated 14th Mar 2023, 11:16 GMT
The competition, which is one of Rotary Ireland's longest running youth projects, rewards young people with clear leadership potential based on their extra-curricular activities. It is run in conjunction with the European Parliament Liaison Office in Dublin and Euroscola in Strasbourg.
Caitlyn, who is a student at Loreto College Coleraine, Hannah who is a student at Limavady High School and Aoife who is a student at Foyle College, received their certificates from Rotary Ireland District Governor Captain Sean Fitzgerald and Patrick O'Riordan, Head of Public Affairs at the European Parliament's office in Ireland.
After being disrupted by Covid for the last two years, this year saw a welcome return to the regular itinerary which involves visits to Belfast, Dublin, and Strasbourg.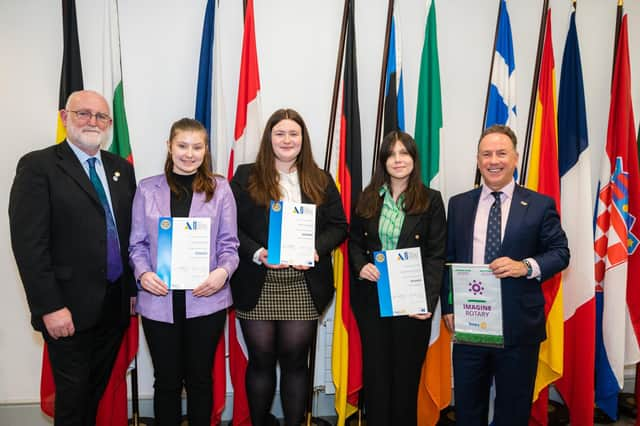 During the six day all expenses paid trip the competition winners visited Belfast City Hall where they met Lord Mayor Tina Black and Stormont where they met and chatted with politicians from various parties.
Then it was onto Europe House in Dublin where they were presented with their certificates before a trip to Dail Eireann where they met the Minister for Education Norma Foley and several TDs.
They then flew to Frankfurt for a two-day visit to Strasbourg. After being formally welcomed by the President of the European Parliament, Robert Metsola the students took part in an interactive workshop which allowed them to discuss and vote on amendments to an EU proposal on climate action targets. The students also enjoyed a walking tour of Strasbourg, met students from a host of other countries before enjoying some retail therapy!
All three girls said they would absolutely recommend the competition, describing it as an opportunity of a lifetime.
Aoife Campbell who is Head Girl of Foyle College, a member of SSUNI and plays the violin said she learned a huge amount about European environmental issues and modern democracy.
"The highlight of the week for me was exploring Strasbourg and having the opportunity to speak in the hemicycle of the European Parliament. As well as making lifelong friends."
Caitlyn Bullock plays netball for her school's senior team and is a member of the justice league. She also plays Gaelic football and helps train youngsters at her club Eoghan Rua.
"I have learned so much about myself, my country and about embracing the opportunities of the wider world. I have also learnt what it means to be a Rotarian and the amazing work they do. The highlight of my week was experiencing Strasbourg for the first time alongside friends I had made. And the craic throughout was pretty good too!"
Hannah McDonald who volunteers at her school's youth club said she had been looking forward to improving her debating skills and learning more about political processes. The trip didn't disappoint.
"I learned that governmental processes at all levels are more similar than one would think and I also learned how effective teamwork can be when it comes to debating issues. I really enjoyed spending time with my fellow students in each city whether at dinner or working on politics in groups. Everyone should absolutely go for this competition, even if you have a small interest."
Captain Sean Fitzgerald, District Governor of Rotary Ireland said the knowledge and enthusiasm of the students was hugely impressive.
"I have to compliment Aoife, Caitlyn and Hannah and all of this year's winners for their willingness to engage and the extremely high standard of their contributions throughout the week. It was wonderful to have a full complement of students back on the trip this year and it was clear to us that while they arrived as strangers, they left as friends having enjoyed a wonderful journey."
"I would urge as many young people as possible from every part of the island to take part in next year's competition" Mr Fitzgerald said.
Patrick O'Riordan from the European Parliament said; "This exceptional group of young men and women was one of the most engaging and well-informed that we've ever had the pleasure of welcoming to Europe House and I look forward to seeing them contributing to public life in Ireland and Europe in the years to come and returning as MEPs or Ministers!"
The Rotary Youth Leadership Development Competition is open to 16 and 17-year-olds who are living on the island of Ireland.
For more information, see Rotary Youth Leadership Development Competition - Rotary in Ireland (rotary-ribi.org)