Fair Trade, Sustrans and Green Flag awards as Steelstown pupils and staff bolster eco-credentials while coming out of COVID-19 lockdown
Heartiest congratulations were the order of the day at Steelstown Primary School this week as recipients of the FairTrade 'Fair Aware' award; the Sustrans Bronze Award for Excellence in Active School Travel; and once again, picking up Green Flag Status in recognition of environmental sustainability work carried out at the school.
21st Apr 2021, 7:38pm
- 3 min read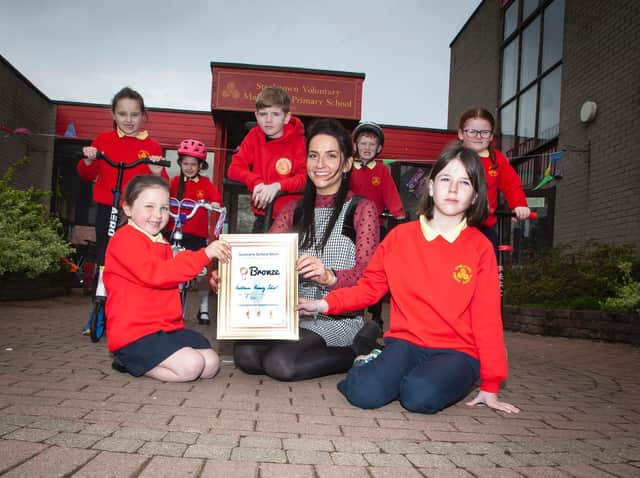 Miss Bronagh Lynch, teacher pictured with pupil representatives after picking up the 'Sustrans School Mark' bronze award this week. Included are Naiya McCafferty, Aoife Lynch, Niah Barnfield, Riley McColgan, Andrew O'Doherty, Maya O'Doherty and Lola Foy.
Returning to face-to-face learning on Monday of last week saw an air of positivity around the school and one that Principal Siobhan Gillen believes endorses the staff's dedication and commitment to helping each child and family adapt to returning to 'normal' schooling.
Steelstown received Fair Aware status with news reaching the school's Eco committee on Tuesday last and is testament to the hard work of all in keeping Steelstown Primary and Nursery Unit eco-friendly every day.
"It is great to have all our children back in school and to see so many positives," said Mrs. Gillen who also added "and a big thank you to all our school community for continued support especially during the last year as well as our staff for the dedication and commitment to help each child and family."
Miss Bronagh Lynch pictured with some of the pupils from Steelstown PS celebrate their achievement in the FairAware School awards this week. Kneeling, front centre are Aoife Lynch, Niah Barnfield and Maya O'Doherty. Standing from left are Hannah O'Neill, Niaya McCafferty, Ava McGill, Andrew O'Doherty, Lola Foy (Eco Committee President), Braeden Rush (Eco Committee Vice President) and Elsa Kehoe.
The principal also praised the 'adaptability and resilience' of the children.
"Our pupils have been amazing, so adaptable and have shown great resilience. Great work has been seen daily on the online platforms and supervised learning in school during each lockdown, but we are so delighted to have all them back in school with face-to-face teaching. There is so much positivity here at the moment. So much good is happening and it is so heartening and uplifting for everyone."
Commenting on picking up the Green Flag Status once again, Mrs. Gillen said: "We are delighted to receive the Green Flag status again in recognition of our environmental sustainability work. Both staff and children continue to work hard in keeping Steelstown P.S. and Nursery Unit eco-friendly every day. Special thank you to Mrs O'Neill, Mrs McGlinchey, Mr Duffy and Miss Lynch and all our Eco committees for their hard work in having and keeping Steelstown an eco school.
Pupils Matis McCarron, Ronan Stewart and Jacob McCollum using their Forest School skills at Steelstown Primary School this week.
"We were also recently awarded the Fair Aware Award for teaching our children and community the benefits of being aware of Fair Trade as well as the Sustrans Bronze Award for excellence in Active School travel."
The principal also mentioned Miss Bronagh Lynch the school's WAU and Eco co-ordinator and her strong team who worked so hard for all the initiatives and said they deserved great praise for all their creativity, innovation and great work.
"And, we are also very excited for this week and next week to be involved in the 'Big Pedal Push'. We look forward to all our active travel by seeing our children and staff cycling, scooting, wheeling and walking to school.
"Pupils at Steelstown are also working towards Forest Schools Level 3 Award in bringing learning outdoors. There are big advantages and opportunities in outdoor learning with the school fortunate to have the grounds and facilities to accommodate the development."
Steelstown PS teacher Miss Bronagh Lynch pictured with some of her class this week at the school Eco Garden where they have been learning outdoors as part of Forest Schools. Included from left are Matis McCarron, Faith Gillespie-McCloskey, Farrah Mooney, Niah Barnfield, Jacob McCollum, Jordan Starrs and Ronan Stewart.
Endorsing the sentiments, Bronagh Lynch, the school's WAU and Eco co-ordinator said: "Our boys and girls have taken part in lots of 'Active Travel' initiatives, so we are delighted to have achieved the Sustrans Bronze Award. We are working closely with our 'Active School Travel Officer', Richard Farrow, to help us move towards achieving our Sustrans Silver Award later this year. Ronan McLaughlin has been a great support in the past also. Alongside 'The Big Pedal' we have scheduled our 'Ditch the Stabilisers' and 'Cycle Skills' initiatives for the Summer Term.
"During lockdown we spent time learning remotely about Fair Trade. Our staff and pupils have become 'Fair Aware' and we will continue promoting this awareness throughout our school. We have also linked in with our local Parish 'Steelstown and Culmore Eco Group' to promote all things Fair Trade."
Ms. Lynch said the school are also delighted to be working towards the Forest School Award, facilitated by Brian Poots, thanks to funding from RAPID NI.
"The children love being outside and are embracing the benefits of outdoor learning."