Family 'shocked' as Derry school tells them disabled son can no longer be accommodated 3 days a week
The family of a young boy with complex medical needs have expressed dismay after being informed he cannot attend for most of the school week as there is not enough fully trained staff for him to be there.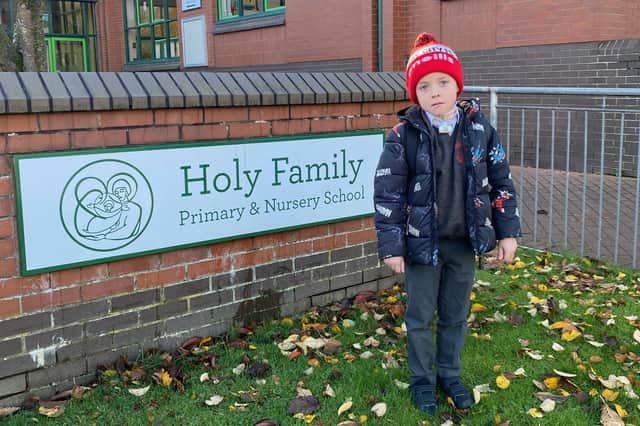 The father of seven-year-old James McBride, a Year 4 pupil at Holy Family Primary School in Derry, said that following months of going above and beyond and having to fight to have their son's specially trained classroom assistant reinstalled, they were informed over recent days that the boy could no longer be accommodated on Wednesdays, Thursdays or Fridays.
Kevin McBride said that shortly after taking James to school on Wednesday last they received a phone call informing them of this, and asking them to collect their son. A letter was also e-mailed from the school principal formally confirming that he could not be accommodated from Wednesday to Friday.
The school had sought a meeting earlier but as both parents work they said they were unable to attend at such short notice, and were told attempts had been made to phone them but they said they had no missed calls.
The school said it is working with all relevant agencies to find a resolution.
James was born with a severe narrowing in his airway and has respiratory issues. He had a 1mm airway when born and had to undergo surgery to rebuild his airway. He only has one functioning lung, one functioning kidney and requires 24 hour care.
Mr McBride detailed how his son has a tracheostomy fitted to help him breath and how his classroom assistant and another assistant at the school are specially trained for assisting a child with his needs. James' condition requires that a second trained assistant be available but the family was told the second assistant would now only be available two days a week. A third assistant who is undergoing the training aligned with James' needs is unable to complete the final stages of that training because of a medical complication.
At present, James has granulation in his airways and medics have told the family that as a result, routine tracheostomy changing has to be postponed until another operation can be undertaken.
The family said however that the school arranged for a nurse from the Trust to come out to school on Tuesday so the training could resume but once the family were invited to attend they told the nurse the reasons why this could not happen.
The family asked why the school arranged this "without us knowing" and "despite us already advising that his Consultant advised against this in the interim?"
He said his son's education was being comprised, and said that on Wednesday James "was very sad at the news and felt embarrassed having to leave school in front of his friends."
Mr McBride said. "It's quite difficult for him to understand. It's just shocking. It is not up to us as parents to resolve staffing issues or staff training, and it always seems to be a fight just to get him an education.
"It is a nightmare. This is a complete breach of the Disability Discrimination Act," he claimed.
He added: "They didn't give us options to send somebody to the house or anything."
James' father also said that prior to all this the family were told just a day before the new school term back in August that James' usual classroom assistant would not be available as they were needed for a new placement within the school. The school had, the family said, moved to replace this assistant with another who had no specialist training, a move deemed unacceptable given his specific medical needs. Mr McBride said the original classroom assistant was reinstated after he intervened and worked directly with the Education Authority.
Responding to the family's concerns, Holy Family Primary School told the Journal in a statement: "The school is, and has been, working with all relevant agencies to secure a prompt and safe resolution to this matter. "
After a follow up conversation with James' Nurse Specialist at the Royal Belfast Hospital for Sick Children, Mr McBride said they have been advised that his main classroom assistant can be fully trained and the second carer partially trained given the circumstances. They have called for the matter to be resolved immediately.