Pink Ladies host online events to mark children's cancer awareness month
A local cancer support charity is to mark children's cancer awareness month like never before, with a packed online programme of events.
Published 11th Sep 2020, 11:18 BST

- 2 min read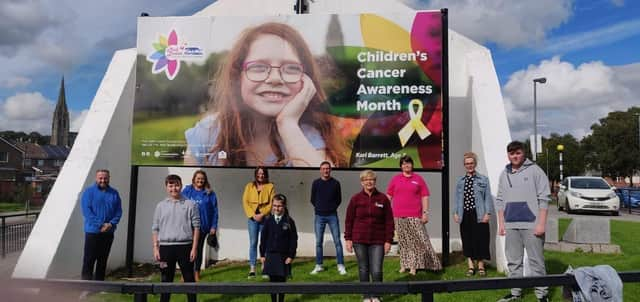 The Pink Ladies hosts events each September to raise awareness of children's cancer and to support local families whose child has been diagnosed with cancer.
This year, due to the global Covid-19 pandemic the events will be held online and posted on the Pink Ladies social media page.
A billboard at Free Derry corner featuring eight-year-old Kari Barrett, who has battled cancer, was unveiled by the charity last week.
Kari's mum Lorraine now volunteers with the Pink Ladies and regularly offers advice to parents after their child has received a cancer diagnosis.
Other events will include story telling, healthy eating promotion and a 'meet the parents'.
This will see parents of children who have battled cancer share their experience and will also feature bereaved parents.
Among the speakers will be Christina Glenn, Karen and Andre Johnston and representatives of Paul's Campaign.
The three charities set up by these families work alongside Pink Ladies in 'Team Derry' and will outline the support available locally.
A number of local children who have battled cancer will also feature in the programme and will be doing Tik Tok videos, reading poetry and giving advice about juicing and nutrition.
Michelle McLaren from the Pink Ladies said the programme is 'completely different from what we have done before'.
However, she said it was important for the charity to highlight that children's cancer still exists despite the global health emergency.
"There are many children here in the city and beyond affected by it. We would like to hear from as many of them and their families during the month of September and will be doing a slideshow each Friday featuring their pictures.
"If there is a family out there whose child has recently received a diagnosis we can offer services to them, including counselling for the entire family, benefits advice or even help trying to reach a specialist," Michelle added.
"When a cancer diagnosis comes into the family it feels very lonely and overwhelming and people don't know where to turn.
"We can put families in touch with someone who has come through that journey to offer them advice and support."