Ageing city has contributed to unprecedented demand at Derry's Altnagelvin hospital, says Western Trust finance chief Neil Guckian
Altnagelvin has been experiencing unprecedented demand this winter thanks, in part, to Derry's ageing population.
26th Feb 2020, 9:00pm
- 3 min read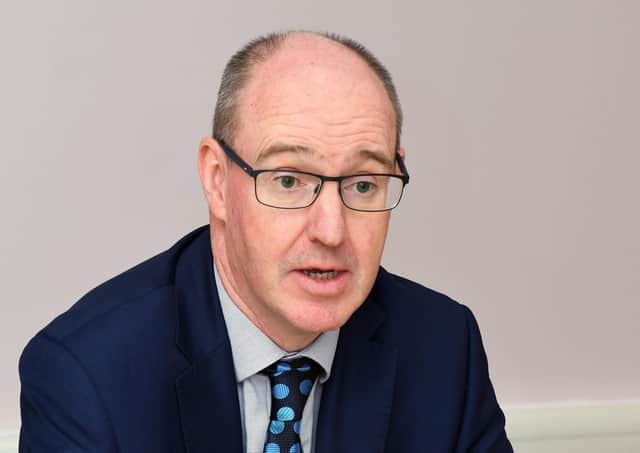 Neil Guckian, Director of Finance for the Western Trust. DER0920-103KM
Neil Guckian, Western Trust Director of Finance, said providing services to an increasingly older city was one of the major challenges facing the health authority today.
"It's more about the fact that the length of stay of our patients has gone up. We have more people waiting to get into our hospitals from A&E.
"We have more people in our hospitals and we have more people waiting to get out of our hospitals. So we have bigger demands on our community services for discharge from hospital. We have greater demands on admission to hospital and that's all linked to the ageing population," said Mr. Guckian.
The finance chief made the revelation during a briefing on the Trust's three year 'recovery plan' which is aimed at reducing a deficit of £39m reported in 2018. The Trust is coming to the end of Year 1 of the three-year plan which has been agreed with the Department of Health and runs from 2019/20 to 2021/22.
"This is special from a financial perspective. We're being given space of three years so if we have a deficit in those three years, provided we are making progress, providing we are taking our finances seriously, we'll be given space to plan properly and implement things that are sensible," said Mr. Guckian.
For 2020/21, Year 2 of the programme, a £19m Financial and Efficiency Recovery Plan has been agreed.
Mr. Guckian explained: "We have a £19m recovery plan framework agreed with the department. A lot of that is income, that's not cost reduction, that's about us trying to squeeze a bit of income out of the department and out of the Health and Social Care board."
The Trust finance director said DoH understood that as well as sharing with other health authorities the challenge of providing services to an ageing population, the Western Trust also incurred additional expenditure due to its higher levels of deprivation, its rural character and the difficulty in attracting doctors to live and work here.
"Clearly we have to meet the changing needs of our population. Our population is getting older - a 27 per cent increase in those aged 65 to 84 and a 39 per cent increase in the 85 plus age group by 2028.
"What does that mean? An 85 year old consumes 11 times the health and social care resources of a 55 year old.
"The under-16 population - despite the population falling - the number of looked after children is rising and that's all linked to deprivation and you could argue it might be linked to the whole societal change as well and the resourcing over the past 15 years in terms of austerity."
Mr. Guckian acknowledged that the Trust was spending too much on locum doctors and agency staff. "We're spending over £20m on locums. We are going to try to reduce the cost of those locums; our expensive nursing agency costs. We are trying to repatriate expensive placements for children outside of NI back closer to their families."
He believes a Graduate Entry Medical School at Magee will help the Trust address some of its workforce issues in the longer term.
"We have to get to a situation where there are enough doctors to fill all the posts.
"The medical school is the long term answer to that but it's not going to help us in the next two to three years because they need to train the doctors up but it's a very exciting development if we can get behind that and it takes off as we hope it will. That would be a massive boost.
"There is clear evidence that junior doctors are more likely to stay close to where they studied."