Big hearted local man donates minibus to help cancer charity
A kind-hearted local man has donated a minibus to local charity Northern Irish Cancer Care, which provides free transport for cancer patients to access treatment and appointments.
7th May 2021, 1:18pm
- 2 min read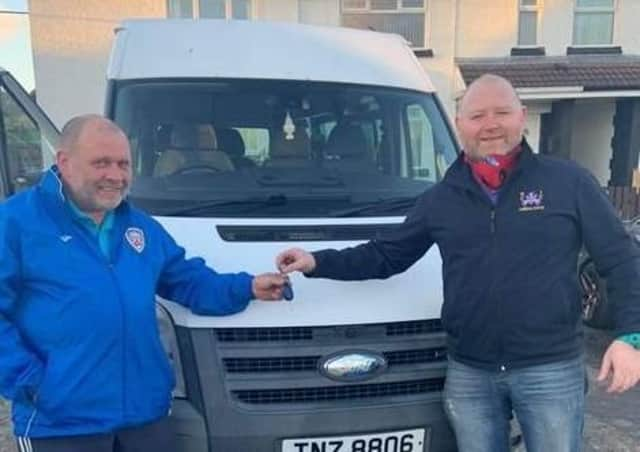 Stephen 'Stan' Falconer is no stranger to acts of altruism and has previously raised funds for a number of charities including the Air Ambulance, Cancer Focus Claudy and Learmount Parish Church in Park, as well as the National Ankylosing Spondylitis Society, which raises awareness of a condition he himself has.
Stan, who began his fundraising efforts some years ago in the run up to his 40th birthday, said he decided to donate his own van during lockdown. Being impressed by the work Northern Irish Cancer Care (NICC) do, he thought they could make very good use of it. "It was my own personal van, it was used for the football and that, and with the COVID it was just lying there for a year so I thought it would be better somebody using it."
Every family has been touched by cancer, and Stan is happy that the van can be used for a charity that helps local people access treatment and services. "They do an awful lot for people and it stays in the local area, and down the line you never know when you yourself might need it or someone you know," he said.
The NICC charity, which has its own specially adapted ambulances to take people to appointments and for treatment, and which relies on donations and fundraising, said they were delighted with the vehicle.
Stan's minivan can now be used along with the others to help transport cancer patients or to help with collections and deliveries to its charity shops at Unit 6 and Unit 22 Glendermott Valley Business Park in Drumahoe, which have just reopened.
Jimmy Hughes from NICC said: "We are so grateful and it is just fantastic that Stan gave it to us for nothing. This town is just amazing when it comes to supporting charity. We are just overwhelmed by the generosity of Stan with this donation and it means so much to us and the people we help."
The ICC charity shops sell everything from good quality second hand furniture to clothes and jewellery and can be ideal for people starting out and people on a budget as they can pay up for the goods.
The non-profit registered charity, which transport any patient in NI to and from hospital for radiotherapy and other treatments, have thanked everyone for their support and to find out more about the work they do, check out the Northern Irish Cancer Care Facebook page at www.facebook.com/northernirish.cancercare.9