LIVE UPDATES: Coronavirus NI - Covid-19 restrictions could be required again next winter says CMA Chris Whitty - NI post-primary transfer tests cancelled as schools prepare to close - Full NI lockdown to extend into March suggests Michael Gove
Northern Ireland, England, Scotland and Wales could see the reintroduction of Covid-19 restrictions next winter says Chief Medical Advisor to the United Kingdom government, Professor Chris Whitty.
Published 5th Jan 2021, 11:13 BST
Updated 5th Jan 2021, 18:35 BST
Scroll down for more on this story.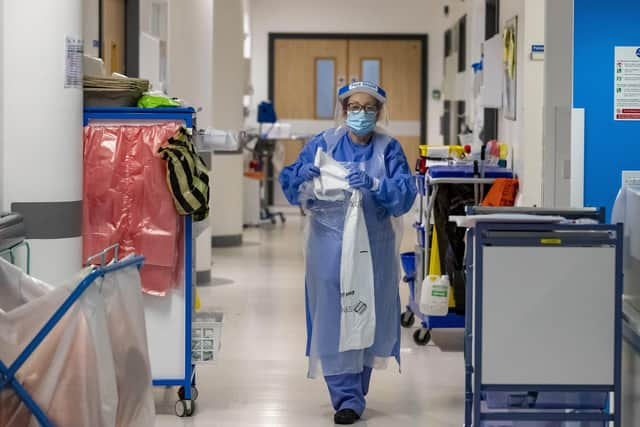 LIVE UPDATES: Eighteen additional deaths and 1,387 new infections in last 24 hours
Show new updates
Covid-19 restrictions likely to be required next winter says Chief Medical Officer Chris Whitty
Northern Ireland, England, Scotland and Wales could see the reintroduction of Covid-19 restrictions next winter says Chief Medical Advisor to the United Kingdom government, Professor Chris Whitty.
Professor Whitty made the remark during a press briefing on Tuesday evening from Downing Street with Prime Minister, Boris Johnson and Chief Scientific Adviser for England, Sir. Patrick Vallance.
"We might have to bring a few in next winter for example, that is possible, because winter will benefit the virus," said Professor Whitty.
"The aim of this is to de-risk [sic] it as much as possible with the vaccine to the point we get to the stage the risk is so incredibly low, relative to where we are now, like we do with flu.
"We accept that there is a level of risk that society will tolerate and we should tolerate, people die, that's what happens and we have to do that at a certain point but that's a political decision, that's a societal decision.
"What we can do with the vaccine is take the risk down and down but zero risk is not a realistic possibility."
Professor Whitty continued: "What we all hope for is a vaccination programme that means we don't need anything in the future, that would be ideal, but I think it's important we keep in mind that this virus will not just go away, just as flu doesn't just go away - the time that benefits viruses like this the most is winter, that's why we are having problems now, along with the new variant.
"Therefore we need to keep an open mind about that because the hope would be we don't need to do anything, certainly nothing on the scale like we have at the moment, but we can't pretend this is a problem that is going to just disappear."
An additional 18 Covid-19 related deaths have been recorded in Northern Ireland in the last 24 hours - it takes the death-toll since the beginning of the pandemic to 1,384.
A further 1,387 individuals tested positive for Covid-19 in Northern Ireland in the last 24 hours.
It means the total number of individuals to test positive for Covid-19 in the last seven days and since the pandemic began is now 12,487 and 81,251 respectively.
NI post-primary transfer tests cancelled
Post-primary transfer tests planned for January have been cancelled - writes Rebecca Black and Michael McHugh, PA.
Private companies AQE and PPTC, which run the tests, made the announcement on Tuesday ahead of a meeting of the Stormont Executive.
First Minister Arlene Foster indicated on Monday evening that a period of remote learning for schoolchildren in Northern Ireland will be extended amid soaring coronavirus cases.
The Stormont Executive is set to discuss further details of the proposal.
With 12,507 fresh diagnoses of Covid-19 over the last seven days, ministers are also expected to order people to stay at home to stop the spread of the virus.
Meanwhile, Northern Ireland is set to receive £127 million from the Treasury for lockdown grants to support businesses forced to close.
Earlier, the board of AQE met and took the decision not to proceed with transfer tests planned to take place this Saturday, as well as January 16 and January 23.
"The board will now be consulting with member schools, and a further statement will be issued after that," it said in a statement on its website.
PPTC has also announced that it "will not provide an entrance assessment for 2020-21".
Children's Commissioner Koulla Yiasouma, along with Deputy First Minister Michelle O'Neill, Stormont Education Committee chairman Chris Lyttle (Alliance) and SDLP MLA Daniel McCrossan had pressed for the tests to be cancelled.
However, some parents say it is too late to cancel the tests, which have already been delayed from autumn when they are normally sat.
Phil Meredith, from South Belfast, said his daughter has been working hard for the tests.
"All the hard work my daughter has been doing since the start of last year for this test is wasted," he said.
"All the stress and tears, and now it potentially isn't going ahead.
"My daughter has a better chance of getting into grammar school through the AQE rather than the sub criteria."
Naomi McBurney, who runs the campaign Bring It Back To Primary, said parents are very divided on the matter.
"There are parents who are very concerned that if their child doesn't get the opportunity to sit the test, then they are going to be disadvantaged; for example, if they have an eldest child or only child, the main thing for them would be that the test was a more fair way for them to get access to a school that they want to go to," she said.
"It's quite frustrating for those opposed to the test because they are saying the country has had to sacrifice so much.
"The problem is the alternative criteria for schools isn't transparent as yet. The 12 schools that said they would cancel the test back in June have indicated that it would be sub criteria – so if you had a child already at the school, or if you have a parent that had previously attended the school or a member of the family on the board of governors – similar to that of nurseries, not based on academic criteria."
Ms McBurney has been running a campaign which urges that children be allowed to sit the transfer test in their own school, instead of having to travel to a large testing centre.
She has also called for reform of the system, with testing regulated by the Department of Education and reduced from children potentially sitting up to five papers if they take both the AQE and PPTC tests, to one.
The department-set transfer test was previously abolished, with the last 11-plus paper sat in 2008.
Meanwhile, a Co Down principal warned that closing schools is a "disaster" for children.
Teachers should have been able to begin planning online lessons before Christmas, said Kevin Donaghy, from St Ronan's Primary School in Newry.
Instead they have had to duplicate everything for physical teaching conditions.
Mr Donaghy said: "My staff are completely devastated.
"We were all gearing up for coming back."
Chancellor Rishi Sunak offers £4.6bn lifeline for high streets
Around 600,000 retail, hospitality and leisure sites will be able to claim a one-off grant of up to £9,000, the Government has announced - writes Simon Neville, PA City Editor.
The payments will cost the Treasury £4.6 billion and are aimed to help support the high street as new lockdown measures announced on Monday take hold.
Chancellor Rishi Sunak also announced a further £594 million for local authorities and devolved administrations to support businesses not eligible for the grants.
The Scottish Government will receive £375 million, the Welsh Government £227 million and the Northern Ireland Executive £127 million.
Mr Sunak said: "The new strain of the virus presents us all with a huge challenge – and whilst the vaccine is being rolled out, we have needed to tighten restrictions further.
"Throughout the pandemic we've taken swift action to protect lives and livelihoods, and today we're announcing a further cash injection to support businesses and jobs until the spring.
"This will help businesses to get through the months ahead – and crucially it will help sustain jobs, so workers can be ready to return when they are able to reopen."
The latest payments will be based on the size of each store, pub, cafe or hotel tied into the business rates typically paid by each business. The smallest sites will be able to claim up to £4,000 and medium-sized ones £6,000.
However, the Chancellor stopped short of extending the business rates holiday, which ends in April, despite calls from retail and hospitality leaders for such a move.
Other noticeable absences being called for by business groups and unions include a VAT cut and improvements to sick pay or support for working parents.
Mr Sunak did not rule out further support in future, in particular over business rates relief and sick pay improvements.
He told Sky News: "We'll have a Budget in early March, where we'll take stock of all the various support that we've put in place, including today's announcement of cash grants, and then review and set out the next stage of our economic response to coronavirus at that point."
On Monday night, Helen Dickinson, chief executive of the British Retail Consortium, said: "The biggest difference the Government can make is to extend business rates relief from April for those hardest hit by repeated lockdowns."
According to real estate specialists Altus Group, 401,690 non-essential shops, 64,537 pubs/restaurants, 20,703 personal care facilities and 7,051 gyms and leisure centres are now closed.
The new one-off grants come in addition to grants worth up to £3,000 for closed businesses, and up to £2,100 per month for impacted businesses once they reopen.
The Government has already provided £1.1 billion of discretionary funding for local authorities, extended the furlough scheme until April and taxpayer-backed business loans until March.
Full NI lockdown to extend into March suggests Michael Gove
A new full lockdown for Northern Ireland, England, Scotland and Wales might have to remain in place until March, says Chancellor of the Duchy of Lancaster, Michael Gove.
Prime Minister Boris Johnson addressed the nation on Monday evening and hinted that the lockdown could be eased by the middle of February however in a round of interviews on Tuesday morning Mr. Gove said the lockdown could remain in place beyond that time and into March.
"We will keep these constantly under review, but we can't predict with certainty that we will be able to lift restrictions in the week commencing February 15-22," he told Sky News.
"What we will be doing is everything that we can to make sure that as many people as possible are vaccinated, so that we can begin to progressively lift restrictions.
"I think it is right to say that, as we enter March, we should be able to lift some of these restrictions, but not necessarily all," added Mr. Gove.
The Northern Ireland Executive will meet at 2.00pm to finalise the details of the full lockdown.