Foyle Hospice seeks new volunteers
Foyle Hospice are having a huge volunteer recruitment drive this February and are asking for the help of the local community.
Published 1st Feb 2023, 10:31 BST

- 3 min read
Updated 1st Feb 2023, 10:31 BST
The generosity of Foyle Hospice volunteers makes a real difference to the lives of patients and their families. Through kindly giving their time, expertise and services, volunteers make such a positive impact. However, Foyle Hospice need even more volunteers to help out in Day Hospice, fundraising and retail roles.
Day Hospice volunteers are needed to offer complimentary therapies, creative therapies and beauty therapies. Minibus drivers are also needed to take patients to and from the Day Hospice.
A range of fundraising volunteers are also needed for a number of roles including organising, assisting and promoting events, making collections and promoting the weekly draw.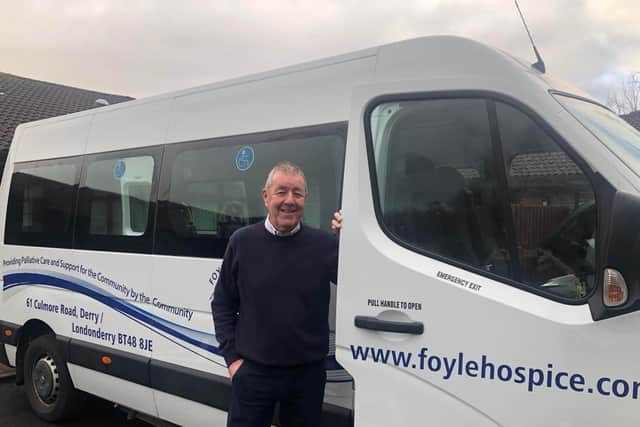 In addition, retail volunteers are needed for Foyle Hospice shops in Waterloo Place and Springtown Industrial Park in Derry and in
the other shops in Strabane, Limavady and Castlederg.
Sammy Nicholl, 70, from Derry shared his experience of being a Foyle Hospice volunteer and urged others to get involved. Sammy, who was a dedicated member of the Ambulance Service for almost 40 years, said the best thing about volunteering for Foyle Hospice is seeing how it benefits patients and their families.
After retiring in 2019, he has been volunteering weekly by driving patients to the Day Hospice and maintaining and nurturing the beautiful Foyle Hospice grounds. Sammy also helps with fundraising activities and the annual Christmas tree recycling scheme.
"I worked in the Ambulance Service before I retired and I've been volunteering for Foyle Hospice now for four years," he said.
"After taking a couple of months off for retirement, I decided to start volunteering for the Hospice because they do so much for this city. People really don't realise how many people the Hospice has looked after in our community. I'm very fortunate to be in good health, so I do one day a week driving the minibus to bring the Day Hospice patients in and I do at least another day a week helping around the gardens."
Sammy said that, as well as providing much-needed help, he gets a great sense of personal satisfaction from knowing he is doing something to help others, giving something back to Foyle Hospice for serving the community.
"It's hard to describe the satisfaction you get from volunteering for the Hospice," he said.
"Some patients that you lift to bring to Day Hospice might not be able to get out until the next day you come to pick them up. So, when you see their faces, how much they're looking forward to it and the enjoyment they get out it, you get great satisfaction from that."
Sammy is no stranger to a wheelbarrow and spade either as he is a dab-hand at gardening and keeps the stunning grounds of Foyle Hospice in fantastic shape.
"It's really satisfying to see the grounds with the gardens looking so beautiful. It's great to know that I can help keep the gardens in shape for the patients and their families to look out at or get around and enjoy, especially when they are in full bloom."
Sammy said that, if anyone is considering volunteering for Foyle Hospice, he would highly recommend it.
"I would really recommend volunteering for the Hospice, even if anybody out there has just a few hours a week," he said.
"There are so many different roles, you could help out answering telephones, working in the laundry…there are plenty of opportunities to get involved.
"It really is so satisfying when you see the looks on people's faces and see how they're benefitting."
Applications to become a volunteer open on January 30 and close on February 28. You can access the volunteer application form via the Foyle Hospice website at www.foylehospice.com
Alternatively, can contact [email protected] or call 02871 351010 for further information.